Santiago Solari Returns to Visit Stockton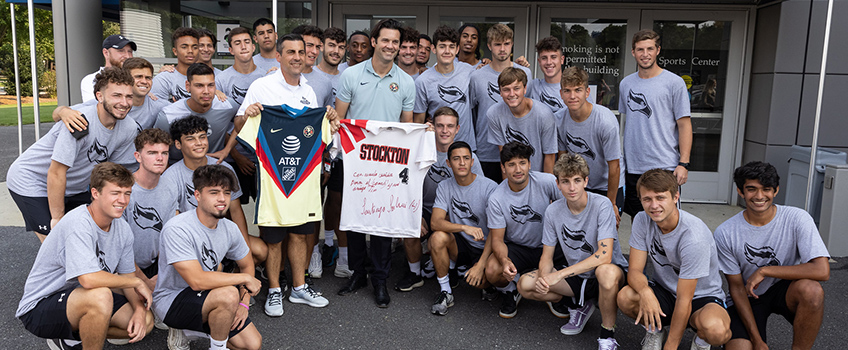 Galloway, N.J. - Santiago Solari was 17 years old and just out of high school when he arrived at then Stockton College in Fall 1994. He only spent one semester at Stockton before returning to his native Argentina where he began a professional soccer career that included playing for River Plate in Argentina as well as Real Madrid, Atletico Madrid and Inter Milan. But Stockton remained an important inspiration in his life.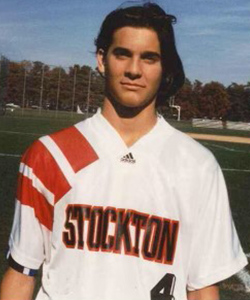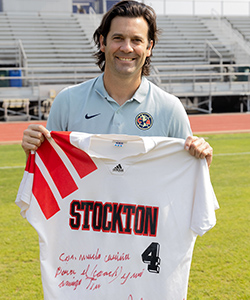 "I was very young and there are moments in your life when things get ahold of your heart," Solari said. "I needed to figure out what I was going to do. Being here opened my mind to living in a different country with different points of view. It was a perfect moment for me."
Now the head coach for Club America in Mexico, Solari returned to Stockton on Tuesday with his family to tour the campus and marvel at how it had changed.
"I do recognize the trees," he said, standing at the current soccer field and viewing the area where he played. "I am thrilled to be here. It grew so much."
Solari was in the area to play against the Philadelphia Union on Wednesday night. His soccer coach at Stockton, Tim Lenahan, now retired as head soccer coach at Northwestern University, took advantage of the opportunity to schedule a trip to Stockton.
"His experience at Stockton has always been special to him," Lenahan said. During his one season as an Osprey, Solari earned New Jersey Athletic Conference Rookie of the Year and NJAC First Team honors.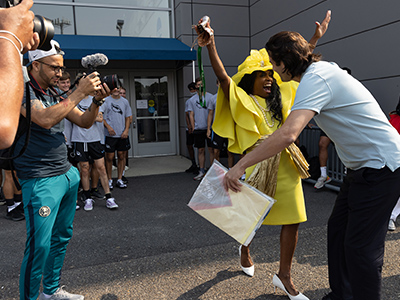 But it was Professor of Music Beverly Vaughn who, dressed in his team color bright yellow, greeted him first with a huge hug. Solari recalled being late to class and having to sing the children's song "I'm a Little Teapot" as punishment, though he remembered it as "I'm a special teapot."
After visiting with Stockton's men's soccer team and taking a group and individual photos with each player, Solari signed a Club America Jersey for Stockton, viewed the Sports Center and new Unified Sciences Center and made a quick stop at the Campus Center.
"None of this was here when I was here," he said. Lenahan noted that enrollment has more than doubled since Solari was a student.
Vaughn took him to the Alton auditorium where he attended her music class, and the family did a quick tour of Lake Fred and his old student housing before heading back to prepare for Wednesday's game. Stockton's men's soccer team along with Lenahan and some of Solari's former Stockton teammates will attend the game.
"It makes me happy to be here," Solari said before leaving. "It's good to take some time off from the pressure."
# # #
Contact:
Diane D'Amico
Director of News and Media Relations
Galloway, N.J. 08205
Diane.DAmico@stockton.edu
609-652-4593
609-412-8069
stockton.edu/media