Collection Highlights Negro League Baseball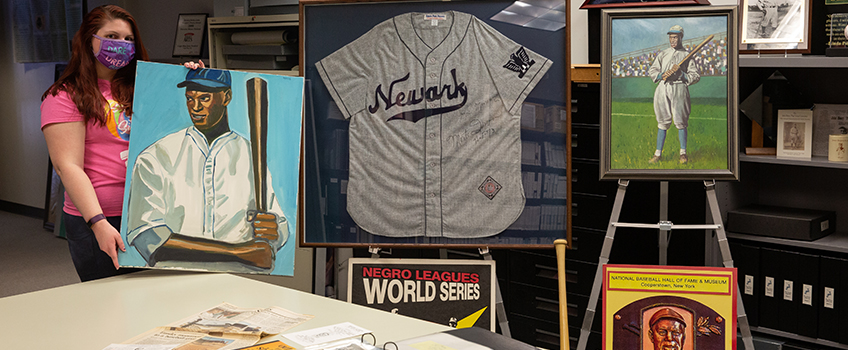 Galloway, N.J. - John Henry "Pop" Lloyd (1884-1964) played 27 seasons in the Negro Leagues, including four seasons with the former Atlantic City Bacharach Giants baseball team. A shortstop, he was considered one of the greatest players in the league.
After his career as a professional ended, he continued playing organized baseball until age 58, once playing for a semi-pro team called the Johnson Stars, assembled by Atlantic City political boss Enoch "Nucky" Johnson.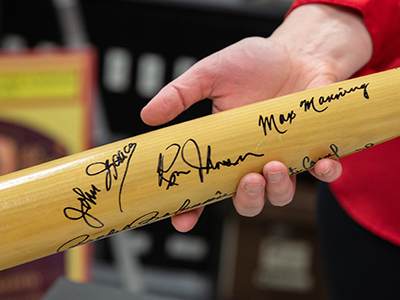 Lloyd's skills as a batter, base runner and defensive infielder might have helped him dominate the majors; however, he wasn't provided the opportunity due to racial discrimination.
The John Henry "Pop" Lloyd Committee was established in 1992 to honor the legacy of the Negro League baseball player. The Committee worked to renovate Atlantic City's "Pop" Lloyd Stadium and held annual events to commemorate humanitarians and students, as well as to reunite the baseball players from the Negro League.
The Committee was active until 2012, after which the collection was donated to Stockton University, where it is housed in the Special Collections room of the Bjork library. Student interns Amanda Brady and Haley Gaskill have been working to organize and catalog the materials.
"It's not something I knew a lot about, but it's really interesting," said Gaskill.
The collection contains photographs, programs, meeting minutes, event advertisements and artifacts relating to the work of the John Henry "Pop" Lloyd Committee. The collection also includes historical and personal artifacts from Negro League baseball players including a jersey and a bat signed by players.
Some of the materials have been digitized by the Special Collections staff and can be viewed online. The digital collection currently includes information from the annual Humanitarian Awards ceremony, including the invitation, program of events, and advertising. Included in this online collection are the years 1994 (2nd annual event) to 2011 (19th).
Those interested in seeing the collection can make an appointment with Special Collections Librarian Heather Perez at heather.perez@stockton.edu or 609 652-4555. Masks are required and attendance is limited following COVID-19 protocols.
# # #
Contact:
Diane D'Amico
Director of News and Media Relations
Galloway, N.J. 08205
Diane.D'Amico@stockton.edu
609-652-4593
609-412-8069
stockton.edu/media