Policing Conference Focuses on Collaboration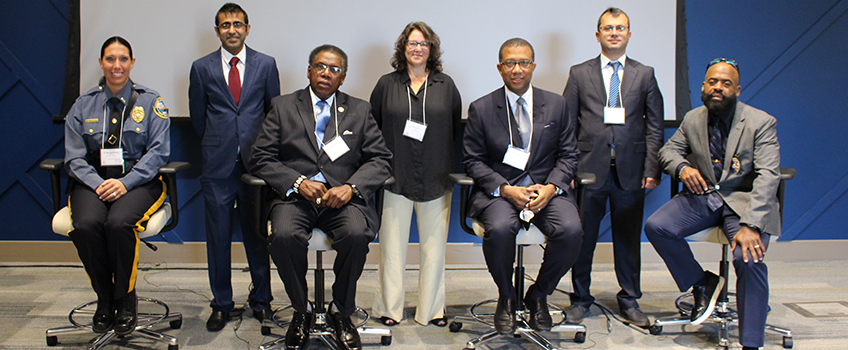 Atlantic City, N.J. - Successful democratic policing takes trust and collaboration between the police and the community, speakers said at the "Policing Post George Floyd – Reinvestment, Reallocation and Transformation" conference at the Stockton Atlantic City campus Oct. 1.
More than 100 people, including police, government officials, community leaders, and academics attended both in person and via Zoom.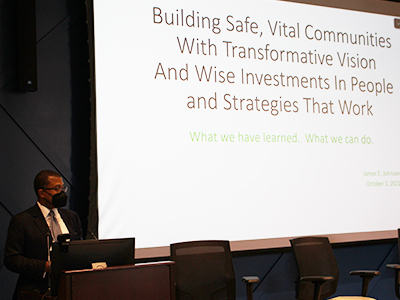 Stockton Provost Leamor Kahanov welcomed the attendees and said Stockton was privileged to be able to host important conversations on the issues of policing and social justice.
"Everyone shares the responsibility to respond," she said.
The theme of shared responsibility resonated through the daylong conference. Keynote speaker Jim Johnson, who was Gov. Phil Murphy's appointee to oversee the Atlantic City takeover, set the tone by referencing Martin Luther King, Jr.'s comment that all life is inter-related.
"We need to build trust, build bridges and invite people in," said Johnson, who is now chief operating officer with Wall Street Trinity Baptist Church in New York City. "Everyone one of us contributes."
He said the focus should be on partnerships, not punishment.
"You cannot punish someone into excellence," said Johnson, whose report served as the guide to transitioning Atlantic City back to local control. Atlantic City Councilman Kaleem Shabazz also spoke about initiatives in the city.
Other speakers included Lt. Nicole Nelson from the Hamilton Township Police Department and Michael Muldrow from the York, Pa. Police Department who talked about initiatives they have begun in their communities.
Academic speakers included Caroline Sarnoff, Executive Director of the YLS Justice Collaboratory Yale Law School, Peter Moskos, Professor at John Jay College of Criminal Justice, City University of New York, and Samantha Simon, Assistant Professor Dept. of Criminology, University of Missouri, St. Louis.
Stockton criminal justice faculty members Nusret Sahin and Manish Madan also spoke about their research on the protests following the death of George Floyd.
The conference was sponsored by the Stockton Presidential Task Force on Stockton University Campus Safety. Sahin said the task force also wanted to reach out and share what they learned with the community.
The task force members were:
Manish Madan, Associate Professor of Criminal Justice, Faculty Senate President, Co-Chair of Presidential

Task

Force

Adrian Wiggins, Director of

Campus

Public

Safety

, Co-Chair of Presidential

Task

Force

Anthony Agrifolio, Student Senate Vice President
Michael Angulo, J.D., Vice President for Personnel, Labor and Government Relations
Katharine Campion, Student Senate President
Anne Crater, J.D., Investigator
Stephen Davis, Assistant Vice President/Dean of Students, Inclusion and Wellness
Arleen Gonzalez, J.D., Associate Professor of Criminal Justice, Criminal Law, Faculty Senate Vice Chair, Student Affairs Committee
Robin Hernandez-Mekonnen, Associate Professor of Social Work, Faculty Senate Chair, Administration & Finance Committee
Ashlee Roberts, Executive Director, Student Affairs Planning and Operations
Nusret Sahin, Assistant Professor of Criminal Justice
Tracy Stuart, Lieutenant

Campus

Police
Robert Wallace, Assistant Supervisor 2, Facilities