Partnership Expands College A.C.C.E.S.S.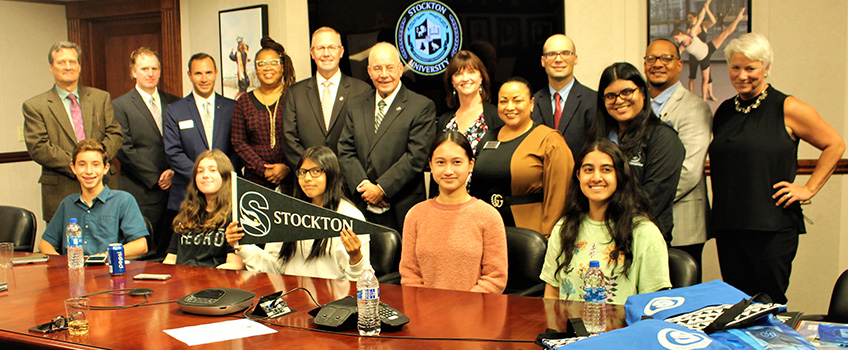 Galloway, N.J. – Five freshmen from Palmyra High School recently visited Stockton University to get an idea of what college might be like. But they won't have to wait until college to take college courses.
The five are among more than 100 students at three New Jersey High Schools that are partnering with Stockton University and the George Washington Carver Education Foundation to help typically under-represented students prepare for and attend college.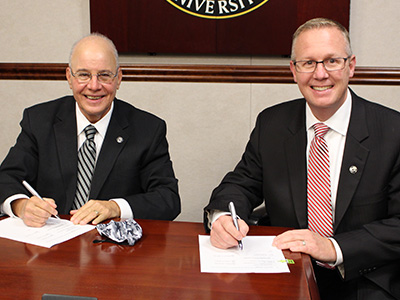 Palmyra High School, Pleasantville High School and STEMCivics High School in Ewing are participating in the program, which is funded by an Opportunity Meets Innovation Challenge (OMIC) grant to the Carver Foundation.
The Addressing College Completion & Equity for Student Success (A.C.C.E.S.S.) Stockton program includes five courses for which students can get both high school and college credit from Stockton. Teachers also get training and students attend a summer college readiness program.
A group of students and administrators from the Palmyra School District visited Stockton to formally accept the agreement and give some students a quick tour of the campus. Palmyra School Superintendent Brian McBride, a 1996 (B.A.) and 2019 (Ed.D) graduate of Stockton, said he and his school board had been looking for just such a program.
"Our school board asked us to look at how we could expand opportunities for our students beyond high school and make that four-year college connection," McBride said. "We are excited to be part of this grant."
Palmyra Board of Education president Sean Toner said the board made a commitment to establishing more dual credit programs for their students, and this partnership was the perfect opportunity to do so.
Stockton President Harvey Kesselman said Stockton is "deeply committed" to the program and establishing a pathway to college.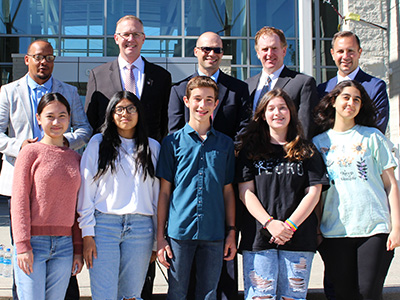 "We want students to be able to arrive here having already earned college credits," said Kesselman, who was appointed this year to the state Dual Enrollment Study Commission in recognition of Stockton's extensive experience in offering dual credit programs at 35 area high schools.
The A.C.C.E.S.S. program was developed by Dean of General Studies Robert Gregg and Dual Credit Program administrator Shawn Manuola working with the grant partners.
"Over the course of this two-year grant, it is our expectation to see motivation, persistence, and achievement increase at each participating school district, particularly among underserved populations," said Carver Foundation CEO Jerome Taylor. "There is more work to be done, but the OMIC is a great beginning."
Stockton Director of Admissions Heather Medina has already visited Palmyra High School to introduce students to Stockton and its programs.
Five Palmyra High School freshmen, Owen Jacobs, Kelly Zhinin, Charlotte Chiaccio, Samara Aziz and Lynsie Dabu said they joined the program because they are thinking about attending college and they like being able to earn college credits while in high school.
"School is very important to me and I take it very seriously," said Samara Aziz, 15, who wants to be an orthodontist.
"I saw this on the Palmyra website and thought it was an amazing opportunity," said Lynsie Dabu, 14, who is interested in health science.
The students got a quick tour of the Stockton campus with student Ambassador Jenal Rana, a health science major who assured them they would fit right in at Stockton. Kesselman said he would be delighted to welcome them back as Stockton students.
"Of course, I hope they all come to Stockton," Kesselman said. "But the goal is that they go to college."
# # #
Contact:
Diane D'Amico
Director of News and Media Relations
Galloway, N.J. 08205
Diane.DAmico@stockton.edu
609-652-4593
609-412-8069
stockton.edu/media