'Ospreys Give' Raises More than $116,000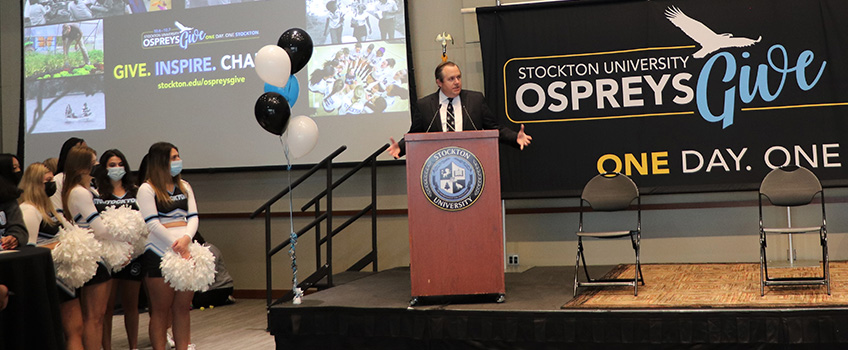 Galloway, N.J. – The Stockton University Foundation's fourth annual Ospreys Give raised $116,337 for student and university programs. A record 763 donors contributed during the 24-hour event from Oct. 6-7, exceeding the anticipated goal by 38%.
The theme of this year's fundraising event centered around the University's 50th anniversary and asked donors to support university priorities to help keep students first, advance academic programs and centers, strengthen the community, advocate for social justice and equity and inspire athletic excellence.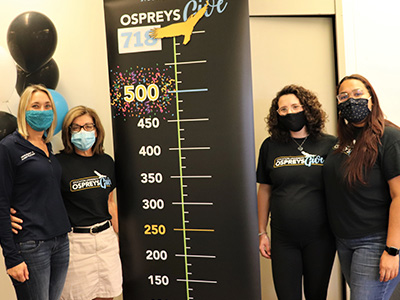 Nearly $40,000 was received in matching and challenge gifts from alumni, friends, faculty and staff. Matches and challenges supported a number of worthwhile initiatives including the University's forthcoming Multicultural Center, student study tours and Veterans' initiatives.
Dr. Howard and Gayle Gross, longtime supporters of Stockton University, designed a challenge to support the Osprey Pantry, Stockton's newly expanded food pantry.
"Ospreys Give provided an opportunity for us to offer a challenge gift to benefit the Food Assistance Program, and to inspire others to join us," the couple said. "Together, we raised nearly $4,000 to help alleviate food insecurity, and had a truly meaningful experience."
Donors also supported specific academic, student and athletic programs as well as the general Stockton Fund.
Donna Buzby, chair of the Stockton University Foundation Board of Directors, said the Foundation is grateful for the ongoing support of the Stockton community.
"The generosity of our supporters made this an exciting and successful event and a fitting tribute for Stockton's 50th anniversary of teaching this year," Buzby said. "The funds raised help support more students and provide new opportunities for them."
Donations are still being accepted. For more information or to donate visit give.stockton.edu/ospreys-give-2021.
# # #
Contact:
Diane D'Amico
Director of News and Media Relations
Galloway, N.J. 08205
Diane.DAmico@stockton.edu
609-652-4593
609-412-8069
stockton.edu/media