Nurses Pinned on National Nurses Day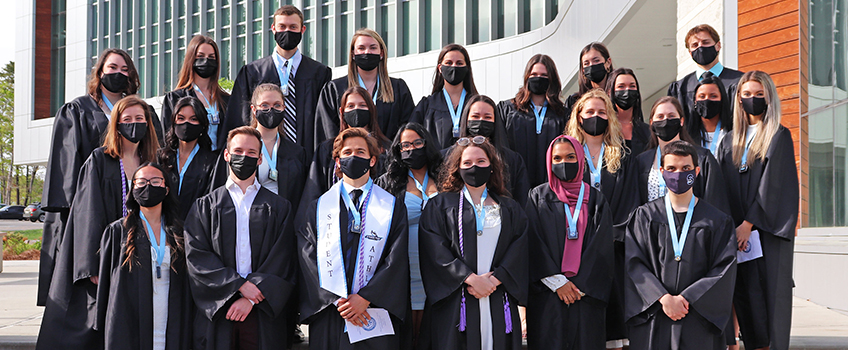 Galloway, N.J. _ Graduates of Stockton University's Bachelor of Science in Nursing Class of 2021 received their pins and took the Nightingale Pledge on May 6, National Nurses Day.
"You are leaders in the profession and in the community," Michelle McDonald, associate vice president for academic affairs, told the class at the pinning ceremony held outdoors and livestreamed to families and friends. "Your first role is to advocate. You represent those who need support, sometimes when they cannot represent themselves. The pin you receive today is a symbol for you and others."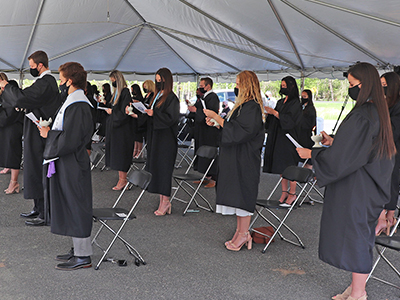 Margaret "Peg" Slusser, who is retiring as dean of the School of Health Sciences, said no matter what else she has done in her life, she is first and foremost a nurse.
"This career is one of identity," Slusser said, saying it required integrity, accountability, commitment and engagement.
"Regardless of my role, I'm a nurse," she said. "It's not a job. It's who I am. I value my nursing identity and I hope you will, too."
She told the students they would be part of miracles and experience someone's greatest sorrows and joys.
"Keep learning," she said, "but don't forget this is a caring profession. Listen to the person in front of you."
She said nursing will be hard work, and the graduates should find the field of nursing that suits them and will make them happy.
"You are Stockton nurses, and you are well prepared," she said.
Graduate speaker Emily Scalone said the pandemic made their education particularly challenging, but also helped them build a resilience that will help them in the future
"You taught us to be adaptable and flexible," Scalone said. "Our time in this program will keep us connected."
Scalone also asked for a moment of silence to honor those lost to COVID-19 and the sacrifices made during the pandemic.
Nursing Program Coordinator Rose Scaffidi told the history of the nurses' pins, led the pledge and announced award winners.
The Academic Scholar Award went to Tiffany Tran; the Leadership Award to Jasmine Tran; and the Mary Ellen Florence Nursing Award to Samantha Hoffman.
Associate Dean for Nursing Sheila Quinn closed the program by asking the graduates to applaud all those watching the livestream for their support.
"My hope is that you stay centered and grounded and appreciate how very lucky you are to take care of people in the most vulnerable time of their lives," Quinn said.
The 34 members of the Class of 2021 are: Emily Artman, Max Bond, Trevor Calimer, Dharika Darji, Julie Dehner, Katelyn Dever, Christian Discenza, Beth Doughten, Kayla Feret, Kelly Fontana, Samantha Hoffman, Megan Hubbs, Camryn Kaenzig, Rebecca Lord, Maxwell Maffie, Jenna Matos, Akash Parmar, Krunal Patel, Alexa Piplos, Amanda Rainey, Kristina Raylman, Joshua Rhile, Anastasia Rock, Emily Scalone, Jacqueline Simmons, Jillian Syroczynski, Lindsay Szucs, Aylin Torenli, Jasmine Tran, Tiffany Tran, Shannon Vizzard, Brooke Wallace, Laurel Worth, and Qandeel Zehra.
CLICK HERE to view a gallery of photos from the ceremony.