School of Business Has New Business Plan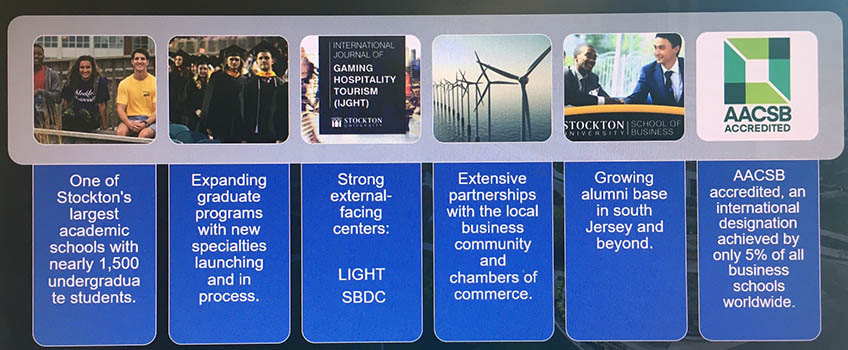 Galloway, N.J. – More partnerships with the Greater Atlantic City Chamber of Commerce, an expanded mentorship program, starting with South Jersey Industries this fall, and programs highlighting and supporting more alumni are among the recommendations of the Stockton University Presidential Task Force on Reinventing the School of Business.
A report from the task force was presented at the Board of Trustees meeting on July 14 at the Stockton Atlantic City campus. The task force was chaired by Board of Trustees chair Raymond Ciccone, a CPA and graduate of Stockton, and Michelle McDonald, Chief Academic Officer, Stockton Atlantic City, and Associate Vice President of Academic Affairs.
"We want to find more opportunities for our students to get experience in the business world and take advantage of our Atlantic City campus's city location to facilitate relationships and turn them into jobs," Ciccone said.
Some of the recommendations are already being implemented.
In April, the School of Business launched a Dean's Executive Advisory Board to advise and assist in creating event, programs and partnerships. The school also began a Summer Entrepreneur and Business Academy for high school students interested in a career in business which will launch online later this month.
South Jersey Industries, located next to Stockton's Atlantic City campus, has already agreed to serve as a mentor institution. Eight students are scheduled for a pilot Osprey Mentorship Program in the fall.
"We look forward to engaging our alumni and business partners in helping train the next generation of business leaders," said Michelle McDonald, who heads of academic programs in Stockton's Atlantic City campus.
The School of Business is the largest at Stockton, with more than 2,100 students enrolled as of Fall 2020. There are more than 17,500 alumni with business degrees from Stockton.
Other plans call for a lecture series and disaggregating the current B.S. in Business Studies into six specific B.S. degrees in Accounting, Business Studies, Business Analytics, Finance, Management and Marketing. Stockton already offers a specialized B.S. in Hospitality, Tourism and Event Management Studies.
"Building our academic profile and adapting to new field trends is essential if our degrees are to remain current," said Alphonso Ogbuehi, Dean of the School of Business at Stockton.
The M.B.A. program will also specialize, offering concentrations in Forensic Accounting and Fraud Examination, Finance, Marketing, Business Analytics and Hospitality Management. A new Executive M.B.A is also recommended along with a new M.S. in Hospitality, Tourism and Event Management Studies. A 2+3 program in partnership with Atlantic Cape Community College, to be announced later this month, will allow students to get their bachelor's and master's degrees in five years.
Certificate programs, including hospitality digital marketing, are being developed in partnership with the Lloyd D. Levenson Institute of Gaming, Hospitality and Tourism and the Office of Continuing Studies.
The complete report is online at: https://stockton.edu/academic-affairs/task-force/business-taskforce.html
# # #
Contact:
Diane D'Amico
Director of News and Media Relations
Galloway, N.J. 08205
Diane.DAmico@stockton.edu
609-652-4593
609-412-8069
stockton.edu/media
Stockton University