Middle School Students Learn Fishing for the Future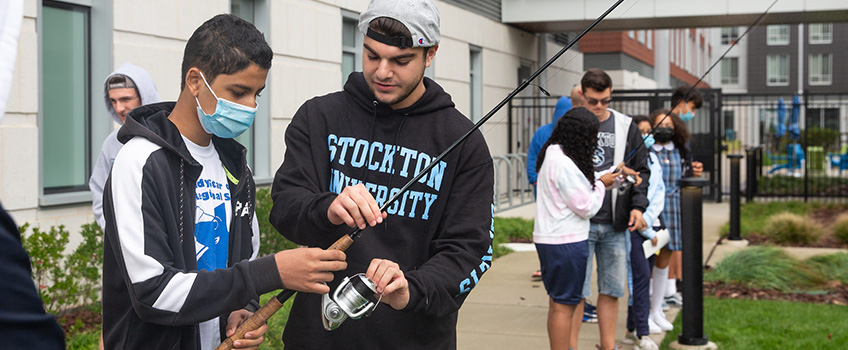 Atlantic City, N.J. - Catherine Tran learned how to tie a knot.
Sarahi Nunez learned how to "throw [cast] a fishing pole."
And Christian Wilson, 13, got a shark's tooth and "learned how to avoid stingrays," which he demonstrated by doing the "stingray shuffle."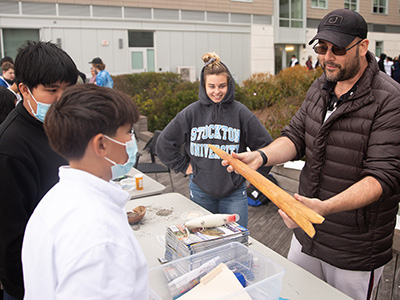 The three were among some 30 middle school students from Our Lady Star of the Sea School who walked a few blocks to the Stockton Atlantic City campus to learn more about the ocean environment near their school through Stockton's New Angles for Success program.
Dr. Adam Aguiar and students in his Ecology and Saltwater Fishing class were waiting for the students with tables of sharks' teeth, small ropes to learn knot-tying, and a lawn-based "fishing pond" where the students learned how to cast a fishing rod.
"They're having fun, but they are also learning about their environment, beach and outdoor safety, and getting an appreciation for higher education," Aguiar said.
Claudine Keenan, Dean of the School of Education at Stockton, set up the event and said she would like to see the program expand.
"These are their 'near-peers.' I would like this to be an ongoing mentoring opportunity for our Stockton students and students from the local schools," Keenan said.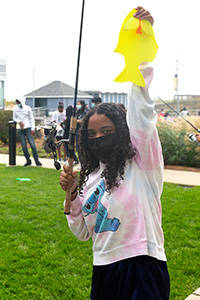 The young students had plenty of questions about fishing and the exhibits, but also peppered the Stockton students with inquiries about attending Stockton, living on campus, and doing homework.
Stockton junior Nik Leventis of Deptford shared the first lesson he learned about fly-fishing, "Don't hit anybody."
He said Aguiar has them yell "casting" before they throw the rod back as a warning to others and a reminder to themselves to look around. A biology major, he said he enjoys the class because it includes getting outdoors.
Aguiar said that this type of program is even more valuable as students return to in-person learning.
"As we emerge from the recent tw0-year pandemic-induced isolation, hands-on, interactive programs such as this are especially important for student learning," he said.
Eric Dahan, a communications major from Voorhees, chatted easily with the younger students and cheered their attempts to catch the "fish" scattered around the law outside the Stockton Residential Complex on the Boardwalk. He chose the class as his science elective because he likes marine biology. He was outgoing and bonded easily with the younger students. "I'm enjoying this," Dahan said.
View a gallery of photos from the day.
# # #
Contact:
Diane D'Amico
Director of News and Media Relations
Galloway, N.J. 08205
Diane.DAmico@stockton.edu
609-652-4593
609-412-8069
stockton.edu/media