NBA Star Shares his Story about Success and Stuttering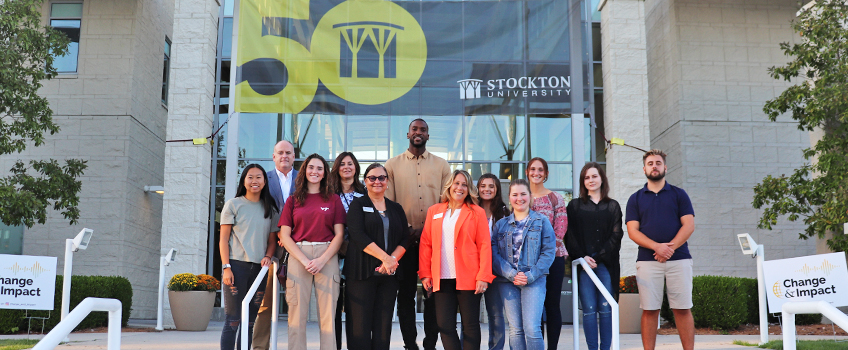 Galloway, N.J. - While Michael Kidd-Gilchrist has been making hoops in the NBA since 2012, he has been jumping through them for longer after developing a stutter as a young child.
Kidd-Gilchrist recently teamed up with Joe Donaher, speech language pathologist and academic and research program coordinator at Children's Hospital of Philadelphia, to raise awareness and create change in the stuttering community through the Change and Impact Initiative, the center of a panel discussion at Stockton on Oct. 15.
Donaher and Kidd-Gilchrist spoke candidly about what it means to be a person who stutters, what it means to be a speech language pathologist (SLP) working with people who stutter and the importance of the relationship between the two.
"I'm here to fight for the next person who stutters - older, younger, kid or not," said Kidd-Gilchrist. "It's not about my story, per se, but about empowering the next person who stutters and the SLP."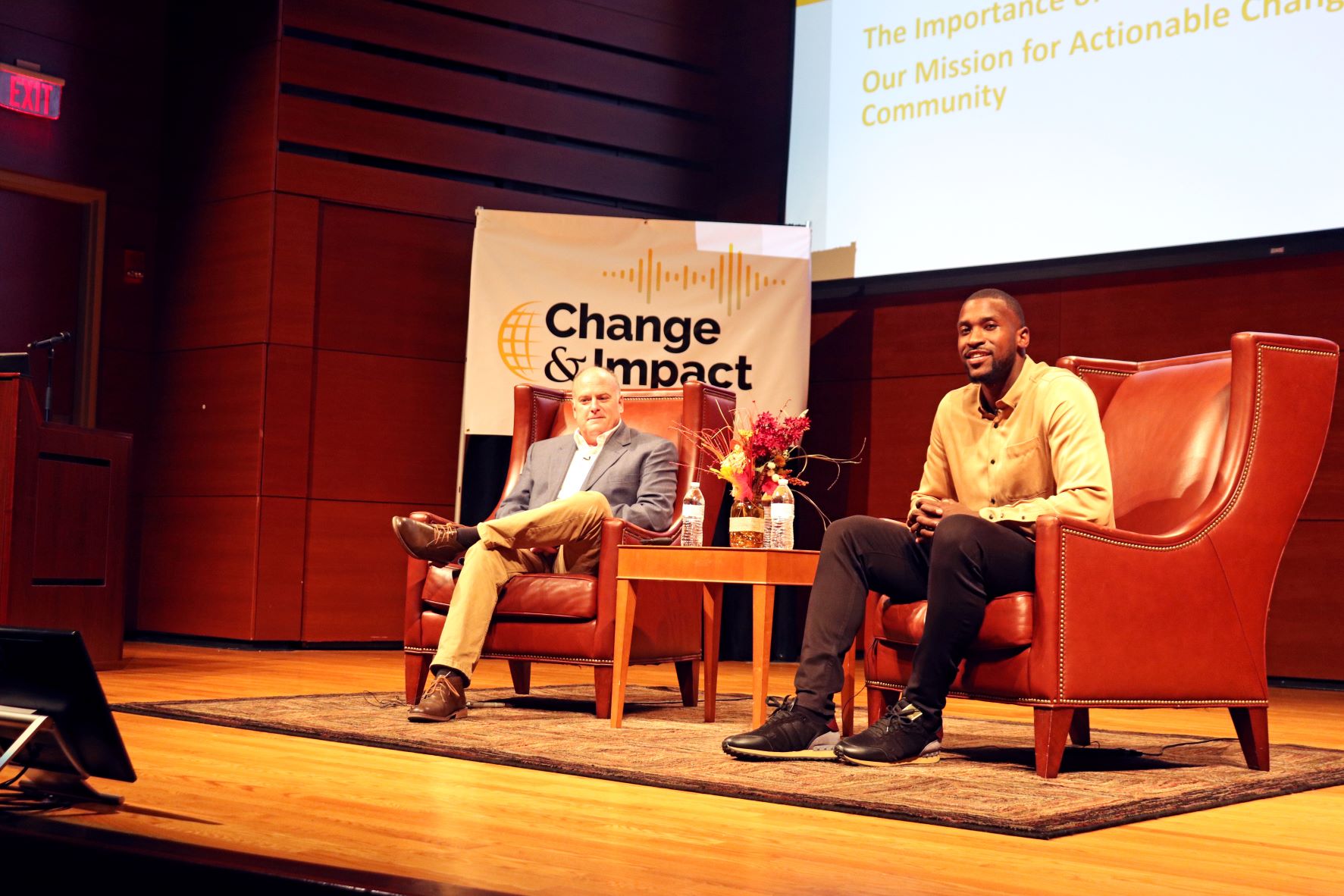 "When Michael talks, people want to listen to him," Donaher said, a statement that could be daunting for someone who stutters. However, Kidd-Gilchrist, slowly and deliberately, hones this power. "It's all about the impact that we can make on lives," he said. "I personally don't like to think that I have a voice, but I do. If this is the way I use my voice to help people, then I'm going to do it."
Citing Marilyn Monroe and President Joe Biden, both Donaher and Kidd-Gilchrist pointed out stuttering and success are not mutually exclusive. "Teens who stutter doubt themselves and think everyone who hears them stutter thinks negatively of them, so they hide," Donaher said as he reflected on the impact Kidd-Gilchrist, a South Jersey native, would have on the teens he worked with as a SLP after making headlines for being drafted second overall to the Charlotte Bobcats in 2012. "For them to see someone who didn't let stuttering stop him, who didn't let stuttering define him. Someone who was successful not because he stopped stuttering, not because he did stutter. He was successful and he stuttered."
"Ain't nobody fluent," said Kidd-Gilchrist as he explained that everyone pauses to think when speaking or says "um" at times, something his SLP in college helped him recognize. "I think about that at times when I start stuttering."
In fact, it was this therapist who helped Kidd-Gilchrist accept himself fully and better understand his stutter. "I could tell that she cared," he said, which changed everything for him after experiencing situations where that was not the case. "That made me realize there was a light there. There were days when I didn't want to talk. It was the way she was open, not always trying to fix me as a person. I don't have to change."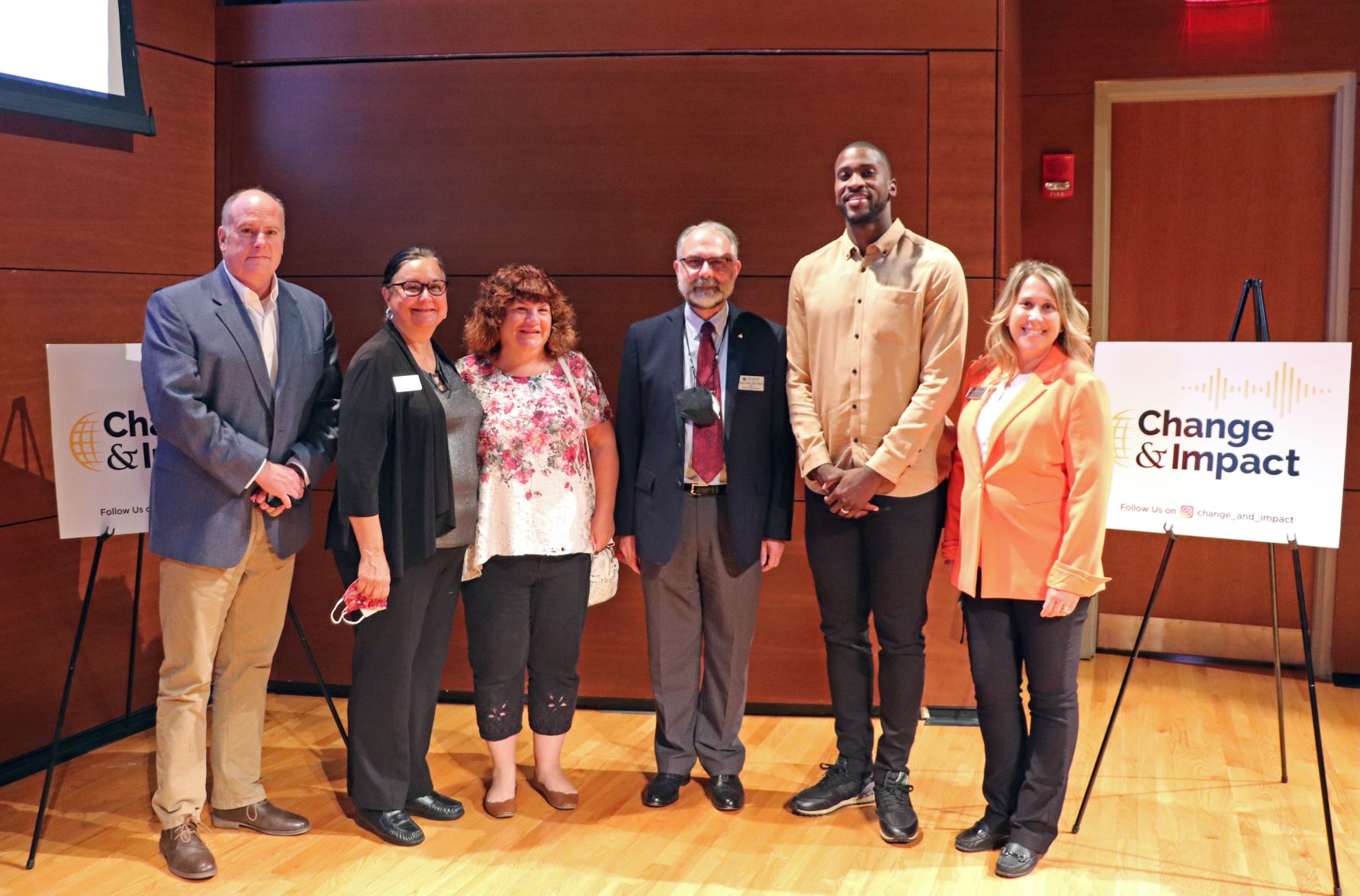 These sentiments hit home for Tuckerton resident Maria Turner, leader of the Atlantic County chapter of the National Stuttering Association (NSA), as she reflected upon her own experiences as a person who stutters. "I have been in speech therapy all of my life, since I was a young kid. I have also had a speech therapist who listened with their heart, and she helped me realize that it is OK to stutter," Turner said. "And because of my speech language pathologist, I have accepted that I am just as good as my peers who don't stutter."
"I'm a kid from South Jersey," said Kidd-Gilchrist, closing out the evening's discussion. "I want to make this impact on a national level, but all of this starts at home. I am more than happy to be here and have conversations about how we can impact the next generation."
This event was hosted by the Speech & Hearing Clinic and Master of Science in Communications Disorders program in the School of Health Sciences at Stockton University.
Reported by Eliza Hunt