MLK Day of Service Succeeds Live and Online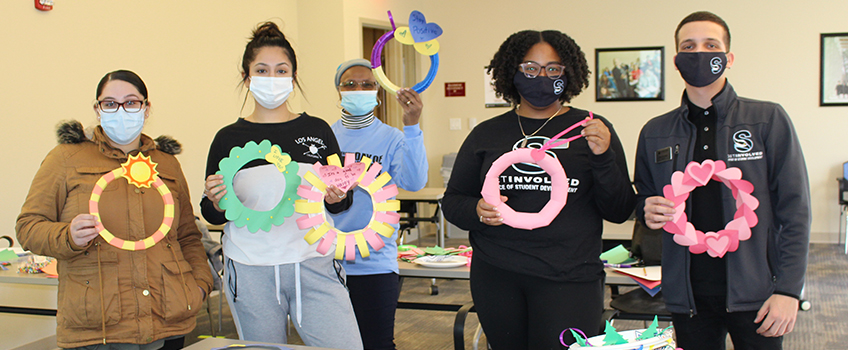 Galloway, N.J. – It took only about a half hour for members of the Student Veterans Organization and men's lacrosse team to pack up 50 boxes of items to send to members of the military as part of Stockton University's 17th annual Martin Luther King Day of Service on Jan. 30.
So the students moved from the Campus Center to G-Wing, where they helped make some of the 120 door wreaths for residents at Seashore Gardens.
"Everyone has just been so great and cooperative," said Paige Richards, AmeriCorps Changebuilder Coordinator at Stockton who coordinated the event.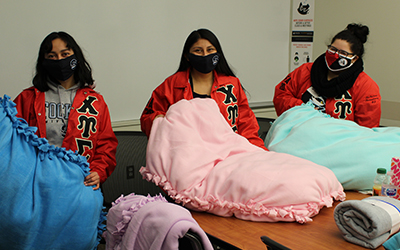 "They just showed up and said, 'we'll go anywhere, just tell us where you need us.' This could not have happened without their dedication."
COVID-19 protocols presented a challenge in organizing this year's Day of Service, which in previous years has welcomed almost 1,000 volunteers. This year's event was, by necessity, much smaller, with on-site projects limited to Stockton faculty, staff and students and a selection of virtual events for the public.
Richards said about 150 people participated either on campus or at one of the off-site locations, and another 150 participated online.
"Every project had at least 10 people," Richards said, and volunteers were creative in their efforts.
Student Stephanie Sharo, president of the Stockton Physics Club, created science experiments from her home and shared them online with students at Principle Academy Charter School. Bonner Leader Divya Rajput, a graduate of Absegami High School, coordinated with the Interact Club there for a virtual student panel and information session about Stockton. More than 50 people volunteered to write thank you letters to AtlantiCare health care workers.
At the Galloway campus, Circle K Club members did a variety of craft projects, including decorating bags for the Meals on Wheels program. Members of several fraternities and sororities pitched in to make pet beds for the Atlantic County Humane Society.
"I'm an animal person, and a crafty person," said Cielo Figueroa of Bridgeton, who along with fellow members of Pi Epsilon Sigma sorority and Alpha Phi Omega service fraternity, turned fleece blankets donated by Walmart into 42 pet beds. Sean Dillon and Jackson Pritchett picked a bunny print blanket, carefully cutting, tying and stuffing it into a pet bed. The beds were donated to the Atlantic County Animal Shelter.
At the Atlantic City campus, Stockton partnered with the Mud Girls Studio to decorate tiles for local community centers.
Off campus, students assisted at eight sites, including the Community Food Bank, Atlantic County Utilities Authority, Enlightened Farms, Forsythe Wildlife Refuge, Eastern Service Workers Clothing Drive, Funny Farm Animal Rescue, Royal Suites Healthcare and Rehabilitation and South Jersey Horse Rescue.
Richards said they are already planning for next year's event, which will include the traditional breakfast and volunteer awards.
"We are going to be back better than ever," Richards said.
Click here to view a gallery of MLK Day 2021 photos
Faculty, staff and students honored
While there was no live program this year, a Spotlight on Service video was prepared to honor volunteers who have contributed to Stockton and the community. It can be viewed on the MLK Day of Service web page.
Stockton faculty, staff, students and groups featured in the video are:
Unidos, and Los Latinos Unidos for their efforts assisting Atlantic City area residents affected by COVID-19 layoffs by raising thousands of dollars and coordinating food drives, backpack distributions and toy drives.
Jennifer Radwanski, Lauren Wilson, Gavin Rozzi, and Lynne Kesselman made a total of more than 850 masks, face shields and mask adjusters for medical workers and first responders.
Stephanie Cawley raised $250 to fund the installation of a community refrigerator in Philadephia.
The Stockton at Manahawkin Nursing Club collected personal hygiene items for a local food bank.
Student Danielle Combs, working with the Stockton Chapter of the NAACP and United Black Students Society, organized a Juneteenth march at Stockton in the summer and several events on campus in the fall focusing on Black Lives Matter, voter registration and mental health.
The Pre-Med Club worked with the Stockton Center for Community Engagement and Service-Learning to offer after-school tutoring to K-12 students.
Student athlete Maddie McCracken started the Setback Foundation to provide athletic equipment to children in Wildwood, then expanded to provide grocery gift cards and other necessities to families throughout Cape May County.
Thirteen student workers in the Office of Event Services wrote 100 "letter to Santa" responses for the Hammonton Fire Department project.
Stockton Center for Community Engagement and Service Learning Fellows set up Zoom naturalization classes so the program could continue.
Kelly Kern raised some $7,000 to provide 1,700 meals to first responders and medical workers, while also helping to support struggling restaurants.
Claire Abernathy and American Diplomacy Project students set up voter registration sites and provided ongoing web information on voting in the 2020 election.
Christine Ferri and students help drive-by visits to area long-term care facilities.
Student Abby Guericioni worked at the Vineland Veterans Home helping to keep the facility cleaned and disinfected.
Kristy Rothermel drove to the homes of 60 graduating students to deliver graduation swag.
Steve Radwanski coordinated the effort by Residential Life, Facilities and Public Safety employees to provide housing, support services, and more than 1,300 meals to students quarantined by COVID-19.
Monica Viani and Laura Hughes, supported by multiple donations from faculty and staff, expanded the food pantry to make sure they could meet increased demand from students.
# # #
Contact:
Diane D'Amico
Director of News and Media Relations
Galloway, N.J. 08205
Diane.D'Amico@stockton.edu
609-652-4593
609-412-8069
stockton.edu/media