Message from President Kesselman on Vaccine Requirement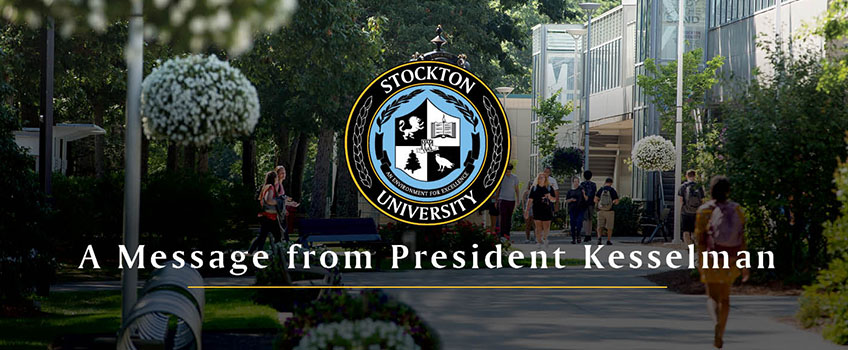 Dear Stockton Community,
Throughout the pandemic, Stockton's leadership and employees have worked diligently to provide a safe environment while continuing to serve our students. As we move toward fully reopening in the fall, our efforts will continue.
One of the most important steps we all can take to keep ourselves and each other safe is to get vaccinated. It is the responsible thing to do. The COVID-19 vaccine is now plentiful and available to everyone over the age of 16.
The American College Health Association (ACHA) has stated that comprehensive COVID-19 vaccination is the most effective way to return to a safe, robust on-campus experience in fall 2021.
To ensure that we can all return safely in September, and provide the college experience our students expect and deserve, Stockton will require all residential and commuter students receive a COVID-19 vaccine authorized by the U.S. Food and Drug Administration and submit complete vaccination documentation to Student Health Services at least two weeks prior to arrival on campus, but no later than August 1, 2021, unless they have a medical or religious exemption.
This decision was made after careful consideration and discussion with our peer institutions and state and local legal and health care professionals.
We also strongly encourage faculty and staff to get vaccinated. To date, just a month after higher education employees became eligible, more than 35% of Stockton employees have voluntarily reported that they have been vaccinated. This gives us confidence going forward we can achieve a high rate of participation.
More details about the vaccine requirement, including how and when students can submit proof of vaccination, will be provided in the coming weeks and posted on www.stockton.edu/fall21.
For now, I urge everyone to get vaccinated as soon as you can.
Mask up. Back up. Wash up. Vax up.
Soar safely, Ospreys.
Best Regards,
Harvey Kesselman
President, Stockton University