Important Update for the Fall Term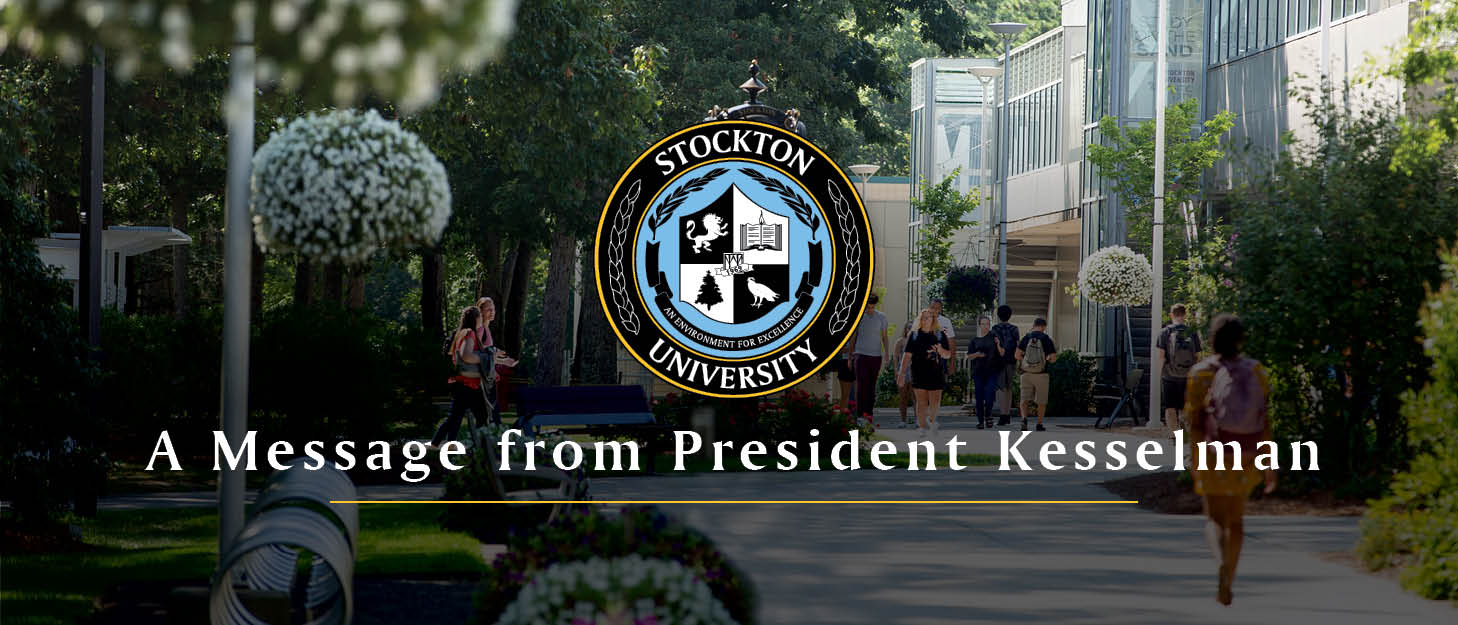 Dear Stockton Community,
Stockton University is actively preparing for the Fall 2021 term to provide students, faculty and staff with the best possible campus experience while maintaining a healthy and safe environment.
As we plan for a traditional start, current public health conditions related to COVID-19 compel us to adjust our preparation efforts, including the following health and safety protocols:
The COVID-19 vaccine is now mandated for all Stockton students; SFT staff, faculty, and faculty librarians; managers and TES employees.
Effective August 16, Stockton will reinstate mask requirements for everyone.
Effective September 1, when on campus, unvaccinated employees (including those with medical and religious exemptions), will be required to complete ongoing temperature and symptom checks at a location to be determined, and will be subject to routine COVID-19 testing and other mitigating interventions. Additional details will be forthcoming.
Starting September 7, students with approved medical or religious exemptions will be required to complete temperature and symptom checks twice a week on days when they are campus Monday through Friday. Additional details will be forthcoming.
Mask requirements will be implemented as follows:
Indoor public and common areas. Beginning Monday, August 16, all individuals (students, employees, guest visitors, vendors, affiliates, etc.) regardless of vaccination status, will be required to wear a mask in indoor public and common areas, such as: hallways, public restrooms, lounges, laundry facilities, the library, computer labs, University shuttles, and dining areas (masks can be removed when eating) unless granted a medical accommodation. Additional guidance regarding residential living facilities will be forthcoming.
Classroom instruction. Beginning Tuesday, September 7, all students and faculty participating in face-to-face classroom activities, regardless of vaccination status, will be required to wear a mask through the entirety of the instructional session, unless granted a medical accommodation. This requirement applies to all courses with an in-person component, no matter how brief, including traditional and hybrid classes, labs, seminars and studios. This requirement will remain in effect until such time as public health and safety conditions permit the University to consider an adjustment.
The COVID-19 pandemic remains a fluid situation, and Stockton will continue to modify its health and safety protocols to adapt to changes, as necessary. Additional details regarding Stockton's plans, including masking guidelines for public-facing offices and private work-spaces, will be available soon. Please continue to visit stockton.edu/return for updates and information.
We must continue working together to keep ourselves, our loved ones, and our Stockton community safe during these unprecedented times. I remain incredibly proud of our collective strength and resilience and I look forward to our continued perseverance in these challenging times.
Best regards,
Harvey Kesselman,
President
Stockton University