Message from President Kesselman on Chauvin Verdict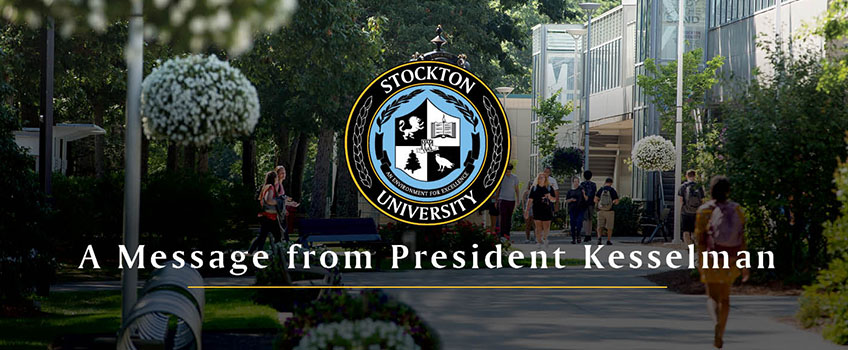 Dear Members of the Stockton Community,
It's been said, "Throughout history, it has been the inaction of those who could have acted, the indifference of those who should have known better, [and] the silence of the voice of justice when it mattered most that has made it possible for evil to triumph." - Haile Selassie
On May 25, 2020, it was this inaction, this indifference, this coldness of heart, and the astonishing callousness of sickening resolve that once again, caused the death of a black man in America, Mr. George Floyd.
But for today, however, the voice of justice was not silent nor muzzled. For today, the voice of justice spoke resoundingly, proclaiming the sentiments of what the global and national audience demanded. For today, the deliberators confirmed what former police officer Derek Chauvin could not see… that the life of George Floyd mattered, and still does.
And yet for many, today is still a day of sadness. For minutes away from the very courthouse that gave voice to Mr. Floyd, a family, a community, and the nation mourns the life of Mr. Daunte Wright, another black man, just 20 years old, killed by the hands of those in authority.
I believe what both sickens and saddens our hearts the most is knowing this act – the exact opposite of the Minneapolis Police Department motto "to protect with courage and serve with compassion"—may occur yet again, possibly claiming the life of yet another person of color.
Dr. Martin Luther King Jr. reminded us that "[i]t is not possible to be in favor of justice for some people and not be in favor of justice for all people." For centuries, the judicial experience for black and brown people of color in this country has been filled with disparities and inequities.
Now, some may say that not only was the former police officer on trial, but our nation's entire system of justice stood trial as well. Moreover, because of the outcome, some have concluded the system works. But permitting further analysis, one cannot help but ask, does it really work for everyone? Can we seriously dismiss the disturbing data showing the disparities in the rate of incarcerations between communities of color and Caucasians, even for the same offense? We cannot.
For many people of color, the system "working as it should" is far too infrequent, even from the first point of contact with the police. Knowing this, a more accurate statement may instead be, the system worked… this time. Indeed, we celebrate this verdict, this victory, but we most certainly understand that one victory does not "fix" or reform a broken system. Just as having the first African American president of the United States did not cure systemic racism, one verdict on the right side of justice does not cure the judicial inequities faced by people of color.
And for today, we are left to ask ourselves, how does one restore the balance of such a painful injustice? Can we make whole the heart of this family who just experienced the unimaginable, who received that terrifying phone call about the plight of their loved one? Again, we cannot. But what we can do is this… we can no longer be silent with the unequal treatment of black and brown people of color. We can become an active part in judicial reform. Most importantly, we can become unequivocally committed to eradicating white supremacy and uprooting systemic racism.
At Stockton University, our commitment is sound, our values, unwavering. Black lives matter. Therefore, we take seriously our responsibility, our obligation, our duty to make diversity and inclusion a reality in our community, not mere buzz words or a PC sound bite.
Unlike the officers who responded to George Floyd, and in particular, the now convicted former officer Chauvin, we can and must answer our civic responsibility to care about how black, indigenous, and people of color (BIPOC) are unfairly treated in our country; AND to do something to stop it.
We can no longer lead segregated lives, believing that the racist ills of our society, the inequities that happen to our fellow black and brown Americans does not impact us, whether individually or as a nation. It does.
I once again echo the prophetic words of Dr. King in saying, "Injustice anywhere is a threat to justice everywhere."
So, for today, we join in the celebration of justice served. But for tomorrow, we have much work to do.
Best regards,
Harvey Kesselman
President
Stockton University