Hughes Center Hosts Local Assemblymen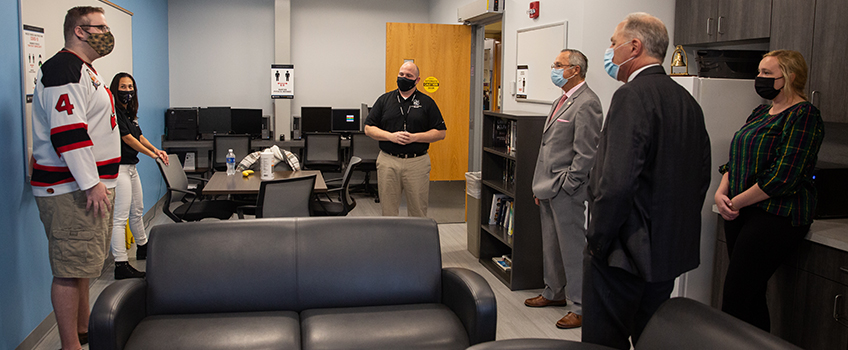 Galloway, N.J. - New Jersey State Assemblymen John Armato and Vincent Mazzeo, representatives from the 2nd Legislative District in southern New Jersey, visited Stockton University on March 18 and 22 as the 2021 Legislators-in-Residence.
Sponsored by the William J. Hughes Center for Public Policy at Stockton, the Legislator-in-Residence program is designed to bring New Jersey lawmakers to the university to engage with students and faculty, learn about Stockton and its program, and share their experiences as legislators.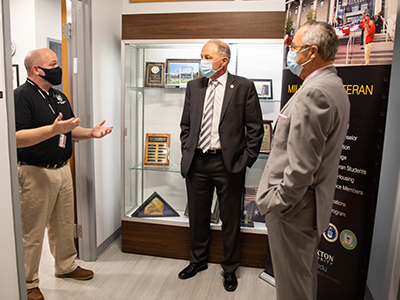 "The Legislator-in-Residence program offers Stockton students a rare opportunity to learn directly from elected leaders how New Jersey government operates and policy is formed," John Froonjian, executive director of the Hughes Center, said.
This was the first time the Hughes Center brought in two legislators at the same time.
During their visit to Stockton, the legislators toured the Hughes Center and the Office of Military and Veterans Services lounge, where students Karl Shute and Stardust Santiago shared their post-service experiences. Armato talked about his service as a sergeant in the Air Force.
In a virtual discussion with Coordinator Jane Bokunewicz and Assistant Director Sarah Grady of the Lloyd D. Levenson Institute of Gaming, Hospitality and Tourism (LIGHT), Mazzeo and Armato were updated on trends in online gaming, sports betting and nongaming attractions.
The legislators also were briefed about the Coastal Research Center's work on beach protection and flood mitigation by Stewart Farrell, director, and staffer Kimberly McKenna.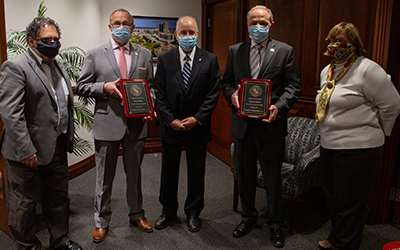 Mazzeo and Armato met with students in two online classes. Students in Assistant Professor of Sociology Christina Jackson's Urban Environments class learned about policy initiatives that would affect cities like Atlantic City. Students in a Small Business Management course taught by Assistant Professor of Business Studies Christian Ehiobuche peppered the legislators with questions about business policy and how young people can become entrepreneurs.
Armato, a Democrat, was elected to the Assembly in 2018. He sits on the Agriculture, Health, and Military and Veterans' Affairs Committees. Mazzeo, also a Democrat, has represented the 2nd Legislative District since 2014, prior to which he was the mayor of Northfield. He is the chair of the State and Local Government committee, and also serves on the Labor and Tourism and the Arts committees.
"Even though much of it was virtual, the visit gave our local legislators a first-hand look at how issues of importance to South Jersey are being addressed by faculty, staff and students at Stockton," Froonjian said. "The assemblymen also spoke about topics important to our students and faculty: Atlantic City issues, health care, justice and equality, the local tourism economy and small businesses."
While on campus the legislators also met with Stockton University President Harvey Kesselman, and Interim Provost and Executive Vice President Susan Davenport.