K-9 Freya Noses Her Way to National Title with Lt. Stuart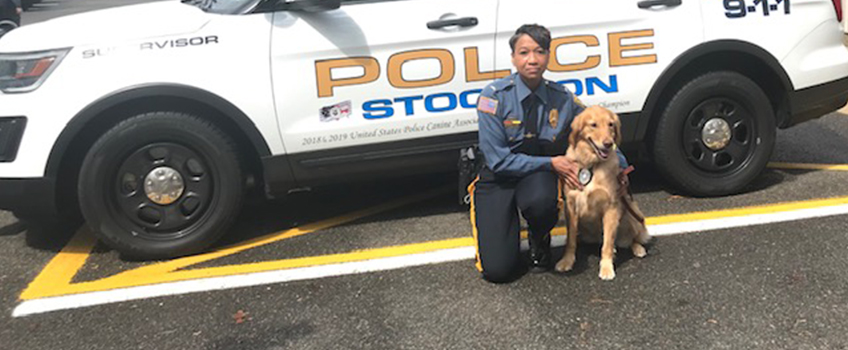 Galloway, N.J. - In her first national competition, Stockton University K-9 Freya, a golden retriever, nosed her way into 3rd place in the country by sniffing out explosives with her handler Lt. Tracy Stuart at the United States Police Canine Association's 2021 National Detector Dog Trials in Plainsboro, N.J., May 2-5.
With Stuart guiding her, Freya detected explosives during vehicle and package searches taking 1st place in both categories. They also partnered with the Mount Laurel K-9 team and together took 1st place regionally. More than 100 canine teams from across the country specializing in narcotics, explosive, cadaver and accelerant scents competed.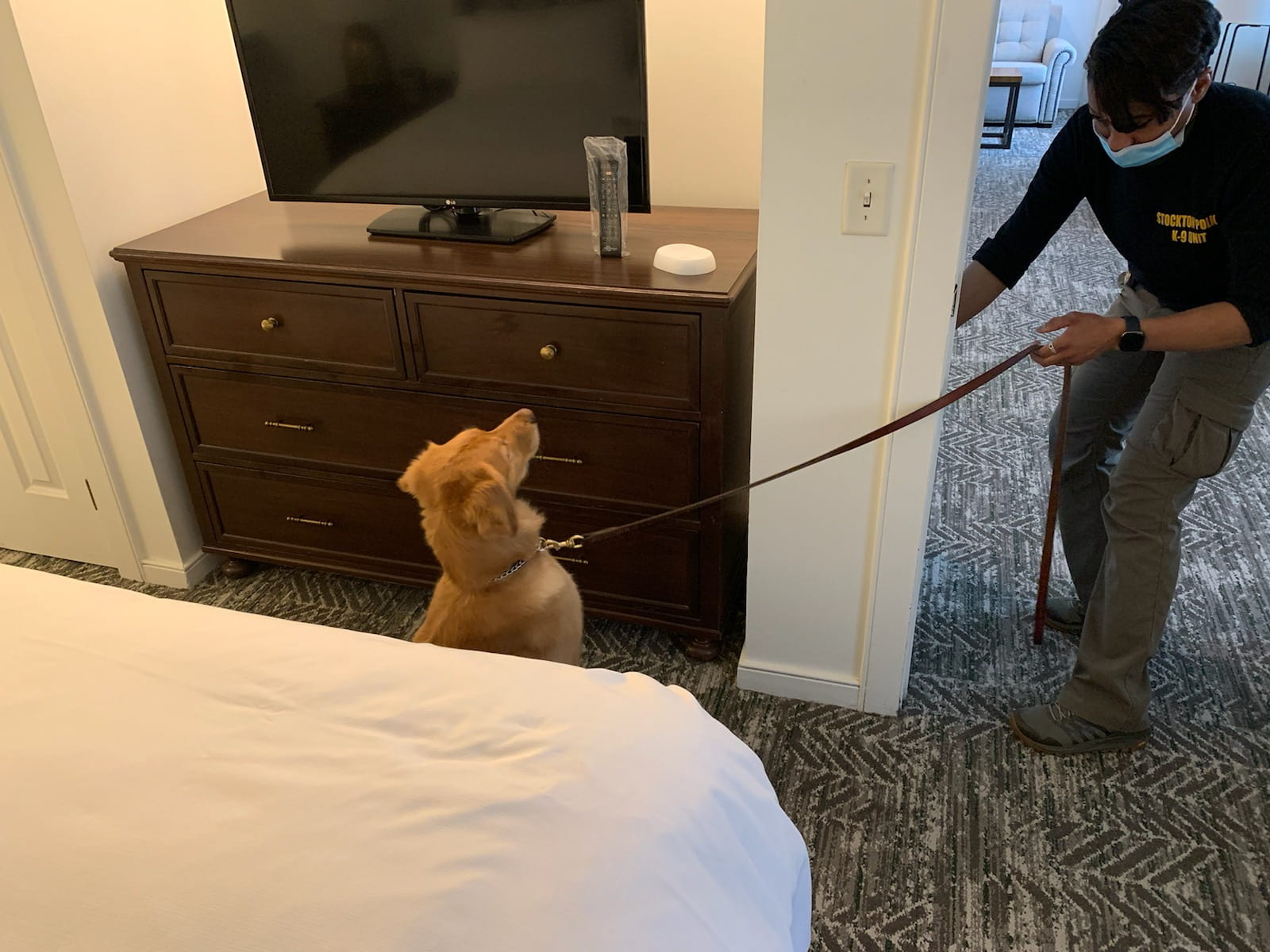 As soon as Freya picks up on an odor that she has been trained to recognize, she alerts Stuart by sitting down and focusing her attention on the location.
To celebrate all of the hard work that ended in a national title, Freya enjoyed a grilled salmon dinner and snuggled in a Wonder Woman blanket at bedtime the night of the win.
"When I play the movie reel back in my head, she looked exceptional. She tore it up. She's proving herself to be not only a force to be reckoned with in the explosives world, but she's really proving that she knows her odors, and she's ready to rock 'n roll to serve our community," said Stuart, who feels like a "proud momma."
Stuart and Freya honed their detection skills and teamwork on campus in the Lodge at Lakeside, and with numerous campus pool vehicles where Stuart would stash various scents for training exercises.
The custodial staff keeps cardboard boxes readily available for Stuart to setup training routines.
Inside the carpentry and paint shops, custom cans were designed for Stuart to practice for the pass/fail odor recognition test, which is a requirement to compete at nationals.
In that test, there are six cans with explosive scents, six cans that are empty and six cans with distractor scents. The scents are contained in quart cans enclosed in gallon cans.
Adrian Wiggins, director of Campus Public Safety, said, "This was a huge accomplishment for a new canine. Notwithstanding, I think that the experience and hard work of Lt. Stuart to prepare Freya shows."
Freya's win follows back-to-back 1st place national titles captured by Stuart and Stockton's popular chocolate lab, K-9 Hemi, in 2018 and 2019. Last year, the competition was canceled due to the pandemic, but Stuart and Freya completed the State Police K-9 Academy certification last July.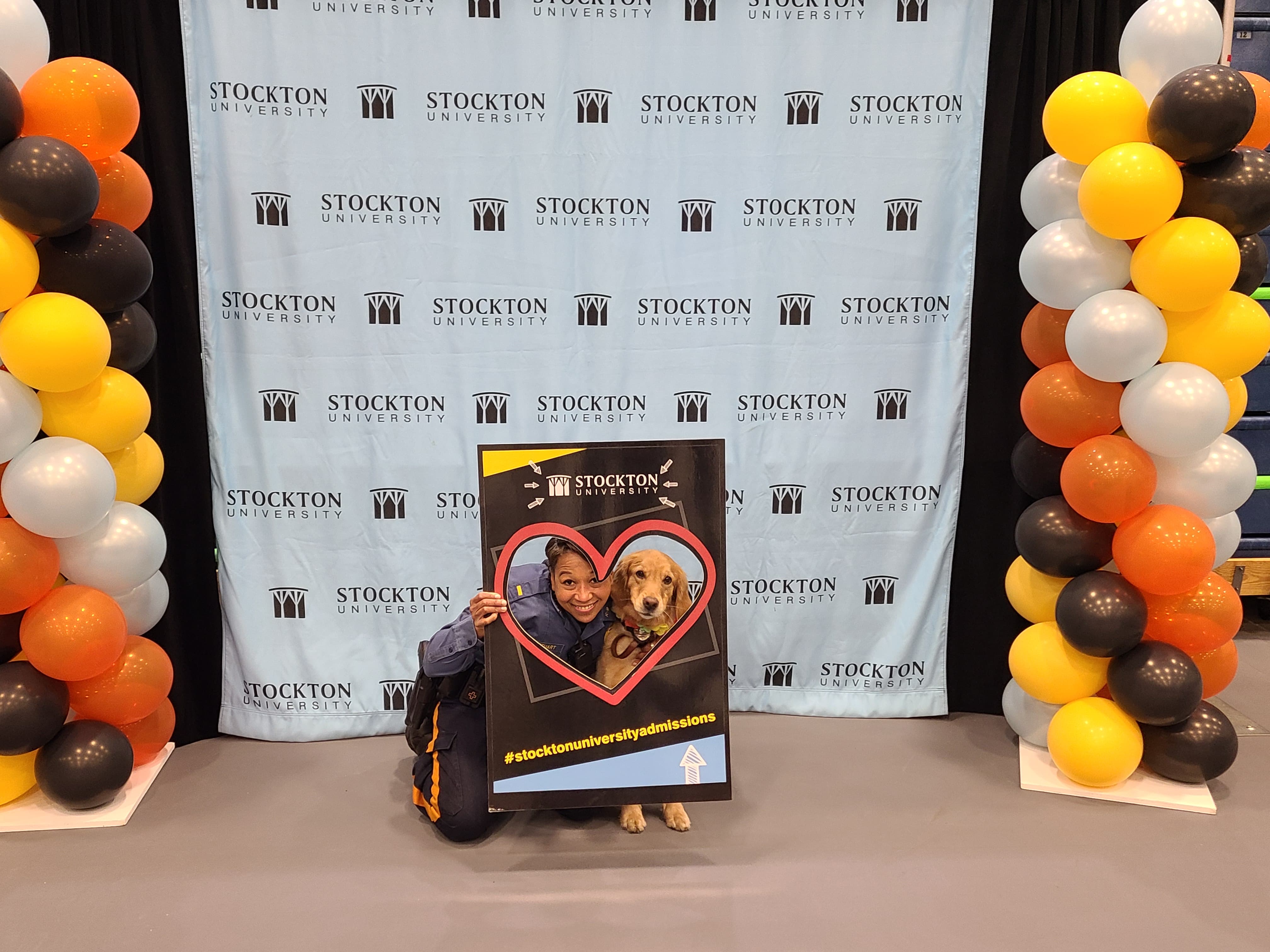 During the K-9 Academy, Stuart apprenticed as a scent detection trainer and earned her trainer certification.
Since completing the Academy, the two have been training daily. "It's all about growing and developing not only her as an explosive detection dog, but also her and I as a team. That's the recipe that makes the magic. The canine and the handler really need to work together. There's a certain degree of synergy that has to happen so you can understand your dog and your dog can understand you," said Stuart.
In April, Freya took 1st place in the USPCA regional certification with a perfect score and a boost of confidence heading to nationals.
"If you give it all you've got, for me, that's the definition of success," said Stuart.
- Reported by Susan Allen