Hughes Center Honors Hon. Steven P. Perskie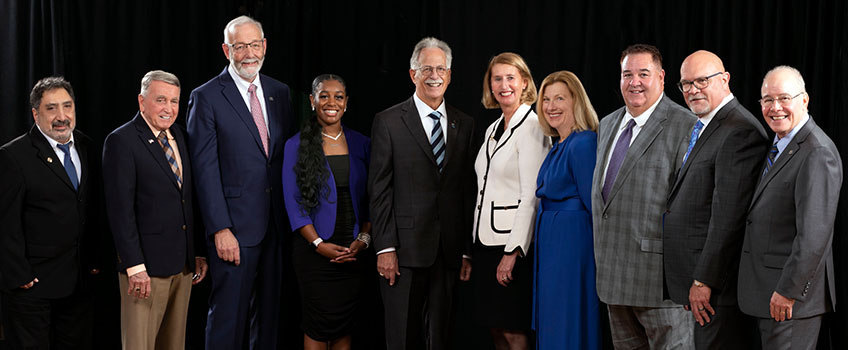 Galloway, N.J. – Steven P. Perskie's first visit to Stockton campus was in 1971, when the campus was still under construction.
His most recent visit was Nov. 10, when he received the Distinctive Lifetime Achievement Award at the Hughes Center Honors, sponsored by the William J. Hughes Center for Public Policy at Stockton University and held in the Campus Center Event Room.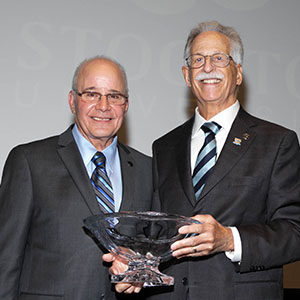 In between he served as the first president of the Stockton University Foundation in 1974, where he helped the fledgling group apply for non-profit status and continues to support its mission.
"The fact that this award is from Stockton is very special to me," Perskie said before an audience of some 150 friends, family and guests. "I was a friend and colleague of Bill Hughes. Tonight, I really consider myself the luckiest man on the face of the earth."
The biennial awards ceremony recognizes outstanding New Jerseyans for excellence in their field and for a commitment to public service, civility and bipartisanship that reflects the life and career of the late Ambassador William J. Hughes.
Perskie's award was presented by Stockton President Harvey Kesselman, who recalled being a student at Stockton in 1971 when Perskie, then a young state Assemblyman, came to speak at the newly opened college.
"He brought inspiration to an audience of young people and shared a genuine passion," Kesselman said.
Perskie went on to author the 1977 Casino Control Act, which established Atlantic City's casino industry. He served in both the state Assembly and Senate, and later was appointed a Superior Court Judge. He also served as Chief of Staff to Gov. James J. Florio and chairman of the N.J. Casino Control Commission.
Hughes' daughter, Barbara Hughes Sullivan said all award recipients were a testament to her later father's career in public service.
"Civility and public service matter," she said. "The Hughes Center is a guiding light to honor our father's legacy."
Stockton Steering Committee Chair Ed Salmon served as master of ceremonies. Other awards presented were:
Distinctive Student Achievement Award:
Danielle Combs, Class of 2021, who is currently the administrative director of the New Jersey NAACP. Stockton Provost Leamor Kahanov called her a "natural leader" who, as president of the Stockton chapter of the NAACP successfully organized and led a Juneteenth march and ceremony attended by more than 400 people.
Combs, who is currently applying to law school, thanked all those who continue to challenge her and the NAACP for continuing to lead the fight for equality.
Distinctive Alumni Leadership Award:
Richard Dovey, Class of 1975, president of the Atlantic County Utilities Authority and a former chair of the Stockton Foundation. Stockton trustee chair Raymond Ciccone presented the award to Dovey, noting he was a member of the first class at Stockton in 1971 and ahead of his time in being interested in recycling and environmental issues.
"He became an expert in recycling before it was cool," Ciccone said. "He was interested in solid waste disposal. No one wants to deal with that. But he does."
Dovey said it was an honor to receive an award named for Hughes, who as a U.S. Congressman authored the law that banned offshore dumping and was involved with the Pinelands Preservation Act.
"My job is not the most glamorous, but it is important," Dovey said. "The work we do needs to continue. Protection of the environment is the job of the ACUA."
Excellence in Community Leadership Award:
AtlantiCare, Cape Regional Health System, Inspira Health Network and Shore Medical Center for their work serving the public during the COVID-19 pandemic.
Richard Tolson, former director of the International Union of Bricklayers and Allied Craftworkers of New Jersey, and Ocean City Mayor Jay Gillian, co-chaired the Honors and presented the awards to representatives from each hospital.
"Health workers put the health of the public often ahead of their own," Tolson said.
Shore Medical Center President and CEO Ron Johnson said he was grateful to be honored on behalf of the hospital and its staff.
All said staff went above and beyond to help patients, and they urged people who have not been vaccinated to do so.
"They came to work when they didn't know what tomorrow might bring," AtlantiCare CEO Lori Herndon said of their employees.
Tom Piratzky, executive director of the Cape Regional Foundation said the summer was a challenge, and the staff is tired and frustrated, but he has never been more proud of their work.
Amy Mansue of Inspira Health Network said she was proud of how all of the hospitals came together to help each other.
"We all came together to make sure we had what we needed for our patients and employees," Mansue said. "People are angry. They want this to be over. We all do. COVID is beatable. We have the vaccine that can beat it."
# # #
Reported by Diane D'Amico
Photos by Donna Connor

Contact:
Diane D'Amico
Director of News and Media Relations
Galloway, N.J. 08205
Diane.DAmico@stockton.edu
609-652-4593
609-412-8069
stockton.edu/media