Free Homework Program Helping Area Students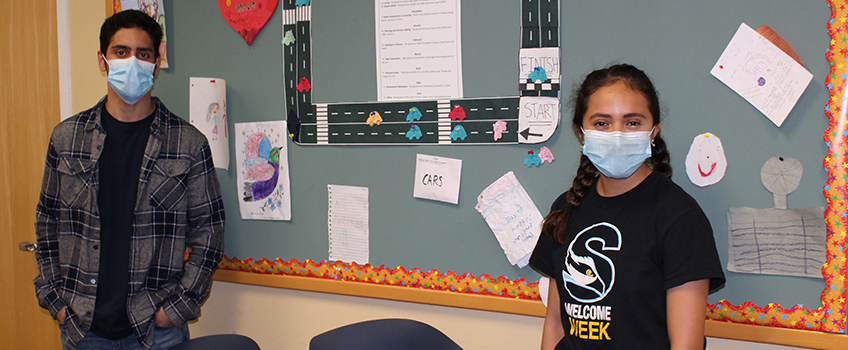 Galloway, N.J. – Stockton University student Ariana Ramirez of Northfield plans to be a teacher. Hari Acharya of Mays Landing wants to be a doctor. Both are already giving back to the community as tutors at Stockton's After-School Homework Completion Program.
The program, offered online from 3-5 p.m. Monday through Thursdays by the Center for Community Engagement and Service Learning, has operated for several years at sites in Atlantic City and Pleasantville. During the pandemic, it has gone virtual via Zoom and expanded its reach to students throughout South Jersey.
"Once we went virtual, we started to get students from all over, into Ocean County and Camden," said Community Projects Coordinator Heather Swenson-Brilla. "They can just log on whenever they need help. It's a free, drop-in program."
Currently more than 300 students in grades K-12 are registered. Some attend almost every day, others pop in just when they need help with a specific topic.
"We've been getting a lot of requests for help with pre-calculus," Swenson Brilla said.
The regulars will often work with the same Stockton student tutors, developing a relationship. Some of the Stockton tutors are bilingual.
Acharya started the Pre-Med Club at Stockton, and the more than 40 club members are tutoring as a community service project.
"One day I helped a girl do long division, and the next day was a high school student with pre-calculus," Acharya said. "We help the students, but it's also helping the parents and making their lives easier."
A graduate of the Atlantic County Institute of Technology, Acharya said he has also talked to high school students about applying to college and advised them to visit or attend open houses, even if they are virtual.
Ramirez has always loved volunteering and had been involved with the Boys and Girls Club in Atlantic City when she lived there. She is bilingual and also participates in an English as a Second Language class. She wants to be an elementary school teacher and loves working with children in grades one through three.
While most students attend virtually, both Ramirez and Acharya also tutor at the Pleasantville Public Library when in-person tutoring is allowed.
"It's a different connection to be there in person," Ramirez said. "You get to bond more with them."
Merydawilda Colon, Executive Director of the Center for Community Engagement and Service Learning said they do some live tutoring when allowed to assist families without internet access.
The Homework Completion Program is open to students in grades K-12. More information and registration is online at stockton.edu/engagement.
# # #
Contact:
Diane D'Amico
Director of News and Media Relations
Galloway, N.J. 08205
Diane.D'Amico@stockton.edu
609-652-4593
609-412-8069
stockton.edu/media