Holocaust Horrors Teach Lessons for Today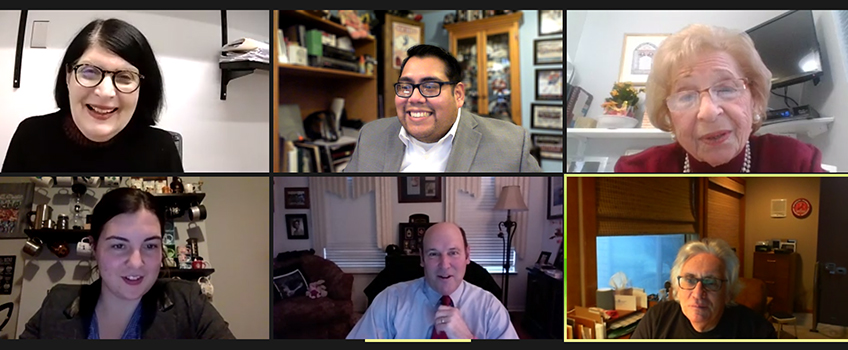 Galloway, N.J. – Doug Cervi was horrified when he saw the shirts seeming to glorify the Holocaust worn by some rioters at the U.S. Capitol on Jan. 6.
An adjunct professor at Stockton University and executive director of the New Jersey Commission on Holocaust Education, Cervi said during a Holocaust Remembrance event hosted by the Sara and Sam Schoffer Holocaust Resource Center at Stockton that teaching about the Holocaust is more important than ever.
"This is the most important subject I will ever teach," said Cervi, who also taught history at Oakcrest High School for 41 years, where, he said, he did occasionally have students who believed the Holocaust never happened.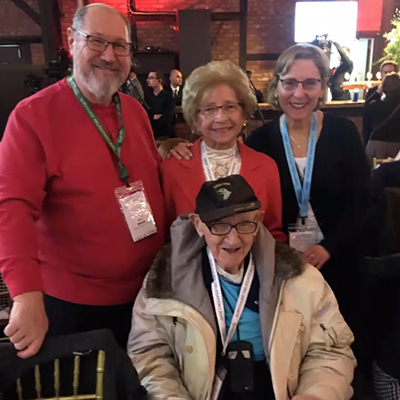 The theme for this year's event was remembering the 75th anniversary of the liberation of the Auschwitz-Birkenau Concentration Camp, which was held last January at the site in Poland. Cervi, along with Holocaust survivors Rosalie Simon, and David Wisnia, attended the event with their families.
It was, Simon said, an emotional experience.
"When I saw the sign, I could not believe I was back," said Simon, referring to the massive sign at the entrance to the camp that said, in German, "Work will make you free."
She said the trip made her angry that the whole world had stayed silent for so long as Jews were murdered. But, she said, there were also uplifting moments with other survivors.
"So many of us survived by accident, or luck," said Simon, who was just 12 when her family was shipped to the camp. She credited her four older sisters, Helen, Charlotte, Lenka and Rose, who were in the camp with her, for helping her to survive. All four also survived the war.
Simon wrote a book "Girl in a Striped Dress" as part of the Writing as Witness project at Stockton project to document the stories of area survivors. She said she hopes people would learn to respect each other more.
"Be nice to people, but speak up when you see something wrong, the abuse of anyone."
Cervi said traveling to the site was a life-changing experience.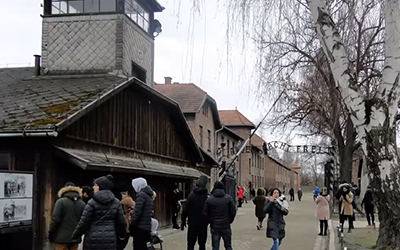 He accompanied Wisnia and his family to the camp where he was held for more than two years, and to his hometown of Sochaczew.
There were 11,000 Jews in that town in 1940," Cervi said. "After the war there were none. Almost 40% of the village was destroyed."
Cervi said it is hard to comprehend how large Auschwitz-Birkenau is. After his first trip in 1996, he said he would never go back, but he has since returned twice more, learning more each time he has visited.
Simon also talked about those who helped Jews. For her family, it was a slave labor factory foreman who snuck her extra food and let her take naps when she should have been working.
"He had a daughter my age," Simon said. "Later, after the war we reached out to see if we could help her, but her son wrote back and said she had been ostracized because her father was helping Jews, and the family did not want any more contact."
Lewis Gantman of the Auschwitz-Birkenau Memorial Foundation, said he brought back so many survivor stories from the 75th anniversary event. He recalled helping a frail, elderly woman in a wheelchair, which could not fit through the gate to the ceremony.
"She said '75 years ago I walked out of here and with your help, 75 years later, I'll walk back in.' That was the will of the survivors." Gantman said.
Gantman noted that one speaker dedicated his talk, "Auschwitz did not fall from the sky" to his daughter. The man recalled how as a child he had not been too bothered by signs that first restricted which benches Jews could sit on, or pools they could swim in, or when they could shop, because there were still places for Jews to go.
"And that's the problem," Gantman recalled the man saying. "I said it was okay but it wasn't okay. We can't be indifferent. We have to act. Everyone saw it coming, but no one acted."
The event was organized by Holocaust Center Executive Director Gail Rosenthal and staff members Irvin Moreno-Rodriguez and Morgan Everman.
# # #
Contact:
Diane D'Amico
Director of News and Media Relations
Galloway, N.J. 08205
Diane.D'Amico@stockton.edu
609-652-4593
609-412-8069
stockton.edu/media