Holocaust Center Receives Bequest from Krevens Foundation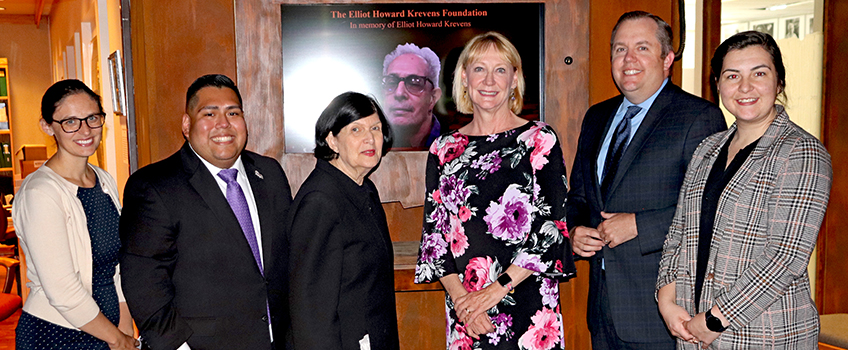 Galloway, N.J. _ Jini Errichetti first met Elliott Howard Krevens when she was a teenager and got a job working for him at the Kohr Bros. ice cream shop he managed on the Atlantic City Boardwalk.
"He was loud and boisterous," she said, "but we got along. Even after I went to work in the casinos, I'd work for him part-time in the summer."
Krevens, of Ventnor, had very poor eyesight, and Errichetti often drove him around.
"We'd talk about things and he was loud, funny, profane and kind," Errichetti said. "He was also very civic-minded and he always donated to causes he deemed important."
Krevens died in 2019 at the age of 79. A 1959 Atlantic City High School graduate, he had worked as manager of a pool deck, parking lot, and ice cream stand. He also invested wisely. The Elliott Howard Krevens Foundation, funded with the proceeds from his estate, almost $1 million, designated 13 area organizations as the beneficiaries of the foundation's annual investment earnings.
One of the beneficiaries was the Sara and Sam Schoffer Holocaust Resource Center at Stockton where Jini, a 1981 Stockton graduate, recently presented the first annual check for $4,600 from the foundation to Holocaust Center Executive Director Gail Rosenthal and Stockton Chief Development Officer Dan Nugent.
"He wasn't a practicing Jew, but he was a very proud Jew," Jini said of Krevens. "He was eccentric, but he meant a lot to me. As an alumna, it also means a lot for me to be able to present this check to the Holocaust Center."
Rosenthal said she is honored the center was recognized as one of Kreven's beneficiaries.
"We appreciate that Mr. Krevens recognized the work we do," Rosenthal said. "His generosity will help us continue to share the lessons of the Holocaust with future generations."
(More information about the Sara and Sam Schoffer Holocaust Resource Center is on the center website or call 609 652-4699.)
# # #
Contact:
Diane D'Amico
Director of News and Media Relations
Galloway, N.J. 08205
Diane.DAmico@stockton.edu
609-652-4593
609-412-8069
stockton.edu/media
Stockton University