College Course Offered to H.S. Students in A.C., Pleasantville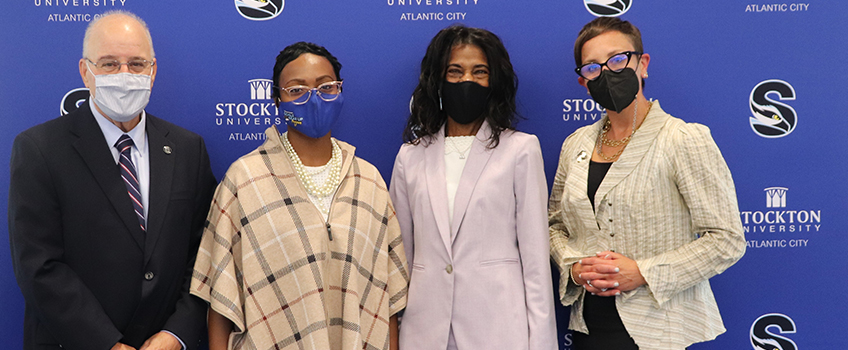 Atlantic City, N.J. – High school students from Atlantic City and Pleasantville who are in the GOALS GEAR UP program at Stockton University or the Boys and Girls Club of Atlantic City Teen Center will have the opportunity to take a free college course through a new partnership announced Monday.
The two-credit course, "African Americans and the Shaping of Pop Culture," will be offered in a hybrid format beginning in January. There will be both Zoom and in-person elements.
Destiny Talley, director of the GOALS GEAR UP program at Stockton, said a primary mission of the program is to create a "school-to-college pipeline" to increase the number of students from those two cities who attend college by helping them prepare for the higher education experience starting in middle school. She noted that this is National GEAR UP Week, and a perfect time to announce the partnership.
"Offering a course on a topic that students will likely find interesting is a way for them to earn college credit and also build their confidence that they can succeed in college," Talley said.
Boys and Girls Club of Atlantic City Chief Executive Officer, Stephanie Koch, said she is thrilled to offer club members an academic opportunity that will provide them with college credits and encourage interest in attending college, ultimately resulting in good jobs. She said the club will provide students the support they need to succeed.
"We see Stockton as a pillar in Atlantic City," Koch said. "We serve thousands of young people a year that we want to grow into a homegrown workforce in Atlantic City. Through this partnership, our Club Kids can see themselves as College Kids, right down the street, as well as become better prepared for the world of work."
Stockton already offers dual enrollment courses for students at Atlantic City and Pleasantville high schools. Talley said the new agreement expands that opportunity to more students with a course that is based on Stockton's African Studies program.
Stockton Chief Enrollment Officer Robert Heinrich said he looks forward to adding even more dual enrollment classes.
Atlantic City Mayor Marty Small and Pleasantville Mayor Judy Ward also attended the event. Ward stressed the opportunity the GOALS GEAR UP program provides.
"When I say thank you, I mean it more than you know," Ward said. "This is awarding students an opportunity they didn't have. Some children would never be exposed to anything like this, and this is going to make the difference in their future career or job."
The GOALS GEAR UP program accepts students in grades seven through 12 from Atlantic City and Pleasantville. Students meet at the Stockton Atlantic City campus and get academic, Saturday, and summer enrichment programs, counseling, field trips and mentoring. The program receives funding from the N.J. Office of the Secretary of Higher Education and Stockton University.
Student applications are being accepted for the 2021-22 academic year, which begins with the Kick-Off event on Saturday, Oct. 23. For more information call 609-761-1229 or go to stockton.edu/goals.
The Boys and Girls Club has locations at 1010 Drexel Ave., 215 N. Sovereign Ave., and the Teen Center at 317 N. Pennsylvania Ave. More information is at acbgc.org.
# # #
Contact:
Diane D'Amico
Director of News and Media Relations
Galloway, N.J. 08205
Diane.DAmico@stockton.edu
609-652-4593
609-412-8069
stockton.edu/media