Symposium Addresses N.J. Food Access and Equity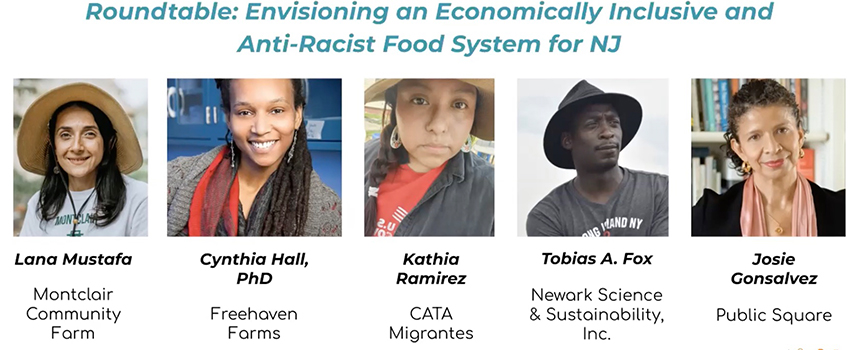 Galloway, N.J. _ New Jersey needs to bolster food access and equity to underserved communities as well as heighten awareness about farming, nutrition and the resources available to help people, speakers said at the first N.J. State of the Food System Symposium hosted Dec. 3 by the New Jersey Food Democracy Collaborative (NJFDC) and Stockton University.
Douglas Fisher, N.J. Department of Agriculture Secretary, said the state has 10,000 farms and hundreds of major food processors and infrastructure for shipping. "But improvements are needed regarding how we distribute food to the underserved communities," Fisher said.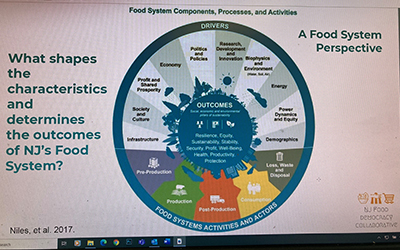 Fisher cited a new supermarket that recently broke ground in Atlantic City, the first in 15 years. "We were able to get a supermarket in Atlantic City and that's a major accomplishment because we had to pull together so many resources," Fisher said.
Schools are key to learning nutrition, Fisher said. "The earlier we get into schools and start teaching nutrition, the better. We know it pays huge dividends," Fisher said. He said 1.9 million people rely on eating and nutrition programs in New Jersey and that includes meals served to children in schools.
"Corporations have a responsibility to teach good nutrition and to understand that there is a willingness from the community to eat healthy. There is a lot of inequitable distribution, especially in food desert," Fisher said. "We have to talk about what are the messages that corporate campaigns are sending out and undermining what we are doing."
Symposium organizer Jeanine Cava, a founder of the N.J. Food Democracy Collaborative and adjunct instructor at Stockton, said the symposium was designed to share and connect about food system challenges.
The webinar titled "NJ FDC: Why a Food System Approach?" highlighted food and nutrition efforts happening state-wide and shared perspectives of the challenges being faced. Food policy councils are growing in popularity to approach food and farming issues, Cava said.
"We must build trust with each other and our institutions. Functioning collaboration between business and community is critical and we applaud those here today modeling that healthy collaboration," Cava said.
Elisa Naira, N.J. Department of Human Services Deputy Commissioner, said Gov. Phil Murphy's administration "has been laser focused on food insecurity."
"The last two years have been challenging. We have seen unprecedented levels of need and received $2 billion in addition to help," Naira said.
In December, more than 450 households in New Jersey received an additional $81 million in increased SNAP benefits for nutrition which is a 23 percent overall increase, she said. The benefits are not tied to the pandemic and are being made permanent. SNAP households also began online shopping for healthy foods for the first time.
Murphy signed legislation in November aimed at combating food insecurity by addressing hunger and bolstering school food programs. "We know these efforts will reach more people who can benefit from SNAP and other benefits," Naira said.
Assemblyman Craig J. Coughlin said there is a moral obligation to combat food insecurity in the state and help people access good nutrition. "We're beginning it in the schools and with families and colleges. The work is not done."
Senator Bob Smithsaid the state is taking aim at keeping waste food products out of the landfill and reducing methane gas which contributes to destruction of the ozone.
"Methane has 20 times the effect on global warming than carbon dioxide," Smith said.
A bill in senate would require large food waste generators that recycle food waste if more than 52,000 tons a year is being generated at a facility, Smith said.
Smith promoted a bill setting state food labeling standards. He said dates on food labels vary and are confusing to the public. "Some say, 'best used by' others say, "don't use after' and it's just confusing," Smith said. "Getting uniform labeling helps the customer and when being donated, we know the food is safe because we know what the label actually means."
Gary Sondermeyer, vice president of operations for Bayshore Recycling and co-chair of the N.J. Climate Change Alliance, discussed organic and sustainable nutrition projects and managing solid waste.
Michigan State University's Lindsey Scalera talked about the collaboration to ensure sustainability for the Michigan Good Food movement. Adele LaTourette, Hunger Free New Jersey, discussed the need for a food czar to advocate on behalf of hunger in the state.
Tara Colton, N.J. Economic Development Authority, discussed defining food desert communities;Brian Schilling, Rutgers Cooperative Extension talked about local agricultural policy and Ashley Kerr, N.J. Farm Bureau talked about meeting the demands of food banks. Director of City Green, Inc. Lisa Martin said they received a grant from the USDA.
Also taking part were Mandy Coriston, N.J. Home Bakers Association who touted her organization's recent legislative win in N.J., which is now the 50th state to pass cottage food laws; Tobias Fox, Newark Science and Sustainability, Lana Mustafa, Montclair Community Farm; Kathia Ramirez, CATA Farmworkers; and Josie Gonsalves, Public Square, who discussed issues of equity and justice in the food system.
The NJFDC is scheduled to release its report, "NJ Roadmap for Food System Resilience," in December.
-Reported by Diane D'Amico and Stephanie Loder