Student Art Exhibit Shows Creativity and Career Skills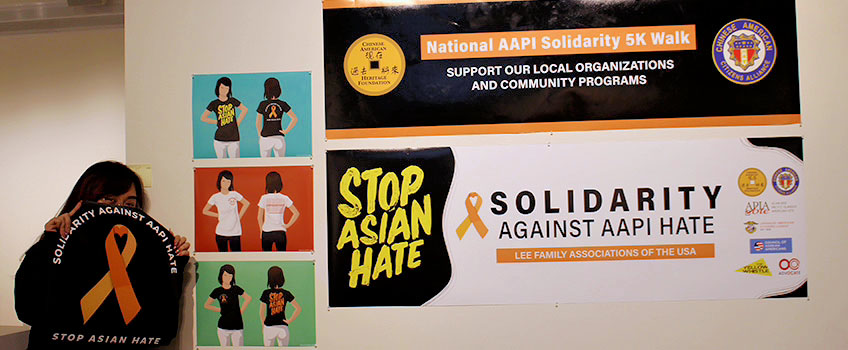 Galloway, N.J. – Eleven seniors from the Stockton University Bachelor of Fine Arts program are displaying their work at the Fall 2021 BFA Senior Exhibition. The display will feature two photographers and nine visual communication students from Dec. 1-9.
"I took a lot of my inspiration for this collection from my everyday life," said Kaelie Martin from Mays Landing. "Some of the collection is from the cartoons I used to watch as a kid and some of the collection is based off of my life during the pandemic."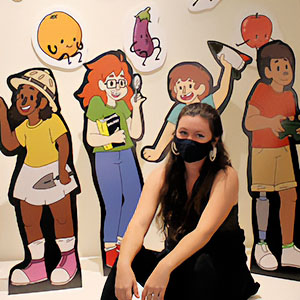 Martin's exhibit is mostly made of cartoon drawings she created. She explained that the most important thing to her is that her work is playful; she just focuses on having fun while she is creating. After graduation, she is planning to work with a local author to help illustrate a children's book.
Tram Nguyen of Egg Harbor Township also took inspiration for her collection from the pandemic but had a completely different spin on it.
Tram Nguyen of Egg Harbor Township also took inspiration for her collection from the pandemic but had a completely different spin on it. Nguyen's work was evoked from the protests happening in major cities to stop Asian hate, and she worked closely with the Chinese Heritage Foundation.
"I worked as their lead artist," said Nguyen, "I created posters, graphics, banners, T-shirts, and pretty much any of the other art you see here." While Tram did explain that the work remained important and rewarding, it was not her ultimate goal or style. She features another wall of art based solely off on her personal style. She hopes to work in mobile app and web development.
Senior Angel Huynh from Atlantic City created her display mostly from the work she created while interning for Governor Phil Murphy's reelection campaign in 2021.
"I didn't think I was going to get the internship, and I applied on a whim," said Huynh. "I was shocked to find out that I had actually got it."
Huynh explained that while the experience was great, she wanted to, in the future, move away from political art and more into her own style. All of her art is graphic design, and she used the program Illustrator to create her pieces. Some of her style art is featured within her display alongside her internship pieces encouraging people to vote. Her ultimate goal would be to one day own a studio of her own.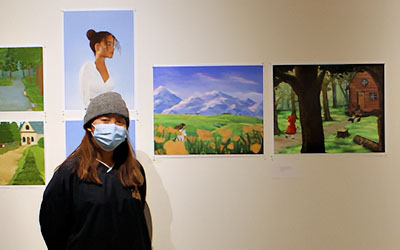 Montana Phiathep from Pleasantville is also a digital artist who uses the program Procreate to create her pieces of art. Her wall was full of bright colors and modern-day fashion drawings.
"I draw my inspiration from everyday fashion, playful colors and styles, and what is trending online at the moment," said Phiathep, who hopes to work in motion-picture animation.
Like Huynh, Sarah Gould of Mays Landing also created many of her pieces while working on her internship with Masterpiece Advertising this semester. Her work has a mixture of themes, and some have been used in advertising and branding.
"I got my internship this fall when one of my professors had me research and present on a graphic design company," said Gould, "I saw that they were looking for interns and I applied and loved it there."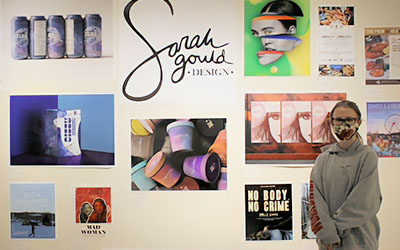 Gould also loves to draw inspiration from music which is shown in many of her pieces. She has recreated some album covers and even loosely based her ice cream pint piece off of a song named "Silk Chiffon," which she thought would be a good name for the imaginary ice cream brand she was creating graphics for. She hopes to continue her work in advertising.
Other student exhibits are two photographers, Dominique Terteweh from Jersey City and Holly Sweet from Brick; three visual communication students, Asia Lackland from Egg Harbor Township, Alba Verdugo from Bridgeton, and Sandra Vargas from Manahawkin.
The art gallery is free and open to the public. The hours for this exhibition are Monday- Saturday from 11:30 a.m. to 7:30 p.m. and Sunday from 12 p.m. to 4 p.m. The nearest parking is lot 6 or 7. Please note that all daytime visitors during the week must get a virtual parking permit and take the COVID-19 health pledge at https://go.stockton.edu/public/visitor/form. Masks are required.
For more information contact Denise McGarvey at 609-652-4566 or email denise.mcgarvey@stockton.edu
The students have also created a website showcasing their work at https://bfaexhibit.com/
- Story and photos by Hannah Urbanowycz