Dancers Delight on the Boardwalk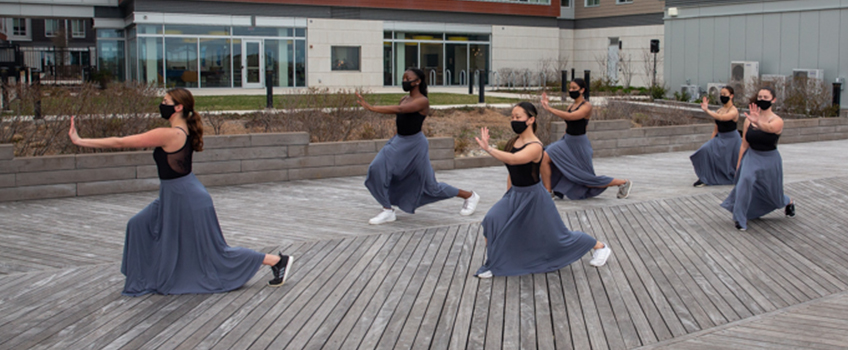 Atlantic City - It was an exhausting and exhilarating day for six Stockton University dance students and Associate Professor of Dance Rain Ross as they created and performed an original dance work on the Boardwalk in front of the Residential Complex at the Atlantic City campus April 9.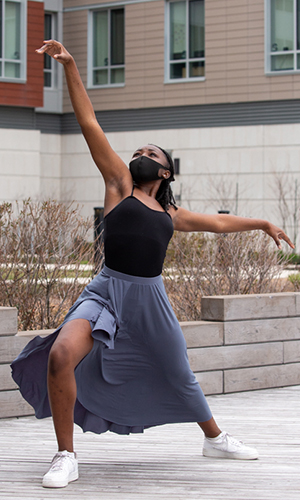 "It was a very long day, but very, very fun to create and dance with people," student Cecilia Mitchell of Montclair said after the performance.
"Learning and doing it all in one day was not something we'd ever done before," student Abigail Bell of Jackson said.
After a year of COVID-19 Zoom classes, Ross wanted to do a live performance that would share her hope for the future. A group of her students had also performed a drive-in dance in March on a parking lot on the Galloway campus, where car headlights spotlighted the dancers and the audience watched from their cars.
Ross said creating, rehearsing and performing on the Boardwalk gave passersby the chance to see students working and creating. And while it was chilly and a bit windy, many people did stop to watch, even if only for a few minutes.
The Boardwalk dance, performed to Jeff Buckley's cover of "Hallelujah" by Leonard Cohen, lasted just about six minutes, but hours were spent learning and rehearsing for the 4:30 p.m. performance.
Stockton alumnus and professional dancer Gabriel Reyes filmed the students, who gathered around him to watch the video as they took short breaks to warm up in the Residential Complex lounge.
Ross said the day was a marathon, but worth it.
"I haven't had a chance to breathe," she said. "But it was an event, and I'd do it all again with these dancers."
The participating dance students were: seniors Alexa Angelucci of Florence, Ciara Civitello of Egg Harbor Township and Agnes Cancio of Union; junior Cecilia Mitchell of Montclair, and first-year students Abigail Bell of Jackson and Brooke Butler of Baton Rouge, La.
The video of this piece, along with work by other students and faculty will be featured in the Emerging Choreographers Showcase at 7:30 p.m. April 22-24. The performances will be livestreamed on the Stockton Dance website.
The eight students whose works will be featured in the Showcase are: Alexa Angelucci of Florence, Agnes Cancio of Union, Molly Glenn of Farmingdale, Grace McGlinchey of Berlin, Katelyn Heinrichs of Phillipsburg, Naomi Pagan of Sewell, Brianna Rapp of Atlantic Highlands and Adriana Trigiani of Cherry Hill. Their pieces are a mix of site-specific dances for the camera, and dances performed on the PAC stage and captured for the screen by Stockton Production Services.
Other faculty dances for the camera included in the virtual concert are Shannon Murphy's quintet of students is based on embodied research she developed with her professional company, Dark Moon Collective and Beau Hancock's A Place Called Lost which was shot on the woodland trails surrounding the Galloway campus.
A work by Stockton Dance alumni, Alisa Iacovelli '18 will also be performed. The piece, "Unfair Advantage," includes a cast of six professional dancers.
"Stockton Dance commissioned this work by Iacovelli, and we hope to continue this tradition of inviting one alum to create work for the Emerging Choreographers Showcase moving forward," said Assistant Professor of Dance, Beau Hancock, This new work by Iacovelli, Unfair Advantage, includes a cast of six professional dancers.
VISIT STOCKTON.EDU/DANCE TO VIEW THE EMERGING CHOREOGRAPHERS SHOWCASE.
Click here to view a gallery of photos from the Boardwalk event.
_ Reported by Diane D'Amico. Photos by Susan Allen.