Constitution Day Speaker Calls for 'Culture of Care'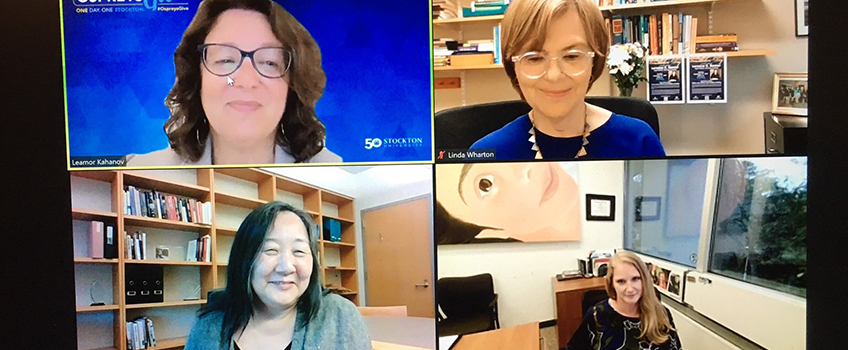 Galloway, N.J. – We need to create a "culture of care" and also strong laws that value everyone, Lorraine K. Bannai told attendees at the annual Constitution Day lecture via Zoom on Sept. 21.
A legal scholar and author, Bannai spoke on "Anti-Asian Hate: History, Law, Culture and Coalition-Building" and included examples from her own family during World War II.
"What is most heartbreaking to me is that more people did not speak out," Bannai said.
While her talk focused on Asian Americans, Bannai acknowledged discrimination suffered by many groups. She noted the resurgence of Anti-Asian sentiment during the COVID-19 pandemic but said it has existed since Asians and other minorities first arrived in America.
"It is clear that there are people who hate us just because of how we look," Bannai said. She said crimes against Asians, Blacks and Hispanics have been on the rise.
Citing historical examples, Bannai mentioned the 1905 Asiatic Exclusion League and noted it was not until 1952 that Asians were allowed to become naturalized citizens. After the attack on Pearl Harbor and throughout World War II, there were curfews for specific groups and 120,000 Japanese-Americans on the West Coast, including Bannai's grandparents and parents, were removed from their homes and sent to internment camps behind barbed wire.
Three men challenged the legality of forcibly removing American citizens from their homes but lost when the courts ruled it was necessary to protect the country. Bannai said the court could find no actual evidence of espionage but said their racial characteristics would make them side with Japan.
Bannai served on the legal team that in 1981 successfully challenged one of the men's convictions. She is also director emeritus of the law school's Fred T. Korematsu Center for Law and Equality at the Seattle University School of Law, named for the man she represented.
"Looking back, this is seen as a mistake, but it was really just following the popular will," Bannai said. "People are willing to sacrifice civil liberties when they are afraid. We make people scapegoats."
Bannai said she supports the rule of law but knows that the law itself is insufficient and must keep pushing forward. She also said it is crucial to learn about other people and cultures and treat people as individuals.
"Things can change if we each do our part," she said.
The law center for which Korematsu is named carries on his legacy by engaging in research, education and advocacy to advance the causes of equal treatment and due process for all. The Center has been involved in a wide range of cases, including challenging the citizenship question on the U.S. census; and arguing against bias in legal proceedings, such as in the closing arguments of counsel, the striking of jurors of color, and the imposition of the death penalty.
Stockton has celebrated Constitution Day since 2006, after a federal law was passed requiring schools and universities to provide educational programs that offer a better understanding of the Constitution, which was signed by delegates to the Constitutional Convention in Philadelphia on Sept. 17, 1787. Stockton's committee is chaired by Professor of Political Science Linda J. Wharton.
# # #
Contact:
Diane D'Amico
Director of News and Media Relations
Galloway, N.J. 08205
Diane.DAmico@stockton.edu
609-652-4593
609-412-8069
stockton.edu/media