Club Connect: Meet the ... Equestrian Club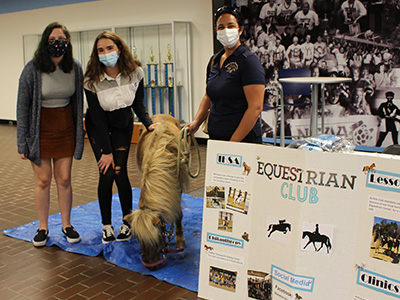 Galloway, N.J. – Have you ever had an interest in horseback riding but never got the chance to try it because of the difficulty and costs associated with being an equestrian. Stockton's equestrian club makes horse riding accessible to all students here at Stockton.​​
The club meets on the first Thursday of every month at 4:30 p.m. in room B-005. It is open to anyone who has an interest in riding. There is no experience needed to join, and you don't need a horse. They have a full range of options for students that include beginner lessons all the way through to a competitive team. The competitive team, IHSA, had their first meet in October, where they competed against other universities in the tri-state and surrounding area.
In the Equestrian Club, you also get to learn about horses and how to care for them. They also have shows where riders can show off all the skills they have learned throughout the season. If you are super lucky you may also get to meet Eddie, the miniature horse and team mascot who comes with them to some events like the Get Involved Fair.
For more information on how to join and get involved, follow the Equestrian Club on Instagram at www.instagram.com/stocktonequestrian/ or email equestrianclub@stockton.edu.
Photo and story by Hannah Urbanowycz