Club Connect: Meet the ... Marine Technology Society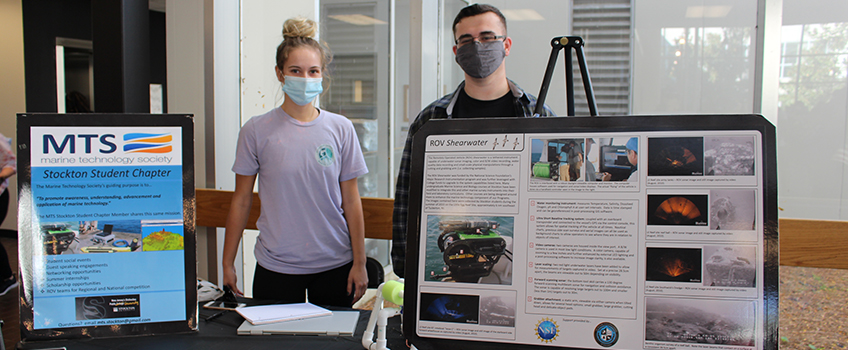 Galloway, N.J. - Marine Biology is a broad and interesting subject with many different facets. The Stockton Marine Technology Society (SMTS) focuses on the technological and robotics aspects of the field.
The club is open to anyone. They meet every other Wednesday at 5 p.m. and will be hosting their first event of the semester from 9 a.m. to 3 p.m. on Tuesday, Oct. 26, at the Stockton Marine Field Station, 340 Wilson Avenue in Port Republic. This is a free event full of hands-on activities. Students will learn about water quality instruments, get a crash course in seamanship, and more.
SMTS also recently won an award for their work and outreach from the Marine Technology Society, an international professional organization. The award for "Outstanding Student Section" in the 2020-2021 school year is shared with other colleges in the New Jersey Section, including Rutgers University, Monmouth University, and Stevens Institute of Technology.
Current President Samantha Hughes, and Vice President Matt Leason, credit this accomplishment to founding President Payton Benson as well as former President and recent Stockton alum Kaitlin Turner, who accepted the award.
"This group is a great way to find out if this is an area of marine biology you might be interested in," Hughes said. "If you like robotics and technology, join us."
For more information about joining SMTS or to register for the precepting day event visit Stockton Marine Technology Society on Osprey Hub.
- Reported by Hannah Urbanowycz