Students Learn the Chemistry of Art
Galloway, N.J. - Chemistry can be a daunting subject for some, but Stockton University Professor Sarah Gray has taken on the challenge to make it not only interesting but fun for her students.
Gray developed the course Chemistry in Art, which teaches the fundamentals of chemistry while creating beautiful works. For the end of the semester projects, students held a showcase on Dec. 2 in the Campus Center to show the projects and explain what they learned.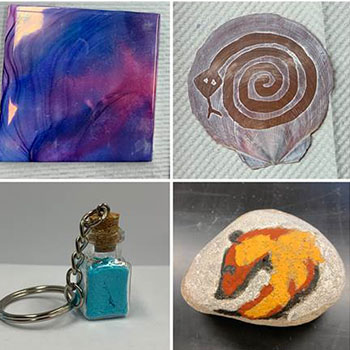 Professor Gray said, "I think for me, you tell people that you're a chemist and they cringe, and I hated that. So this is the really exciting stuff that you get to do ... we made keychains, earrings and coasters to name some projects."
Gray said she hopes that when her students bring back their projects to friends and family and explain the chemistry behind them, it will start to break down the stereotypes around chemistry being a "boring" subject.
The general studies course is offered to students of all majors. The students currently enrolled vary in majors from psychology to visual arts.
As a mathematics major, RJ Clemens from Dunellen said, "I think this class will help me think outside the box. As a science or math major, we are always taught to think very analytically, but this is a chance for us to take a step back and look at more real-world uses other than just like pharmaceuticals."
"I definitely learned things I wouldn't have learned from taking a traditional art class," said Charmaine Harris, a visual arts major from Newark. "Specifically, the creation behind paints because I didn't really know that it was just pigments and binders. Now I know how to make my own paints."
Students said they were challenged and as a result learned things that they weren't expecting.
"I was really surprised at just how much goes into different art. I never really thought of it as a science. I thought of it as just simple and pretty works of art," said Jamie Nevin, a psychology major from Burlington, N.J.
Some of the students' favorite projects included dyeing bags with indigo, decorating ceramic coasters with alcohol inks, making their own paint, and looking at the effects of light on different mediums.
The course will be offered again in Fall 2022.
"My mom and aunts do a lot of fiber arts such as spinning, weaving, dyeing, and that's how I picked some of these segments for the class, since I already had background knowledge of this type of art," Gray said. "There are so many other topics we can cover like metal etching that we may incorporate in the future."
- Story and photos by Hannah Urbanowycz