Council of Black Faculty and Staff Celebrates 50 Years of Advocacy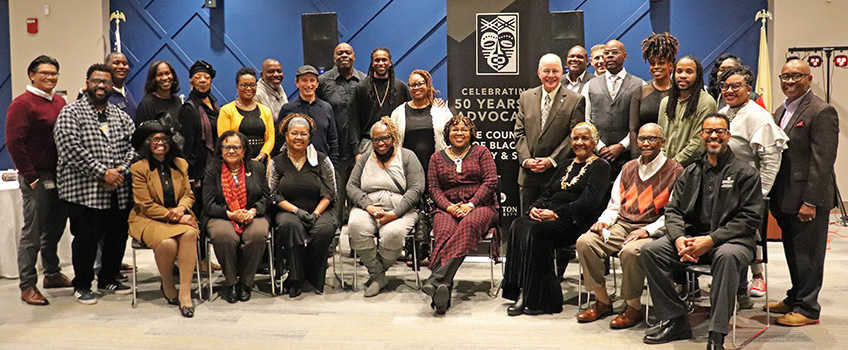 Atlantic City, N.J. - The Council of Black Faculty and Staff celebrated its 50th anniversary with a "family reunion" of past and present members in the Fannie Lou Hamer Room at Stockton Atlantic City Nov. 12.
"We are here to remember the past, embrace the present and look to the future," said vice president John Gray, instructor of Organizational Leadership, who recalled arriving at Stockton as a student aging out of foster care in 1986 and being embraced by the council members.
"A lot of us were nurtured here," Gray told the audience. "This became my family and I just want to say thank you. The man I am now is because of your nurturing."
Noting that the council has been in existence since Stockton opened and during the civil rights era, President Harvey Kesselman called it "the conscience of the institution."
"The council offered collegiality, empowerment, and a sense that we had to do the right thing and not just talk about it," Kesselman said. "They were a watchdog. It's because of people like Pat (Reid-Merritt) that we have this room named for (civil rights leader) Fannie Lou Hamer."
Kesselman noted that three of the seven Distinguished Professors at Stockton are Black – Patricia Reid Merritt, Wendel White, and Janice Joseph.
"They made a difference from the beginning," he said.
Kesselman also mentioned the 20-year leadership of former president Vera King Farris in defining the college.
"She is the one who said Stockton is not about the brick and mortar, it's about the people," he said.
Professor of Africana Studies and Communication Studies Donnetrice Allison, a former council president, said when she arrived at Stockton 17 years ago, she was embraced by the members.
"I might not still be here if not for them," she said. "It can be lonely where there are not many who are like you. Now I am passing it on, reaching out and paying it forward."
The event also featured an 18-minute video of interviews with members of the council and recipients of scholarships and awards at the annual dinner. A formal dinner was not held this year, but guests at the reunion donated some $3,000 toward the scholarship fund, which has raised more than $300,000 since its inception 40 years ago.
Music Professor Beverly Vaughn ended the video, challenging the group to "continue to carry the torch."
Gray said the work of the council continues, through him and others. Kesselman noted that if Gray becomes council president, he would be the first president who was also a student at Stockton.
"The work goes on, and I am extension of that," Gray said.
Story by Diane D'Amico
Photos by Eliza Hunt
Video produced by John Gray, Joseph Petrilli, Jr., Diane D'Amico and Hannah Urbanowycz