More than 350 Attend Cannabis Career Fair and Business Expo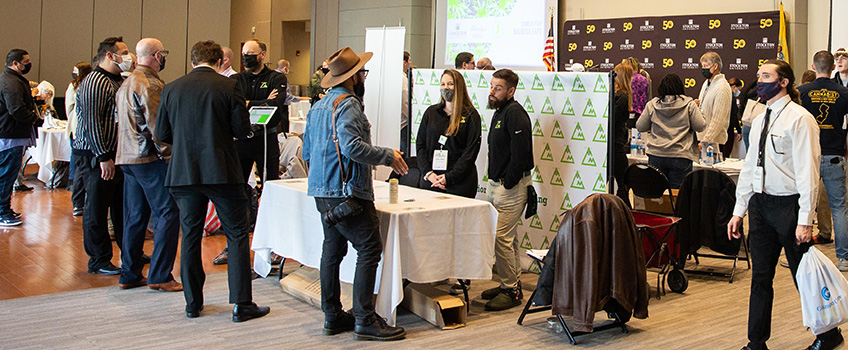 Galloway, N.J. – Vendors representing all aspects of New Jersey's developing cannabis industry offered advice, internship opportunities and some job offerings at the Cannabis Career Fair and Business Expo at Stockton University Nov. 17.
More than 350 people attended the daylong event, which was co-sponsored by Stockton University, the New Jersey CannaBusiness Association and NJ Cannabis Insider.
"People are just learning about what opportunities there are, and how they can create a career," said Spencer Belz, marketing manager at the medical marijuana company The Botanist.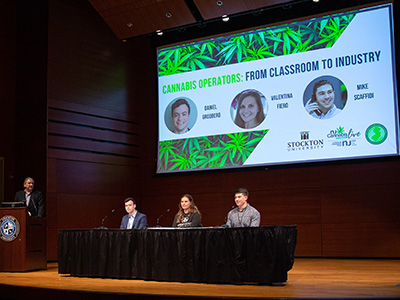 "We are hiring now, and this would be an opportunity for those interested in the field or Stockton students in the cannabis minor program to get experience," said Botanist administrative manager Lauren Ferguson.
Stockton adjunct professor Rob Mejia, who teaches in the Cannabis Studies minor program at Stockton said he got positive feedback on the event from participating students who also applied for summer internships at Lowell Farms.
Stockton currently has more than 100 students in the cannabis minor. About 60 alumni have graduated with the minor.
Stockton also offers an online Cannabis Studies certificate for adults through its Continuing Studies program.
Three alumni working in the field spoke at a panel discussion about their experiences. Daniel Grodberg is working at Bennabis Health, which offers insurance for medical marijuana users. Valentina Fiero works in cultivation at Ayer Wellness and Michael Scaffidi started in the dispensary at Curaleaf and is now a community outreach coordinator.
All three had different majors at Stockton and said the Cannabis Minor program gave them valuable background in all areas of the industry, which helped them in their careers. They said education is crucial as New Jersey develops its cannabis industry.
"The minor got me into the industry with a good base of knowledge in a lot of areas," Scaffidi said.
Other participating businesses included: HBK CPA, Columbia Care, Hance Construction, Kalo, NJ Cannabis Certified, UFCW Local 152, New Jersey CannaBusiness Association, 420NJEvents, Earth & Ivy, iAnthus, attorney Lou Magazzu, and the N.J. Cannabis Trade Association, Bootleg Avocado, Blazin' Bakery, Pure Genesis, Bridge Strategic Communications, Roll Up Life, ATH NJ, Herb's Supply, HarvestWorks Farm, Supreme Security Systems,Puffin LLC, Green Wave Recruiting, and TheraTrue.
Reported by Diane D'Amico
Photos by Susan Allen