Stockton Signs Agreement with Camden Academy H.S. and CCC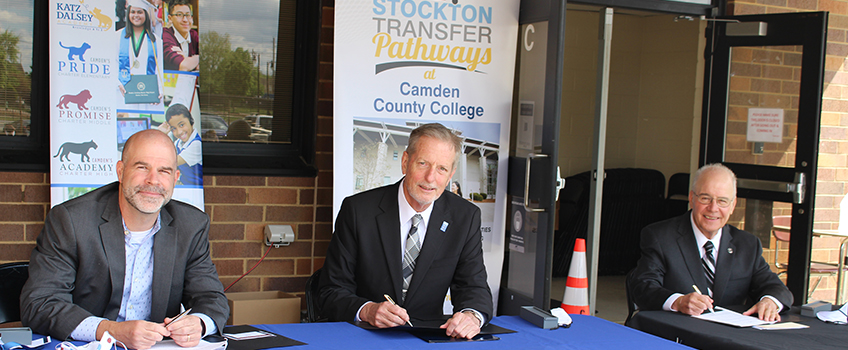 Camden, N.J. – Students at Camden Academy Charter High School will have multiple paths to complete two and four-year college degrees under a new agreement between Camden Academy Charter High School, Camden County College and Stockton University.
A signing ceremony for the Degree Path Partnership, attended by students and local dignitaries was held at Camden Academy on April 30.
"This event marks the beginning of an exciting new partnership that will provide an affordable and accessible path to a four-year college degree for our Camden Academy students," said Camden Charter School Network Superintendent Dr. Conway"Camden County College and Stockton University share our commitment to promoting scholarship, character, leadership and service and we are thrilled our students will have the opportunity to continue their educations at these two institutions."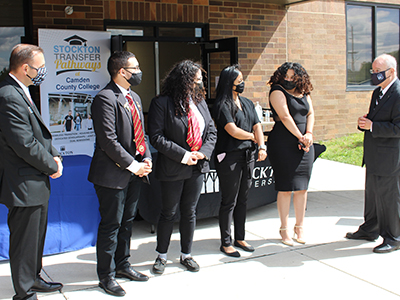 The new partnership builds on the We Go To College (Now)! Program with Camden County College. Launched in the fall of 2019, 12 eleventh-grade students enrolled in the program taking college courses in their final two years of high school. Students who successfully complete the program will graduate with both a high school diploma and associate degree from Camden County College at no additional cost.
"Camden County College is continuously looking to create innovative partnerships with our local high schools and community members," said CCC President Donald A. Borden. "This new agreement provides a unique opportunity for Camden Academy Charter High School students to earn an associate degree from Camden County College while in high school, and then seamlessly transfer into Stockton University to complete their final two years of a bachelor's degree."
Under the new agreement, there are three ways for Camden Academy students to be guaranteed admission to Stockton University.
First, students can be automatically accepted to Stockton fulltime if they graduate from Camden Academy with a minimum GPA of 3.0 or higher and complete the admission application requirements.
Second, students who complete the We Go To College (Now)! program and earn an Associate of Arts Degree from Camden County College will be admitted as juniors to Stockton and be considered first- time college students.
If students don't meet the previously listed paths to Stockton, they will be encouraged to initially matriculate into the Camden County College Transfer Pathways partnership with Stockton. That program allows them dual enrollment to Stockton and Camden County College, with a guaranteed admission to Stockton as juniors once they obtain their associate degree.
In addition to guaranteed admission to Stockton, Stockton will waive the admission application fee, provide on-site personal admissions advisement to prospective students and parents, provide on-site general college search and financial aid workshops and presentations, and will award competitive academic and partnership scholarships to qualified Camden Academy students.
Stockton president Harvey Kesselman said two graduates of Camden Academy are currently enrolled at Stockton, and four Camden Academy seniors, Michelle Soto Rodriguez, Hilarimar Fontanillas Difo, Dylan Santiago and Carla Alvarez, plan to attend Stockton in the fall.
"We are thrilled to offer this new opportunity to all Camden Academy students and hope to welcome even more Academy graduates to the Stockton campus in the future," Kesselman said.
The students said they chose Stockton because they liked the atmosphere, it offered programs they were interested in, and was not too far away from home.
"I have family members who went to Stockton," said Santiago who plans to major in psychology. "And I wanted an affordable education."
"There are so many options there," said Fontanillas Difa, who hasn't picked a major yet. "We were able to visit and I loved the inclusive atmosphere."
Soto, who is majoring in biology and pre-med, wanted to stay in New Jersey. Alvarez, who plans to study marine biology, was thrilled to find a program close to home.
"I've always loved the ocean," Alvarez said.
Amy Loyola, a graduate of both Camden Academy and Stockton, said her time at Stockton as a health sciences major was an amazing experience.
"I played basketball, was in EOF and Greek life," she said. "I really got involved. I also took classes at Camden County College while I was in high school, so I entered college with college credits. Stockton make it easy to transfer the credits. It was like a home away from home there."
Kesselman told students the university is working hard to make it easy for them to get a degree.
"Our goal for you is that you become engaged citizens," Kesselman said. "I have confidence that you will. All of us want you to succeed."
# # #
Contact:
Diane D'Amico
Director of News and Media Relations
Galloway, N.J. 08205
Diane.D'Amico@stockton.edu
609-652-4593
609-412-8069
stockton.edu/media
Stockton University