Birds Bring Stockton Ospreys Together for World Series of Birding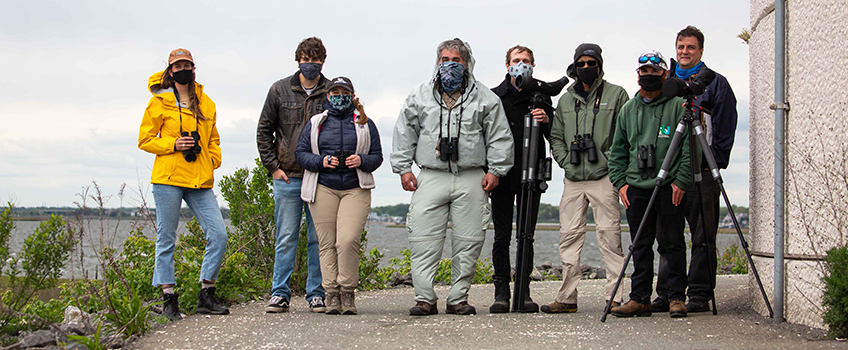 Galloway, N.J. - At 1:17 a.m. the first bird observation of the day for the Stockton Fish Hawks team came across the WhatsApp messaging platform.
"Got a Screech Owl," texted Lester Block, who started birding at midnight with John Rokita for New Jersey Audubon's World Series of Birding competition on May 8.
Twenty-two Ospreys including alumni, students, faculty and staff birded the Atlantic Flyway in New Jersey and Florida for the Fish Hawks ambassador team and found a total of 171 species with 164 of them found in New Jersey.
Birding to Benefit Conservation
The goal is simple: to spot as many species in 24 hours by sight or sound. Reaching the goal is an adventure. Along the way, fundraising supports conservation, new and longtime birders connect, and many hours are spent outdoors enjoying nature.
Teams witness birds in their varied habitats during migration season when species are on the move to their breeding grounds and their fundraising supports conservation efforts that help birds and their habitats. The Fish Hawks raised $2,065 for New Jersey Audubon Education Department.
A few minutes after the first owl, Block texted, "Just got a Barn Owl!"
Block and Rokita, both Stockton alums who now work in the School of Natural Sciences and Mathematics, are seasoned birders who lead Saturday bird walks at the Edwin B. Forsythe National Wildlife Refuge and have been members of the Atlantic Audubon Society, which evolved from the Stockton Birding Club, from the start. Years of bird watching has taught them about each species--their songs and calls, where they like to hang out, what time they wake up, where they feed, when they nest and many other behaviors.
Listening and a familiarity with calls are key when birding the wee hours of the day. Eager to hear the owls calling, Brandon Henry '21 and Mike Heine '20 headed to meet Block and Rokita, but while en route, they added their own species to the tally when a Great-Horned Owl flew across the road in front of them.
A Fledgling Idea Takes Flight
The idea to create a Stockton team formed when Moira Sweeder '21 met Kirsten Holt '09. Sweeder, a Sustainability Ambassador intern for N.J. Audubon, heard about the World Series in a meeting. Her first thought was to get the Stockton Ospreys involved. Holt, who is director of N.J. Audubon's Lorrimer Sanctuary, got word and connected with Sweeder to give the thought wings.
The fledgling idea took flight when they reached out to their former professor Tait Chirenje to get others involved. The team became acquainted with each other through a Facebook group, and a birding strategy was planned over Zoom meetings.
A handful of participants already knew each other from Chirenje's field experiences to Brazil and Ecuador. Block has chaperoned Chirenje's tours in the past and was the self-dubbed "birder" of the group.
Night Owls or Early Birds or Both?
To get as many species as possible, team members need to be night owls and early birds.
Many of the New Jersey-based team members met on the Galloway campus for the dawn chorus when birds begin to sing at the first signs of daylight.
"The early morning on campus was probably my favorite part of the day. Busy parking lots and the noise from cars, shuttles and students was replaced with peaceful silence that was only broken by the calls of nocturnal birds and the occasional car zipping past on the parkway," explained Mike Heine.
But before the chorus began, a barred owl called out, "who cooks for you." The barred owl is a threatened species in New Jersey, but they have found suitable habitat in Stockton's cedar swamps throughout the years.
A Northern Mockingbird, known for its ability to mimic other birds and even sounds from inanimate objects like car alarms and sirens, also gave a pre-dawn performance.
A Bird's Eye View of Nature
From Stockton the team headed to Belleplain State Forest where they checked off a number of warbler species, then to Beesley's Point to look for common ravens, on to the Ocean City Visitor's Center to see the nesting herons, egrets and ibises at the rookery, then to Forsythe and back to Stockton to finish the day.
At the Visitor's Center on the 9th Street Bridge, team members walked to the railing and looked out into a lone cluster of trees in the marsh. What they saw was a bird's-eye view of nesting and courtship behavior of a variety of species. Even the most seasoned birders noticed something unique. Dozens of feeding white ibis pecked away at the marsh. Block noted that the sighting would be typical for Florida, but not in New Jersey, which was outside their breeding range until last year when a pair nested at the rookery.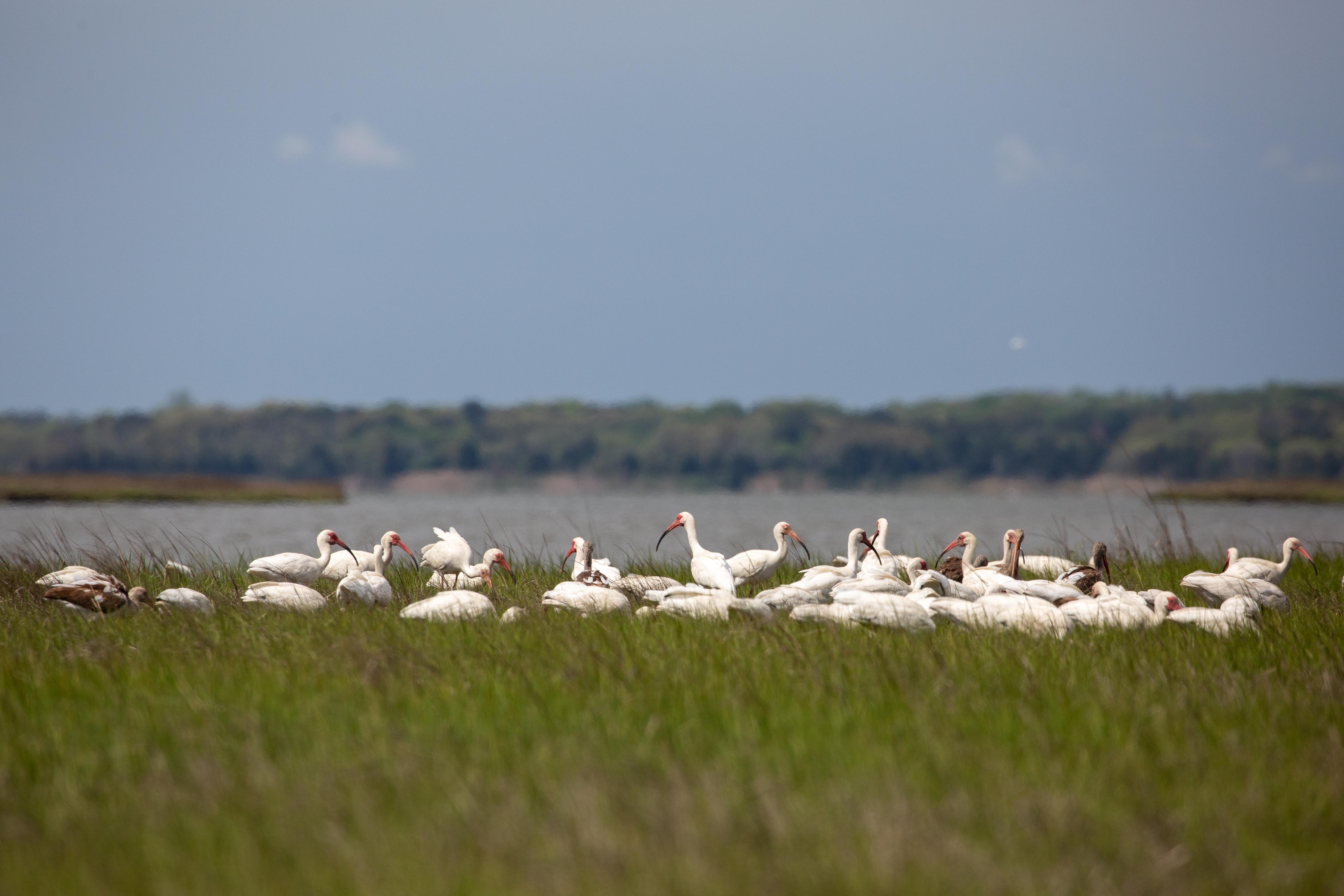 Backyard Birding and by Boat
The pandemic changed some of the World Series rules and allowed for solo birding and birding outside of New Jersey.
Carol Newcomb, an alumna who teaches at Florida Gulf Coast University, birded in the sunshine state and made a stop at J.N. Ding Darling National Wildlife Refuge.
She found species including the Roseate Spoonbill, Magnificent Frigate, Swallow-tailed Kite and Anhinga that the New Jersey birders would not normally find.
Other team members birded from their backyards, neighborhoods and local parks and kept in contact through WhatsApp.
Melissa Laurino '15 '18 spotted a Ruby-Throated Hummingbird at a feeder outside the Unified Science Center II on her way from the Vivarium, where she works as an animal care specialist, to Cape May Whale Watch and Research Center, where she is a captain, director of research and marine naturalist.
On a whale watching trip, she searched for pelagic species that spend time over the open ocean. She added species like the Common Loon, Northern Gannet, Common Tern and Osprey to the list.
What Can Birds Teach Us?
Christina Fisher was introduced to birding years ago through the junior naturalist program at Cattus Island County Park. "I had a lot of guidance from the late great Fred Lesser, an all-around amazing naturalist and incredible person. Identifying new species for my life list is the most exciting part of birding for me. I always bring my binoculars and field guide on vacation with me so I never miss an opportunity," she explained.
Fisher's most exciting finds during the World Series were seeing a Whimbrel with its long, curved beak and hearing the Whip-poor-will late at night.
This year was Moira Sweeder's first year birding. Just before the pandemic she went to the Galapagos and Ecuador on Chirenje's Field Experience and a week before the World Series, she went on an Atlantic Audubon walk. "I plan to continue learning more," she said.
Mike Heine got into birding after an internship with the New Jersey Division of Fish and Wildlife where he monitored Piping Plovers, American Oystercatchers and other beach-nesting birds. "I realized that I liked being around birds and started birding at Forsythe NWR and on the Galloway campus in my senior year. I got even more into birding once the pandemic started since it was a safe outdoor activity that allowed me to get out of the house," he explained.
The World Series was Heather Bariso's first experience birding and her first time hearing an owl call. As a student worker in the Vivarium for the past three years, she has heard a lot about birds from Rokita and Lester. She decided to give birding a try and went into the World Series thinking it would be intense, but discovered how fun it is to learn about birds. "I came in with no experience, but everyone was so nice an helped me," she explained.
Birds bring humans outdoors to witness nature with all of our senses.
For Kirsten Holt, "the best part of this day was not seeing more species in one day than I've ever recorded in that timeframe, but recognizing that a diverse group of people, all with connections to my alma mater, willingly offered a full 24 hours to learn about the natural world together."
The Last Call
Brandon Henry, who just received a scholarship from the Atlantic Audubon Society to pursue a PhD, heard the last call of the day from a Chuck-Will's-Widow, a well camouflaged nightjar. He added five species to his life list that day.
The misty, rainy World Series also ended with a double rainbow and a group of birders ready to do it all again next year.
Reported by Susan Allen
The image gallery below includes scenes from the Fish Hawks team captured across the 24-hour birding adventure.