"We Must Do This Work Together... with Joy"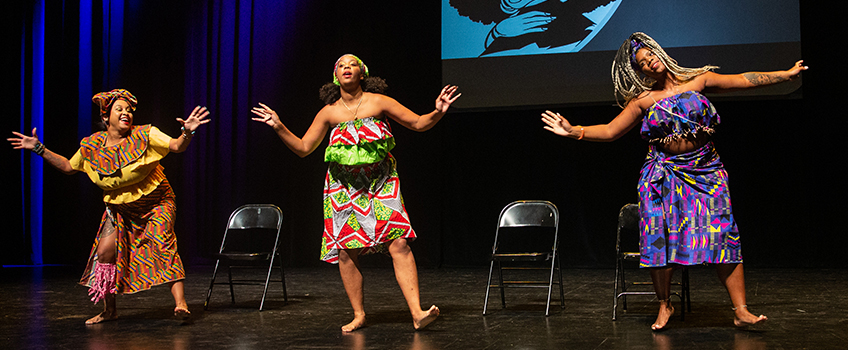 Galloway, N.J. –From the messages of "slave era music" to modern hip hop, Black Americans have used their imagination and artistic creativity to fight for freedom and justice, Bettina L. Love said at the 18th Annual Fannie Lou Hamer Human and Civil Rights Symposium on Oct. 12.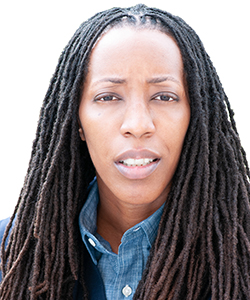 "Slave era music is not a music genre, it is a driving force for democracy," said Love, an author, professor at the University of Georgia and co-founder of the Abolitionist Teaching Network, which was formed in 2020 to help teaches and parents fight injustice in their schools and communities.
Fighting injustice is at the core of the American experience for people of color, Love said.
"You are a civic project," she said. "Real civics is building community in the face of violence. We have done civics like no other…. And we used our creativity to do it."
Love showed a video about artists and athletes of color who are among the most admired people today and who have used their talent and creativity to show power and strength and community.
"See us for who we are," Love said. "That is the work – to know who we are. We do not need saving, we need the institutional barriers to be removed."
She cited Melissa Williams, who describes citizenship as "a shared identity by virtue of being entangled with one another."
"I love that word, entangled,' Love said, "how dependent on each other we are. We must do this work together and it has to be done with joy."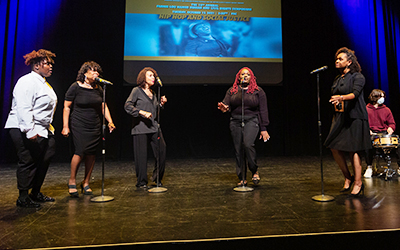 Love has shared her work through a free online program at getfreehiphopcivics.com. She participated in the 2014 White House Research Conference on Girls to discuss her work focused on the lives of Black girls. For her work on Hip Hop education, in 2016, Dr. Love was named the Nasir Jones Hiphop Fellow at the Hutchins Center for African and African American Research at Harvard University. In 2018, Georgia's House of Representatives presented her with a resolution for her impact on education.
She is the author of the books "We Want to Do More Than Survive: Abolitionist Teaching and the Pursuit of Educational Freedom" and "Hip Hop's Li'l Sistas Speak: Negotiating Hip Hop Identities and Politics in the New South."
Love was introduced by student Malikah Stafford, Unified Black Students Society education chief. The UBSS is a sponsor of the symposium and president Alexsandra Panton invited students to attend their weekly meetings at 4:30 p.m. Thursdays in C102 to learn about other upcoming events, including a Pre-Kwanzaa celebration.
The annual program began with Professor of Music Beverly Vaughn leading the Freedom Singers and the live audience at the Performing Arts Center in a medley of songs from the civil rights era, including Fannie Lou Hamer's reported favorite, "This Little Light of Mine" and "Lift Every Voice and Sing."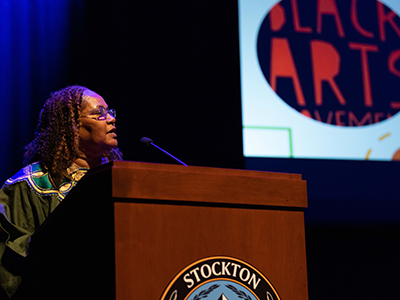 Distinguished Professor of Africana Studies and Social Work Patricia Reid Merritt provided a brief overview of the Black Arts Movement of the 1960s and '70s that was an integral part of the Civil Rights and Black Power eras.
"The movement was not just about civil rights, but also about how we can express ourselves," Reid-Merritt said. "It was a way to express ourselves and share it with others. It was about reclaiming our world, embracing our image – who we were and how we wanted to be seen. We were claiming our culture."
A performance by Afro One Dance, Drama and Drum Theatre followed which, she said, were founded to be part of the Black Arts Movement.
Professor of Africana Studies and Communication Studies Donnetrice Allison, who coordinates the annual symposium, said starting the program with music and dance set the stage for the event's theme this year "Hip Hop and Social Justice" and served as a reminder of the work of civil rights activist Fannie Lou Hamer, who gained fame for speaking against the all-white Mississippi delegation at the 1964 Democratic National Convention in Atlantic City.
Allison reminded the audience of Hamer's work and noted that a goal of the symposium is that "you cannot graduate without knowing who she was."
The Fannie Lou Hamer Event Room at the Stockton Atlantic City campus is also named in recognition of Hamer and her civil rights work.
# # #
Contact:
Diane D'Amico
Director of News and Media Relations
Galloway, N.J. 08205
Diane.DAmico@stockton.edu
609-652-4593
609-412-8069
stockton.edu/media