Accelerated Nursing Students Pinned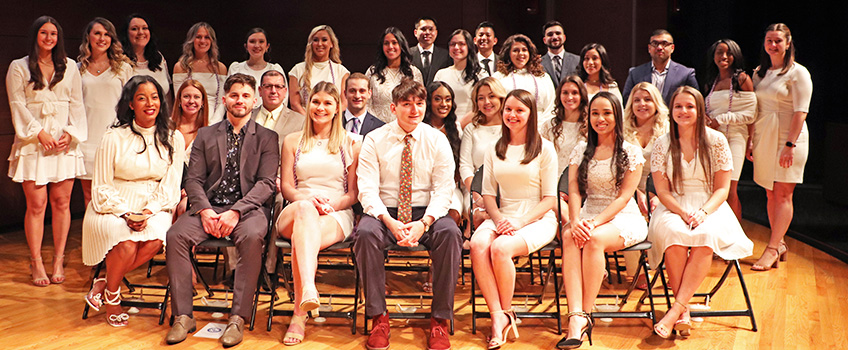 Galloway, N.J. – Thirty students in the Accelerated Bachelor of Science in Nursing program received their pins in a ceremony at the Campus Center Theater on Dec. 10.
"Congratulations on finishing a 15-month intense academic journey during a pandemic," said Associate Provost for Academic Affairs Amy Beth Glass.
She noted that the graduates adapted to new technology, but that for this next generation of health care providers, change will be inevitable.
"Embrace these challenges," Glass said.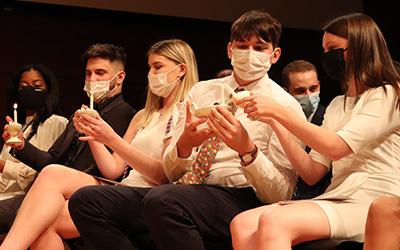 Dean of the School of Health Sciences Brent Arnold said the pandemic has emphasized the importance of frontline health care workers like themselves.
Keynote speaker Barbara Blozen, professor of nursing at New Jersey City University and president of the N.J. Board of Nursing welcomed the graduates to the profession and encouraged them to get involved and be advocates for their patients and the profession.
"Our work is to speak out and advocate for those who can't speak for themselves," Blozen said. "Nursing is not a job, it's a way of life."
Student speaker Briann Skiba said studying nursing during the pandemic did pose challenges, and the word "unprecedented" was used a lot.
"We should be proud of ourselves and those who helped us," she said. "Continue to be unprecedented. Continue to adapt, learn, and advocate. Set the precedents for future nurses."
Several awards were presented to students:
The Academic Achievement Award for Nursing went to Kelsea Flood.
The Dr. Mary Ellen Florence Professionalism Award was presented to Thakir Ismael.
The Clinical Leadership Award for Nursing went to Samantha Rizzuto.
The DAISY Award for Extraordinary Nursing Students was presented to Briann Skiba.
Kelsea Flood shared memories of the class.
Each student was pinned by someone in nursing who had an impact on their life. Following the lighting of candles, students recited the traditional Nightingale Pledge.
The members of the Class of 2021 are: Keiandra Bludsaw, Nicolas Willy Maurice Bogen, Michaella Butrico, Nicholas Augustus Dunham, Kelsea Flood, Awilda Gaud, Tierney Goetz, Jamie Harland, Thakir Ismael, Hayden Keers-Flood, Alexis C. Land, Ashley A. Maurer, Amanda Ann Mayer, Amber Leigh Minnick, Taylor Moore, Allison J. Morris, Victoria, Leigh Munyon, Shauna Oswald, Jessica Rezgui, Samantha Rizzuto, Stephanie A. Rodriguez, Suliaman Saleem, Katherine Cecile Shouldis, Briann Jacqueline Skiba, Katelyn Slaven, Nichole J. Tatte, Mathew H. Tran, Richard Tsui, Tyler Turchi and Shakeya Williams.
The 15-month Accelerated BSN program at Stockton is designed for students who have earned a bachelor's degree or higher in another discipline and wish to become a registered nurse with a Bachelor in Science in Nursing degree.
View a gallery of photos from the ceremony on Flickr.
Reported by Diane D'Amico
Photos by Eliza Hunt