Atlantic Cape and Stockton Create Pathway to MBA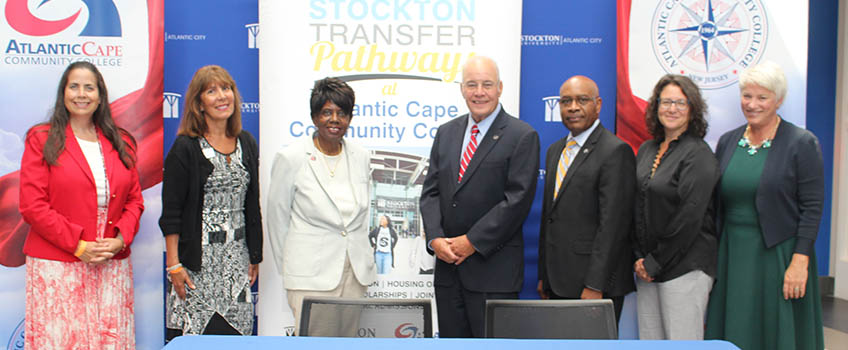 Atlantic City, N.J. –Atlantic Cape Community College and Stockton University today signed an agreement that will make it possible for students to earn an undergraduate degree and a Master of Business Administration (MBA) in five years.
The 2+3 program would allow students to earn their associate degree in two years at Atlantic Cape. They would complete their bachelor degree at Stockton in two years, then earn their MBA in one more year through Stockton's Accelerated Dual Degree Program for Business Majors.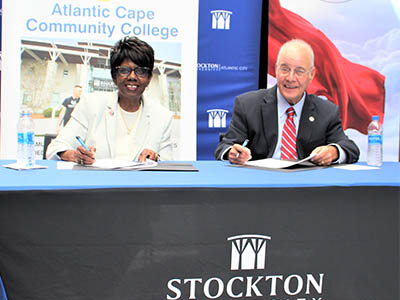 The agreement expands on a transfer agreement signed by the two institutions in 2017 and updated by Transfer Pathways in 2020, which allows student to complete their associate degree at Atlantic Cape with guaranteed admission to Stockton as juniors to complete their bachelor's degree.
That agreement included a provision to develop specific program-to-program articulation agreements in high-demand majors to facilitate student transfers. Stockton currently offers a 4+1 MBA program that allows Stockton students to earn their bachelor and master degrees in five years.
"Business Studies is the largest program at Stockton," President Harvey Kesselman said. "We are currently expanding our business programs and are thrilled to partner with Atlantic Cape on this opportunity to help their students earn an MBA in five years."
"This is another great opportunity for area students to obtain higher education degrees without accumulating additional student debt," said Atlantic Cape President Dr. Barbara Gaba. "We are happy to partner with Stockton to offer this accelerated MBA program."
Students must maintain a 3.4 GPA or higher at Atlantic Cape, and a 3.5 GPA at Stockton to remain in the program, the same requirement as for Stockton students. Core courses at Atlantic Cape have been aligned with equivalent Stockton courses to ensure students meet program requirements. Atlantic Cape already offers an Associate degree in Business Administration.
# # #
Contact:
Diane D'Amico
Director of News and Media Relations
Galloway, N.J. 08205
Diane.DAmico@stockton.edu
609-652-4593
609-412-8069
stockton.edu/media