Zakiya Smith Ellis To Speak at Commencement
Galloway, N.J. – New Jersey Secretary of Higher Education Dr. Zakiya Smith Ellis will be the keynote speaker at the Stockton University Commencement at 12 p.m. on May 15 at Jim Whelan Boardwalk Hall in Atlantic City.
"Dr. Smith Ellis has been a strong advocate for student-centered higher education in New Jersey and for Stockton University's expansion into Atlantic City," said Stockton President Harvey Kesselman. "We share the same commitment to students and it is an honor for us to welcome her as our commencement speaker at Boardwalk Hall."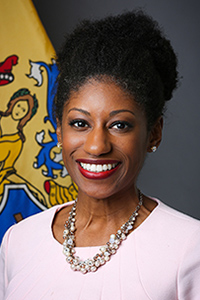 Smith Ellis previously served as Senior Advisor for Education at the White House Domestic Policy Council under President Barack Obama. She also worked at the Lumina Foundation on higher education issues focused on access, attainment and affordability.
At the February 26 board meeting, the Stockton Board of Trustees approved awarding an honorary Doctor of Humane Letters degree to Dr. Smith Ellis.
The trustees also approved awarding honorary Doctor of Public Service degrees to businessmen and philanthropists John F. Scarpa and Michael Azeez.
Azeez has been actively involved in the Sara and Sam Schoffer Holocaust Resource Center at Stockton and gifted Stockton the Sam Azeez Museum of Woodbine Heritage and a $5 million endowment to fund the museum's operations.
Last year Scarpa gifted $8 million to Stockton University that targeted the expansion of programs in Atlantic City and health sciences programs in Galloway as well as created an unrestricted fund for other university needs.
"The generosity of Michael Azeez and John F. Scarpa goes far beyond Stockton into the communities in which we live," Kesselman said. "We are proud to recognize their contributions to our students and to South Jersey."
# # #
Contact:
Diane D'Amico
Director of News and Media Relations
Galloway, N.J. 08205
Diane.D'Amico@stockton.edu
609-652-4593
609-412-8069
stockton.edu/media