Yom HaShoah Holocaust Remembrance Week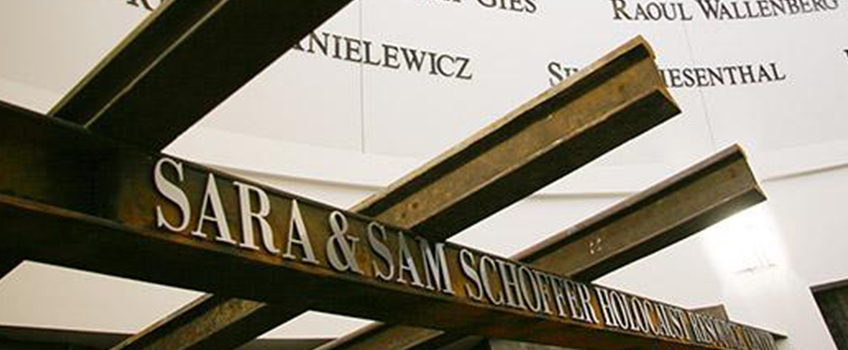 Galloway, N.J. - The Sara and Sam Schoffer Holocaust Resource Center at Stockton University will commemorate the annual Holocaust Remembrance ceremony, Yom HaShoah - Unto Every Person There Is A Name, with a weeklong series of programs on the Stockton Public Access TV channel (Comcast local channel 9) from April 20-27.
The programming will include oral history testimonies from local Holocaust survivors and documentary films. In addition, Yom HaShoah services with keynote addresses by local Holocaust survivors from 2019, 2018, and 2015 will also be available on YouTube.
Yom HaShoah commemorates the approximately six million Jews who perished in the Holocaust, and the Jewish resistance against the Nazis.
"I will miss gathering with the local community in person this year," Holocaust Center Executive Director Gail Rosenthal said. "But, I hope the community with take advantage of the opportunity to learn more through the programming we are offering on Stockton TV and on YouTube."
HOLOCAUST REMEMBRANCE PROGRAMMING
Yom HaShoah 2019 YouTube Link:
https://www.youtube.com/watch?v=Lkb-9AgsM_o&feature=youtu.be
Yom HaShoah 2018 YouTube Link:
https://www.youtube.com/watch?v=W4OX0lA9GoM&feature=youtu.be
Yom HaShoah 2015 Youtube Link
https://www.youtube.com/watch?v=GH367ijCI2A&feature=youtu.be
TV SCHEDULE (Comcast local access channel 9)
MONDAY – APRIL 20, 2020
8:00pm - Holocaust Testimony of Rabbi Murray Kohn
9:56pm - Relevance in Remembrance
11:39pm - Diamonds in the Snow
TUESDAY – APRIL 21, 2020
6:30 pm – "There Were Good People...Doing Extraordinary Deeds: Leo Ullman's Story"
6:55pm – Yom HaShoah 2019
8:11pm – Dr. Patrick Henry – "Jewish Resistance against the Nazis"
9:03pm – Railways of the Holocaust – Journey to Stockton
WEDNESDAY – APRIL 22, 2020
8:00pm – Daniel's Story
8:13pm – Triumph of Memory
8:42pm – Testimony of Sydney and Rosalie Simon
9:43pm – Courage to Care
10:11pm- Testimony of Norris Biron
11:01pm – Daring to Resist
THURSDAY – APRIL 23, 2020
8:03pm – Yom HaShoah 2018|
9:46pm – Warsaw Ghetto Uprising
10:09pm – Holocaust Testimony of Jeanette Ehrlich
11:32pm – A Good Man in Hell
11:45pm – A Special Evening with ZlataFilipovick
FRIDAY – APRIL 24, 2020
6:00pm – Holocaust Testimony of Miriam Bronkesh
7:52pm – Alexander Zapruder – Salvaged Pages
8:45pm – Holocaust Testimony of ManashaBronkesh
10:42pm – Diamonds in the Snow
11:41pm – From Despair, Hope
SUNDAY – APRIL 26, 2020
3:30pm – Yom HaShoah 2017
4:53pm – Reflections of an Auschwitz Educator
5:41pm – Courage to Care
6:09pm – Holocaust Testimony of Zena Gurland
8:10pm – Daring to Resist
9:07pm – Holocaust Testimony of Greta Meinstein Seelig
9:24pm – Alexander Zapruder – Salvaged Pages
10:18pm – Righteous Among Nations – The Arlette deMonceauMichaelis Story
MONDAY – APRIL 27, 2020
5:30pm – "There Were Good People...Doing Extraordinary Deeds: Leo Ullman's Story"
5:54pm – Railways of the Holocaust – Journey to Stockton
6:10pm – Holocaust Testimony of Rose Jacoby
8:08pm – Righteous Among Nations – The Arlette deMonceauMichaelis Story
8:14pm – Holocaust Testimony of Jack Zawid
11:11pm – Courage to Care
11:40pm – Daniel's Story