Veterans Day Program Offers Message of Caring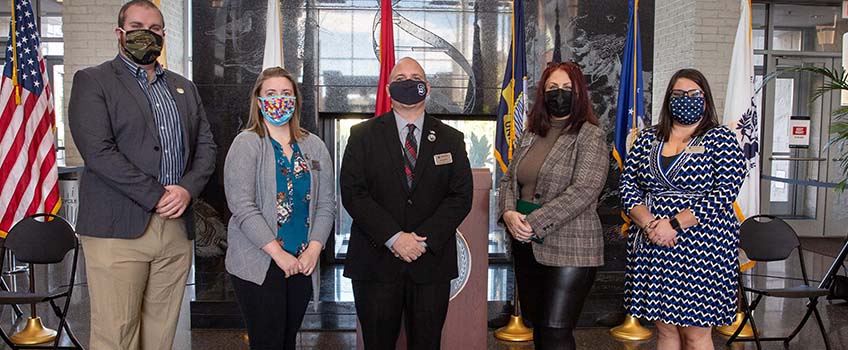 Galloway, N.J. _ Members of the military make a lot of sacrifices, but one of the greatest is time, veteran and Stockton University student Karl Schute or Moorestown said at the annual Veterans Day ceremony in the Campus Center grand hall.
For Schute, there was time lost when his father was sent to Iraq, and later when he, himself was stationed in Korea.
"You're missing everything, your family, birthdays, holidays…" Schute said. "You don't get that time back. You don't have to be in combat to be sacrificing the time away from your family and loved ones."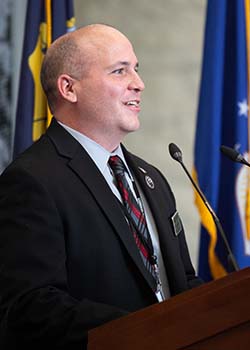 A member of the Army Reserves and who hopes to become an archeologist, Schute doesn't regret his time in the military. He ended his short talk with a quote from a World War I veteran, who noted that he had given up his youth to fight the savage war, but he doesn't regret it.
Vice President for Student Affairs Chris Catching said more than 400 Stockton students, about 5% of the student body, have a military affiliation. He said they are among the most academically successful students at Stockton.
Jason Babin, director of the Office of Military and Veteran Services at Stockton, and a veteran, said the transition from the military back to civilian life is the hardest challenge for veterans, and that includes transitioning to college.
"Eighty percent of veterans say transitioning to college is difficult," Babin said. "A community like ours at Stockton works to make sure we provide the support and assistance they need."
Karen Matsinger, assistant director of counseling who works with veterans, said they are examples of community and selflessness that are an example to the country. She noted that veterans tend to remember and focus more on the relationships they made rather than events.
"Even when a student veteran is talking about a tragic event, their brothers and sisters in arms matter most," she said. "Imagine if we all had that worldview. Imagine if, no matter what was happening around us, we put others' welfare first."
Matsinger ended her talk by reading one of the Veterans Monologues that will be featured at an event at 6 p.m. Thursday on Zoom, titled "The America I Fought For."
Babin said later that he wrote that monologue, and he still feels the need to support kindness and caring for each other.
"As someone who has been in a war zone where life could be extinguished in a moment, I can say that when you are there, you care about each other, the person next to you, how can you bring them home safely to their families," Babin said. "And they are thinking the same thing about you."
# # #
Contact:
Diane D'Amico
Director of News and Media Relations
Galloway, N.J. 08205
Diane.D'Amico@stockton.edu
609-652-4593
609-412-8069
stockton.edu/media