Stockton Signs Agreements with Two Taiwan Universities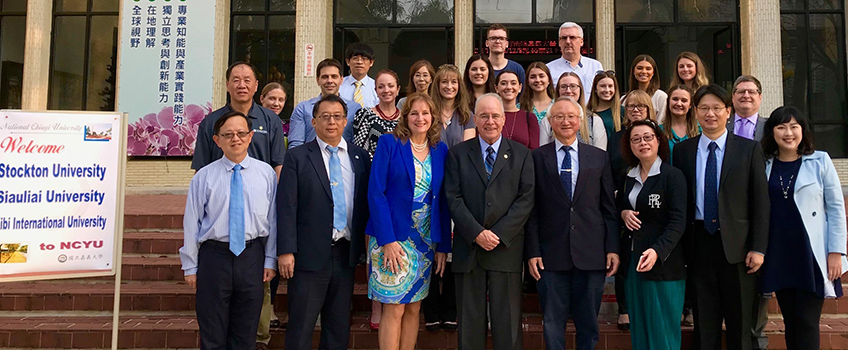 Galloway, N.J. – Students at Stockton University will have the opportunity to study in Taiwan under two new agreements with National Chiayi University (NCYU) and National Taichung University of Education (NTCU) in Taiwan.
The agreement with NCYU provides for up to three Stockton Master of Business Administration students to attend NCYU and three graduate business students from NCYU to attend Stockton each year. Students taking between 9 and 15 credits at the visiting institution are eligible for a dual degree from both institutions. Among the more than 40 courses available to Stockton MBA students at NCYU are International Business Management, Global Logistics, Corporate Social Responsibility and International Human Resources Management.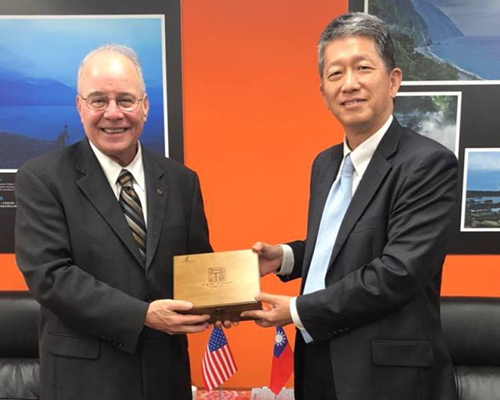 Stockton will work with NTCU to develop opportunities for undergraduate Stockton students to study in areas including Business Administration, Criminal Justice, Environmental Studies, Hospitality and Tourism Management and Visual/Performing Arts. The agreement also includes opportunities to develop collaborative research, conferences and lectures between both faculty and students.
Stockton President Harvey Kesselman participated in a trip to Taiwan in December where he met with Andy Cheu-An Bi, director general of the Department of International and Cross-Strait Education at the Taiwan Ministry of Education, and was a keynote speaker at the International Conference on Artificial Intelligence Development and Its Impact on Educational Leadership and Innovation, hosted by NCYU. He also visited the two universities to sign the new agreements.
"Our relationships with NCYU and NTCU will provide Stockton students the opportunity to learn about another culture and enhance their educations," Kesselman said. "As a result of our trip, Stockton will become a member of Taiwan's preferred list of institutions to visit and partner with on exchange programs, academic symposiums and research conferences."
Stockton's School of Business Dean Alphonso Ogbuehi said the partnership with NCYU further strengthens Stockton's commitment to developing globally-minded business leaders.
"This agreement will provide Stockton MBA students the opportunity to immerse themselves in the study of business practices from an international perspective," Ogbuehi said. "The knowledge they gain at NCYU will be invaluable for working in today's global business economy."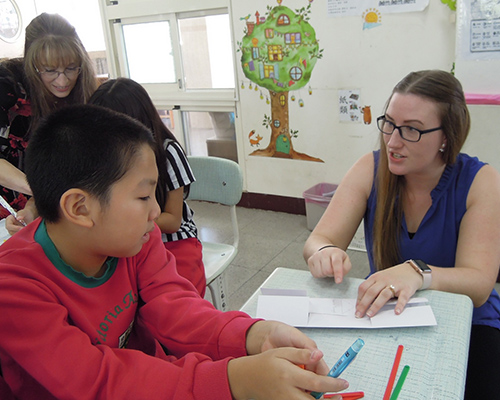 Faculty and staff from Stockton, through Professor of Mathematics Chia-Lin (Charlie) Wu, have been collaborating with NCYU since 2017 to study education practices and methods in the two countries, especially as they relate to teaching math.
A group of eight Stockton students plus faculty members Wu, Associate Professor of Education Norma Boakes, Associate Professor of Mathematics Bradley Forrest, and Instructor of Education Stacey Culleny were part of the group that went to Taiwan in December. The faculty and students spent three days at the K-12 Victoria Academy where they observed classes and taught lessons. They also presented at the conference at NCYU.
"Our students and faculty had the opportunity to participate in K-12 education in a different cultural background," Wu said. "This trip continues to strengthen the relationship between Stockton University and NCYU and establishes a new connection with National Taichung Education University NTCU."
Stockton faculty and students first visited NCYU in December 2017, and a group of educators from Taiwan came to Stockton in October 2018 for an International Mathematics and Education Symposium. Taiwan is ranked as among the top-performing countries in math.
"This second trip was a more hands-on experience and gave us the opportunity to collaborate with educators from another country," Boakes said. "We have a better understanding of their curriculum and classroom environment."
Students said they also learned to appreciate cultural differences.
"This trip influenced how I now approach the topic of cultural responsiveness within the classroom," said Jessica Dorta of Cape May, who recently completed her student teaching and plans to teach elementary school. "I now have a clearer understanding of how to utilize the strengths of each child to encourage not only their sense of belonging in the classroom, but also their academic achievement."
Contact:
Diane D'Amico
Director of News and Media Relations
Galloway, N.J. 08205|
Diane.D'Amico@stockton.edu
609-652-4593
609-412-8069
stockton.edu/media