Summer Internships Were Virtual and Valuable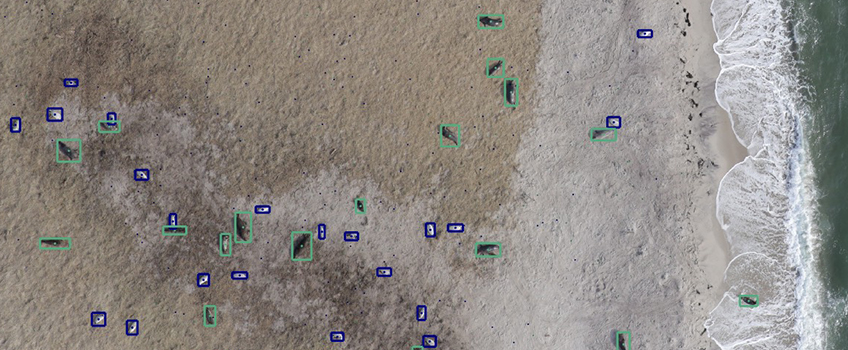 Galloway, N.J. – The COVID-19 pandemic cancelled many summer internships. But some students were able to convert their internships online. And while it may not have been the internship experience they had anticipated, for some it offered new learning opportunities and valuable experience as they prepare for careers.
Here's how a few Stockton students spent their summer:
Intern: Kelly Mitch, senior, Woodbridge Township, Communication Studies Major
Internship: Woodbridge Township Mayor's Office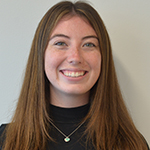 "I interned in the Woodbridge Township Mayor's Office, working with the Communications team. Because of the coronavirus we spent a lot of time getting messages out to the community. It was a really good experience because I got to see a different side of communications and work with crisis communications. There was almost more to do to get messages out to residents.
I've worked in the township since I was 15 or 16 as a volunteer and at the Community Center. I did have to go remote for a while, but they gave me stuff to do at home. Then, as things started opening up again, it was more of what I had expected to do, but it was very cool to see both sides.
I've been helping to run the website and keep the social media current. I work with other departments on their messaging and keeping websites current. There is a lot of work involved.
I've also had an internship with Stafford Township government. I'm not sure yet what I want to do after graduation, but I may stay in local government."
Intern: Ryan Frost, senior, Milltown, Communication Studies Major
Internship: Sound Designer/Assistant at Bozz1Sound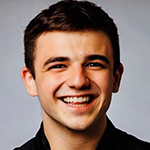 "I obtained this internship through a friend of my father, who happened to work in my dream field.
I worked under Nick Bozzone and he taught me the ins-and-outs of professional level sound design, specifically working in ProTools. I completed some projects for him on my own as well as oversaw his completion of projects.
Because Bozz1Sound is based in California, this internship would have been remote no matter if COVID-19 had affected us or not. However, I don't think I would have been so creative in getting my internship and am thankful that I was able to obtain one so meaningful to me. For that, I am somewhat grateful for the craziness, as weird as that sounds, because it forced me to work outside of the box to achieve my goals, and become more dependent on my own skills, not just the universities resources.
After graduation I hope to become a sound designer. It is my dream to be able to make a living doing what I love (sound design) so this internship definitely set me in the right direction."
Nilanjana Das, senior, Marine Science and Biology Major
Internship: Northeast Fisheries Science Center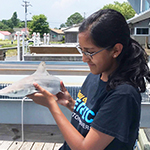 "This summer I was able to work with members of the Protected Species Branch within the Northeast Fisheries Science Center (NEFSC) as a NOAA Ernest. F. Hollings scholar. Normally this internship provides the opportunity to work at any NOAA lab in the country, but when my original project to study fish physiology in California couldn't be converted to a virtual format, I was able to switch to a project dealing with artificial intelligence with scientists in Woods Hole Laboratory in Falmouth, Massachusetts.
Our project aimed to speed up data collection from aerial photographic surveys of seals by using machine learning. Currently the surveys are conducted for gray and harbor seals throughout Maine and Massachusetts but produce hundreds of images that are time-consuming to process. Using artificial intelligence could therefore provide population abundance estimates and habitat use information much more efficiently, which will help agencies like NOAA protect these species that were once close to extinction on the U.S. East Coast.
Although I faced challenges in trying to teach myself about artificial intelligence and then using the software from home, I was able to collaborate virtually with software developers and other marine scientists around the country to develop the seal detection tool. Currently it can identify gray seal pups and adults in images with 86% accuracy, but I plan to continue refining the detector and look forward to presenting my results at virtual scientific conferences this year.
(The photo above shows the results of the seal detection tool created through the software VIAME (Video and Image Analytics for Marine Environments). Nilanjana was also featured in a web article with a number of other summer student interns At Woods Hole: Internships Reimagined—Going Virtual in 2020)
Olivia Paolillo, senior, Freehold, Communications Studies Major
Internship: Social media intern, Stockton Communication Studies Program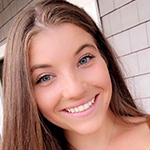 "Working as an intern for the Stockton Communication Studies social media internship was an all-around great experience! My overall role during this internship was to work as a team with my fellow interns and advisor to create content for the Stockton Communication studies Instagram and Facebook accounts.
The majority of my responsibilities this summer have involved creating content, writing and editing stories, and conducting research. I have written two stories that will appear in The Argo this upcoming fall. I had to adapt to a situation, the coronavirus pandemic, which required me to complete the internship remotely. I had weekly Zoom meetings with my advisor, Toby Rosenthal, to discuss tasks and expectations. I also used my email daily to keep in contact with my COMM social media team, and to connect with other professors and students to conduct interviews. Although it was all remote, I was still able to connect with our followers through polls and questions posted on our platforms. All of the feedback and responses were positive and helped us draw further conclusions about which practices work best on social media.
One of the primary skills I learned was how to reach an audience in a simple yet effective way. I was able to see first-hand how vital a tool social media can be to stay connected and gather information. I also learned the importance of planning and managing, especially when working with a group while only being able to communicate virtually. Without this internship experience, I would not have been able to put my creative ideas to work or take away the tips and guidance from my advisor that have opened my eyes to new creative processes. I put my old and new skills to the test creating and managing forms of content on a variety of social media platforms, which has helped develop my professional aptitude."
# # #
Contact:
Diane D'Amico
Director of News and Media Relations
Galloway, N.J. 08205
Diane.D'Amico@stockton.edu
609-652-4593
609-412-8069
stockton.edu/media