Student Groups Lead March for Justice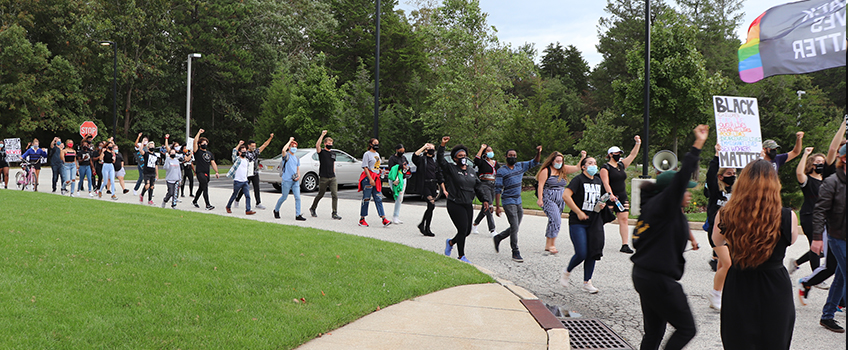 Galloway, N.J. – More than 100 students, faculty and staff gathered for a march around campus Sept. 29 to raise awareness of racial, social and environmental injustice.
The #SayTheirNames rally was sponsored by the Unified Black Students Society and Stockton Chapter of the NAACP with support from the Environmental Club.
"We all have a voice," said Amaiya Roundtree, president of UBSS. "We all matter. We can do more. It warms my heart to see so many faces here marching for all the lives we have lost and those facing injustice."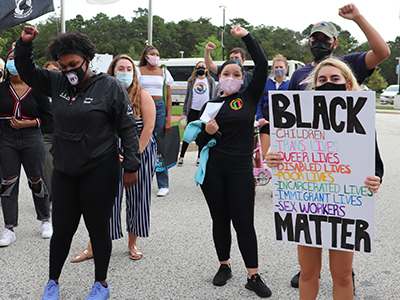 Students marched across the campus from the Townsend Residential Live Center, around Lake Fred, and ended at the Arts and Sciences Building circle where several students spoke.
Former UBSS president Manar Hussein, who graduated in 2015, said even though she is not Black, she has always been interested in racial justice.
"We also have to speak to non-Blacks," she said. "We have to respect each other."
She urged participants to support and collaborate with UBSS and listen to each other.
Student Michael Killebrew said that violence against Blacks gets normalized because it happens so often. He recalled getting pulled over by the police and being afraid of how he might be treated.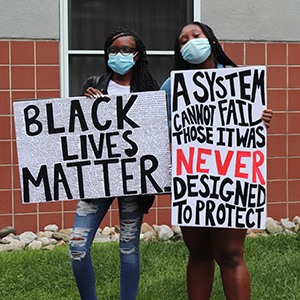 Student Serene Quick, vice president of the NAACP chapter urged participants to register to vote, and then go out and vote.
"Exercise the right our ancestors fought for," she said.
Ben Dziobek, president of the Environmental Club said they also work for environmental justice, noting that minorities and the poor are often the victims of environmental pollution.
"We call for institutions to hold themselves accountable," he said.
The NAACP chapter is also selling "Black Lives Matter" and "I Can't Breathe" T-shirts and can be reached through their Instagram account at stocktonu_naacp.
# # #
Contact:
Diane D'Amico
Director of News and Media Relations
Galloway, N.J. 08205
Diane.D'Amico@stockton.edu
609-652-4593
609-412-8069
stockton.edu/media