Freshmen Learn from Upperclassmen, Alumni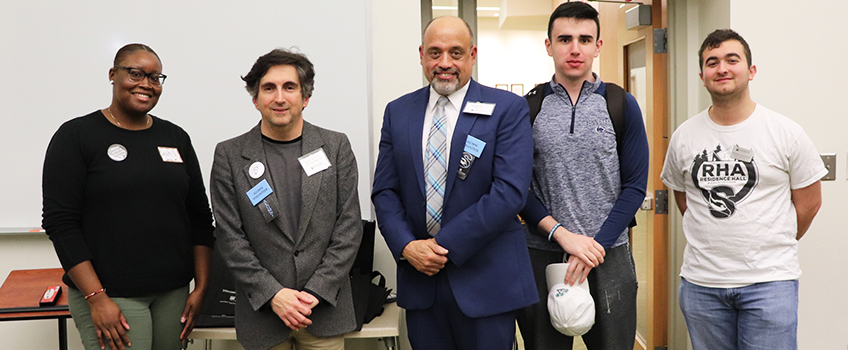 Galloway, N.J. - Calling all freshmen! Do you want insider tips on how to succeed at Stockton? Connect and learn from upperclassmen and alumni at "When I Was in Your Seat!," a new biweekly conversation series.
The first discussion featured a panel of two alumni and three upperclassmen Feb. 4. Nordia Johnson, coordinator of Student Transition Programs, kicked off the conversation with questions ranging from what panelists wish they knew as freshmen to the importance of being engaged with the Stockton community.
Panelists talked about balancing academics and personal lives; being involved on campus to make connections and develop crucial skills outside of the classroom; and seeking out new, challenging experiences while at Stockton.
Alumnus Randolph Merced '97, adjunct instructor for the social sciences department at Rosemont College and director of public safety at Community College of Philadelphia, encouraged students to ask for help and use the resources available to them.
Junior Leah Sadler gave advice on pushing past your comfort zone: "If you want to go to an event, it's fine to ask a friend to go with you. But if your friend doesn't go, go anyway." Christopher Lipari Pazienza, a junior, explained how setting goals for himself helped him succeed over the years.
Alumnus Dennis Fotia '07, assistant director of the Center for Learning Design at Stockton, reminded freshmen to get involved with a variety of organizations on campus. Finally, junior Lorenzo Donohue urged his peers to take risks, seek out new experiences and engage with the Stockton community.
Freshmen also connected personally with alumni and upperclassmen in small groups where they could ask more specific questions. Students asked for advice on declaring majors and minors, battling negative self-talk and the pressures of college, bridging the gap with professors to engage in meaningful conversation, and how a Stockton University degree stacks up against other schools when it comes time to look for a job, among other topics.
All sessions take place at 4:30 p.m. in L-104. Upcoming discussion topics include: Major Exploration on Feb. 18; Career Exploration on March 3; Financial Literacy on March 31; Health and Wellness on April 14; and finally, Goal Setting and an end-of-year celebration concludes the series on April 28.
The conversation series is a collaborative effort between Alumni Relations and Student Transition Programs. All freshmen are encouraged to attend discussions. For more information on upcoming discussions, contact Nordia Johnson at nordia.johnson@stockton.edu, (609) 626-3836 or stop by the Office of Student Transition Programs in Campus Center 241G.
Reported by Eliza Hunt