Stockton Announces Fall 2020 Return to Campus Plan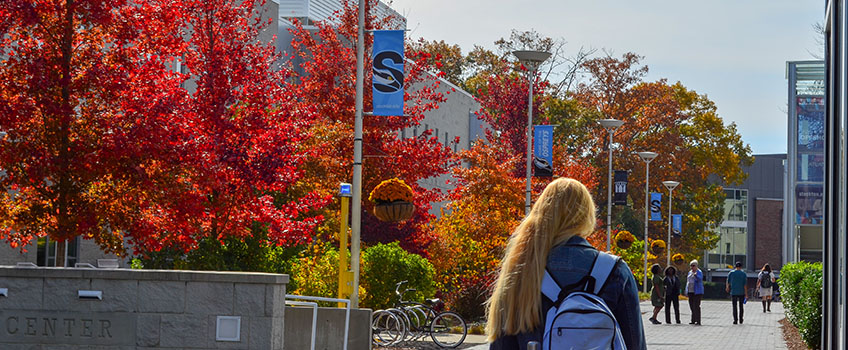 Dear Stockton community,
This has been an extraordinary time for our University. In just over three months, we moved our entire curriculum to 100% remote learning for the spring and summer terms. I want to thank everyone in the Stockton family – faculty and staff, students, parents and family members, alumni, donors, and community partners – for your amazing response to this unprecedented challenge. The difficulties were many, but we pulled through, and grew from our experience.
We are now working non-stop to prepare for a fall semester that will combine on-campus and on-line academic, social, and athletic opportunities. Let me share some information on our preparations for the first day of classes on Tuesday, September 8.
As outlined in Stockton's fall 2020 Return to Campus website, our primary goal is to provide students, faculty and staff with the best possible campus experience while keeping everyone healthy, safe, and protected.
But please remember that we are in a fluid situation, and will not have all the answers for a few more weeks. The following information represents our best planning and ideas to date. We will update you as additional details become available from local, state, and federal officials.
Health, Safety, and Hygiene. Dealing with COVID-19 remains Stockton's number one priority. Many new safety protocols will be instituted for this fall that focus on four critical components: masks/face coverings; physical distancing, increased sanitization, and personal hygiene, such as hand-washing, daily symptom checks, and no face touching.
Academics. Stockton will offer multiple course delivery options this fall: in-person, on-line, and "hybrid" (a combination of both learning styles). Faculty are now working to adjust their classes and we should be releasing an updated fall schedule around July 20. Although our classrooms will have smaller occupancy limits to support safety protocols, we want to minimize disruption to students' academic plans.
Campus Life. Stockton will be offering on-campus housing this fall, based on conditions mandated by state and federal health officials. At present, we are projecting that all dorm rooms will be either single or double occupancy. We are looking into the possibility of additional off-campus housing opportunities in Galloway and Atlantic City, and will share information on our website once details are finalized. Dining and takeout food options will be available on campus and students can use all of the traditional payment options, such as flex dollars. Physical distancing rules will be instituted, and supported by on-line meal appointments and enhanced grab-and-go options.
Stockton's Division of Student Affairs will offer innovative and fun on-campus activities to ensure students can meet and interact with each other, while maintaining physical distancing protocols.
Yes, this semester will be different. But I know we will all again rise to the challenge. Working together, we will have a safe, supportive and academically productive semester. And, yes, we will also have fun. Look forward to seeing you soon.
Best regards,
Harvey Kesselman
President
Stockton University