Stockton Prescribes Fire to Keep Campus Forest Healthy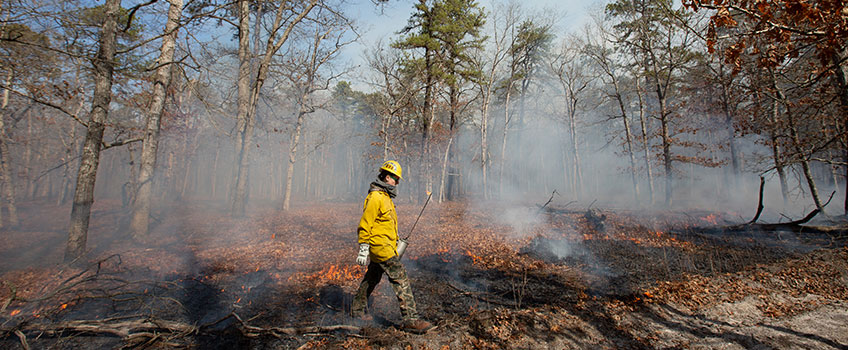 Galloway, N.J.- Stockton University students standing in the middle of Delaware Avenue watched smoke lifting from a charred forest floor, burned intentionally by a prescribed fire. In just a few months, the blackened ground will be green with newly generated growth, and the effects of the prescription will kindle a healthy forest ecosystem.
Year five of Stockton's forest management plan called for burning in nine experimental plots. The New Jersey Forest Fire Service conducted the recent burn, and Matthew Olson, assistant professor of Environmental Science, will work with students to study and measure the ecological consequences.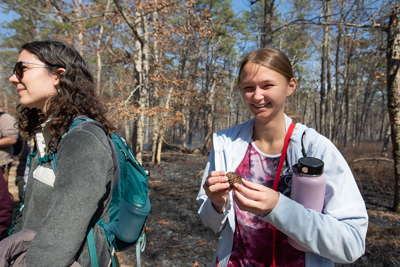 A long-term experiment that burns plots at different intervals will help researchers understand how fire frequency impacts trees, vegetation, ecology and wildlife. Some plots are burned as frequently as every year, while others are only burned every 15-16 years.
Robert Williams, of Pine Creek Forestry, wrote Stockton's forest management plan with George Zimmermann, professor emeritus of Environmental Science.
Students who study forestry at Stockton benefit from a 1,600-acre Pinelands outdoor classroom with a real-life, long-term experiment that will show how to best manage a healthy forest.
Olson, who began teaching forestry at Stockton University last September after teaching at the University of Arkansas, will continue George Zimmermann's research with Environmental Science faculty who are interested in studying the effects of fire on hydrology, wildlife and plants.
Chickadees and a bluebird sang from the tree tops as Olson walked through the woods to observe the fire.
Forest management helps to create habitat that will attract more diverse wildlife. For example, bluebirds prefer an open canopy habitat that can be achieved with thinning out weaker trees.
With no more leaf litter and shrubs to burn, the flames starved, and the Forest Service crew unraveled hose from the trucks to wet any remaining flames.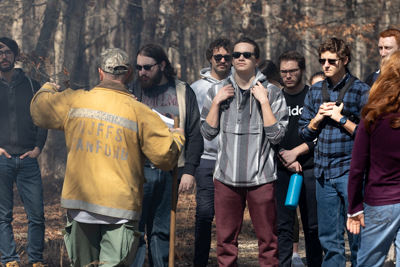 District warden John Sanford took a break to field questions from students in Olson's Ecological Forest Management class and Catherine Tredick's Wildlife Management class.
Sanford talked about the preparation work that entails clearing the plow lines that stop the fire from burning outside of the rectangular plots. He recommended a degree in Environmental Science for those interested in becoming a fire warden.
Prior to the burn, members of the Environmental Science Club measured fuel loads along the fire transects, and they will head out again to take post-fire measurements.
Rachel Bradbury, an Environmental Science major who is interested in wildlife, was excited to see the controlled burn in action. Areas that are burned frequently have less intense fires, which gives wildlife a better chance at escaping, she explained.
Environmental Science major Emily Viecelli added, "Historically, Smokey the Bear has promoted putting out fires immediately, but some trees need fire."
Watch a short video of the burn with explanations from Matt Olson and Robert Williams below and view more photos on Flickr.
Reported by Susan Allen