Stockton Offers Police Procedural Justice Training
Galloway, N.J.- Stockton criminal justice professors are working with area law enforcement to research whether procedural justice training can reduce excessive use of force, increase respect for police officers and improve relations between citizens and the police.
The work began in November 2019. Stockton Criminal Justice Professors Nusret Sahin, William McKnight and Jess Bonnan-White completed their first one-day training session in March at the Galloway campus with 16 representatives from the Atlantic City, Stafford Township and Manchester Township Police Departments. Sahin and McKnight also led a session via Zoom in September with Atlantic City police officers.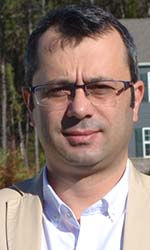 "We wanted to teach how to implement procedural justice in real life, and not just in theory," Sahin said.
Atlantic City Police Department Officer in Charge James Sarkos said the department supports the program.
"Having attended the procedural justice training conducted by Dr. Sahin and Professor McKnight, I am convinced of its value and confident it will pay huge dividends by increasing transparency and trust between law enforcement and the community," Sarkos said. "I look forward to rolling out this training to all officers of the Atlantic City Police Department."
Procedural justice is based on the idea that the procedures police use can influence the way people perceive police, and that even small minor interactions can have a long-lasting effect on how people view law enforcement.
Both Sahin and McKnight have prior police experience. Sahin, the principal researcher on the project, is a former superintendent in the Turkish National Police. McKnight is a 30-year veteran of the Atlantic City Police Department.
Their program is modeled after work done in Chicago and developed from President Obama's Task Force on 21st Century Policing. The goal is to achieve consensus and cooperation within communities.
Sahin said police began using the method during traffic stops and they are beginning to collect data on its effectiveness.
The training involves four steps:
Voice: Allowing citizens to explain their situations and listening to what they say;
Neutrality: Making decisions based on rules, not personal opinions or biases;
Quality of Treatment: Treating people with dignity and respect and explaining what the police have done or will do;
Trustworthiness: Showing care about a citizen's well-being.
"This is something police can use in everyday interactions with the public," Sahin said. "It involves spending more time with citizens and explaining the process to them."
The end result, he said, benefits both the police and the community.
"We are trying to support the community and the police," Sahin said. "The community will benefit with better policing."
Sahin said the training is available to other police departments and he and his colleagues will continue collecting data on its effectiveness.
# # #
Contact:
Diane D'Amico
Director of News and Media Relations
Galloway, N.J. 08205
Diane.D'Amico@stockton.edu
609-652-4593
609-412-8069
stockton.edu/media