Spring 2020 Enrollment at Record High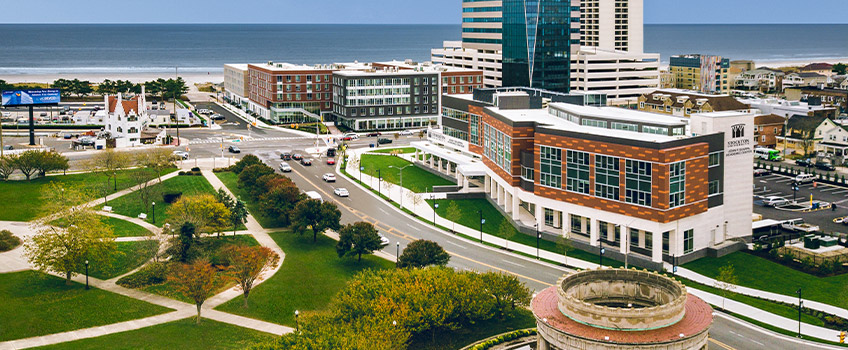 Galloway, N.J. – Stockton's spring 2020 enrollment reached a record 9,367 students, an increase of 3%, Chief Enrollment Management Officer Robert Heinrich told the Stockton Board of Trustees at the Feb. 26 meeting.
Total spring enrollment has grown by more than 1,000 students since spring 2016. Heinrich said the increase is a combination of new students enrolling, and successful efforts in retaining the students already enrolled. He said 547 new students enrolled in the spring.
Heinrich said this spring 113 courses are being offered at the Atlantic City campus. There are 1,483 students taking at least one class in Atlantic City and some are taking multiple courses there.
Board chairman Leo Schoffer said he is impressed with the success of the Atlantic City campus in only its second year of operation.
"We have significantly more students taking a class there each semester and the demand for the housing there is also high," he said.
The board of trustees approved 2020-21 housing costs, which will increase an average of 2.5% though the actual cost increase will vary by housing type and location. Board Finance Committee Chairman Stan Ellis said the increase reflects the cost of operations.
For the 2020-21 academic year, the per semester housing costs will range from a low of $3,119 for a triple room in Housing 2, to $6,041 for a four-person private apartment in Housing 5. Housing in the apartments in Atlantic City will range from $4,927 to $5,894 per semester.
Students participating in 12-month housing in Atlantic City would pay an additional $618 for the winter break and $1,875 for the summer. Day rates in Atlantic City are also available at $25 for Stockton students and $35 for non-Stockton students.
The annual tuition public hearing will be held at 4:30 p.m. March 26 in the Campus Center Board of Trustees room.
# # #
Contact:
Diane D'Amico
Director of News and Media Relations
Galloway, N.J. 08205
Diane.D'Amico@stockton.edu
609-652-4593
609-412-8069
stockton.edu/media