Spotlight On: Environmental Internship Program Receives National Recognition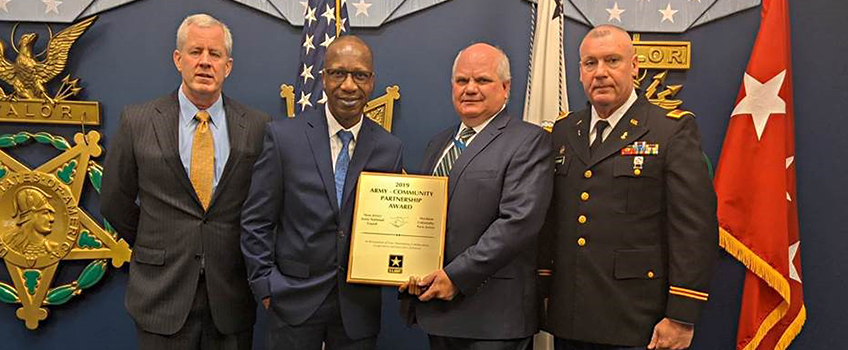 Galloway, N.J. – The New Jersey Army National Guard (NJARNG) and Stockton University were recognized at the 2019 Army Community Partnership Awards in December for their partnership to establish an internship program focused on improving operational and mission readiness in the Sustainability, Real Property, Facilities Management, and Environmental Programs. These partnerships ensure that NJARNG Soldiers train in state-of-the-art, energy-efficient, hygienic facilities.
The Stockton University Environmental Internship Program, SUEIP, led by Tait Chirenje as the faculty Project PI and John Hallagan as the Project/Intern Advisor, consists of three environmental specialists who are based at the New Jersey Department of Military and Veterans Affairs (NJDMAVA) Lawrenceville facility and a team of eight paid student interns as well as three student volunteer interns.
"This award highlights the Pentagon's recognition of the unique, mutually beneficial partnership that Stockton has established with the NJDMAVA. We help the Army meet its numerous compliance requirements in an economically viable and sustainable fashion while we train and give our students real world field experience in sampling, analysis, project management and report writing," said Chirenje, professor of Environmental Science at Stockton. "The fact that only a few teams are honored every year, and Stockton's partnership was recognized this year shows the leadership role we are playing in these partnerships."
"Our partnership with NJDMAVA exposes students to a variety of environmental career paths available to them after graduation. We work on many different environmental projects, including air emission source inventories, ozone depleting chemical surveys, wetland surveys, water sampling, rare species surveys, invasive species surveys, habitat assessments, monitoring well surveys, and much more. Our students are responsible for developing survey protocols, conducting field work, collecting and managing data, writing formal reports, and making land-management or compliance recommendations," said Hallagan, program advisor to the School of Natural Sciences and Mathematics at Stockton. "The National Guard uses these reports to manage natural resources and maintain compliance with state and federal environmental regulations at 40+ properties throughout the state. Students in our program basically wear the shoes of environmental consultants. Consulting companies clearly value this type of experience, with 90% of our students finding full-time employment quickly in their field of choice."
Reported by Mandee McCullough