Spotlight On: Mary Lou Galantino
Galloway, N.J. – COVID-19 changed the landscape of our day-to-day lives in many ways, but how did it impact patients amidst a cancer diagnosis and treatment? Distinguished Professor of Physical Therapy Mary Lou Galantino, who is also a practicing clinician at Christiana Rehabilitation Services and collaborates with colleagues at Specialty Rehabilitation serving the Helen F. Graham Cancer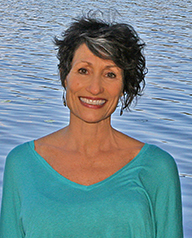 Center and Research Institute, has begun unpacking those answers through research.
In March many "firsts" happened, in particular the closure of health care facilities due to a pandemic, shaking the foundation of how medical treatment is delivered.
"As a clinician and a researcher, the questions emerged around specific impact on cancer survivors who are receiving treatment (surgery, chemotherapy, radiation) alongside rehabilitation services such as manual lymph drainage to treat lymphedema (a common complication of cancer treatment that occurs due to damage to lymph nodes or lymphatic vessels)," Galantino said. "Missing these types of manual therapy treatments can be quite significant."
The study, conducted by Galantino and Dr. Erin Helm, the director of Specialty Rehabilitation Helen F. Graham Cancer Center, examined 15 women ages 38-76 with various stages of breast cancer, from when the center closed in March through its reopening in May. The tools they used to collect data included the "distress thermometer" and the FACT-G scale, which are used systematically in cancer treatment centers in the United States. The distress thermometer measures distress and fosters additional questions to provide additional care; and the FACT-G scale measures physical, social, emotional, and functional well-being. The patients reported significantly increased levels of emotional distress at the time of COVID-19 closures, which decreased when they returned to rehabilitation care.
"Reduced physical activity levels correlated with higher perception of fatigue, and that a higher level of distress resulted in reduced physical activity. There was also a correlation between distress and physical, social and emotional impacts," Galantino said. The study was featured in the October issue of Rehabilitation Oncology, the official journal of the APTA Academy of Oncologic Physical Therapy, an Academy of the American Physical Therapy Association.
Galantino also noted that if individuals experience stress, persistent cortisol remains in the body, and tissues do not heal well. This is very troubling for the vulnerable and immunocompromised population of cancer survivors.
There were challenges that arose as health care had to quickly pivot from in-person care to telehealth, especially pertaining to physical therapy, which is rooted in hands-on connectivity.
"Many systems across the U.S. didn't have telehealth as part of their usual plan of care so it took a while to get approved with the HIPAA compliant telehealth platforms, so there was a bit of a delay before we could become flexible and nimble," Galantino said. "Patients also weren't savvy with this type of technology so there was a learning curve for everyone."
As a result of this study, Galantino said they are now testing protocols to see what care delivery is enough to continue rehabilitation momentum by incorporating targeted hands-on manual therapy treatment complemented with telehealth.
"If we must cease care again by closing our health care system again due to a COVID surge, the question is how best can we prioritize patients that do not receive in-person rehabilitation versus those that we could enter through the art of telehealth," Galantino said.
Galantino, who is also a breast cancer survivor, is grateful to return to her classroom experiences at Stockton with her students in-person. Labs are essential to learning manual skills and our students become proficient to serve the public. "This could not be possible on Zoom," Galantino laughed.
"As a professor teaching physical therapy, specifically my DPT program, I maintain a clinical practice because it keeps me current. I enjoy contributing to the research and I truly enjoy cultivating academic-clinical partnerships in research, similar to this study," Galantino said. "For example, while my colleagues were busy pivoting to telehealth, we could envision a way to capture important data to inform future practice and mitigate stressors associated with disruption of health care services. Clinicians were concerned how best to serve cancer survivors during quarantine. This type of research fosters overall future planning and assists in the design of additional important studies to inform clinical practice and policy."
With October earmarked in honor of National Breast Cancer Awareness Month, this research holds a special place for Galantino. "I see cancer survivorship from this kaleidoscope of many different perspectives­‑ as a clinician, a researcher and as a survivor - I feel blessed to be a long-term survivor and it is a gift to offer hope to other people."
Reported by Mandee McCullough