Spotlight On: Jackson Discusses Key Issues in Black Community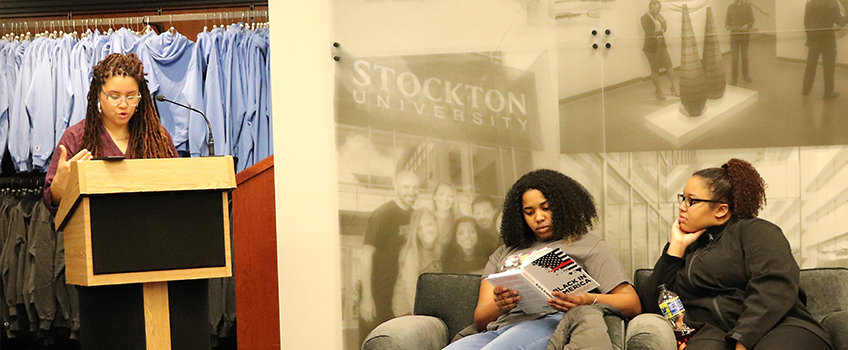 Galloway, N.J. – Christina Jackson, assistant professor of Sociology at Stockton University, discussed topics relevant to the Black community during her book talk on Feb. 11 in the campus bookstore, where students and faculty listened intently.
The discussion focused on the book, "Black in America-The Paradox of the Color Line,'' she co-authored with Anna Branch, vice chancellor for Diversity, Inclusion, and Community Engagement and a professor of Sociology at Rutgers University – New Brunswick.
The piece explores the sociological overview of the Black experience in America over key issues such as politics, the criminal justice system, housing, social movements and identity in a period with consistent deep inequality in the Black community. These issues are often obscured with colorblind logic and language. Jackson contributed her research in Atlantic City and San Francisco on urban spaces, politics, identity and social movements within the Black community to the piece. She refers to herself as an ethnographer, which means she immerses herself in the communities she studies to better guide her research.
"The Black community of Atlantic City is very much within this book, and their voice is, so I think that is something special that adds to the book," Jackson said.
Jackson was on the core team of the Black Lives Matter - Atlantic City chapter and conducted a study from 2016-2019 within the Black community of Atlantic City, where she explored how city residents respond to larger social and economic issues, such as the state takeover and housing affordability. The chapter also explored together issues of family, health, art, violence and LGBTQ issues. She quoted Travis Love, the 2017-18 Activist in Residence at Stockton, who stated during a panel in Atlantic City, "the more marginalized you are, the less space you have to feel comfortable," referring to both kinds of inequality that Black queer residents face.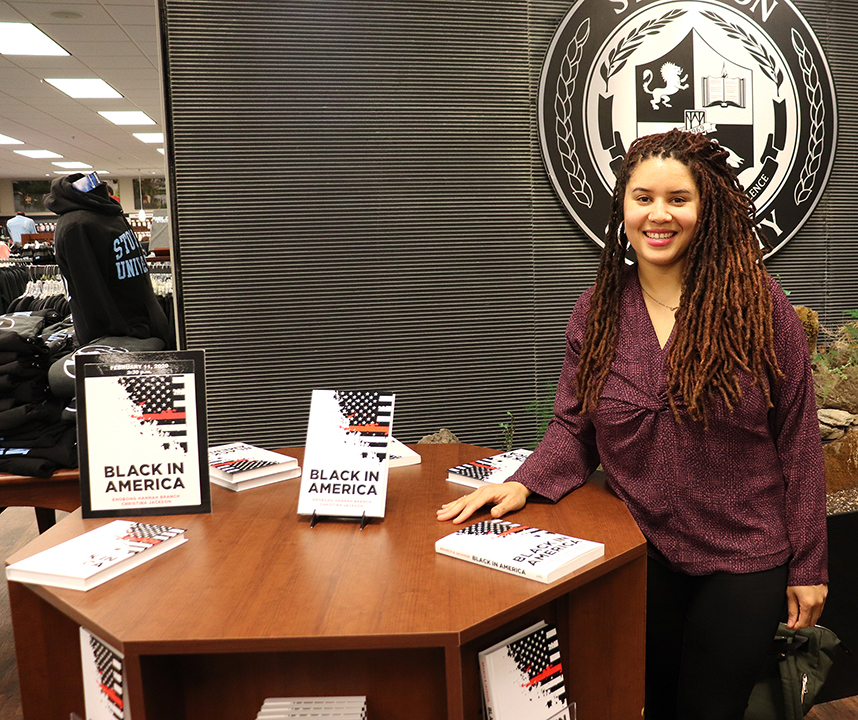 During the Feb. 11 discussion, Jackson dove into the vital topics of gentrification, socio-economic statuses and how all of these issues relate to spaces and places within the Black culture. She also explored how colorblind logic is used when talking about redeveloping neighborhoods and how people choose where to live, avoiding outright race and class language.
"I think what's also special about this book is we added an intersectional analysis - so we talk about intersectionality in terms of understanding how you can be Black and these additional identities that create a very different experience being black. Being Black and a woman, Black and disabled and things of that type of nature," Jackson said.
Student Jazmin Bonatila followed along in the book as Jackson read aloud. Bonatila, a Health Sciences major with a concentration in Nursing, said she attended the talk because she is a member of TogetHER and thought this discussion would reflect a lot of ideals the group supports. Siani Pierce, a Social Work major, is currently taking the course, "Dancing Cultures" with Bonatila, which led her to attending the discussion.
At the end of the talk, a guest asked how the cover art of the book came to be and Jackson responded that after seeing a variety of options, they landed on this look. "It evoked the American flag and it being fragmented and broken, illustrating how that dream isn't accessible to everybody in the same type of ways," Jackson concluded.
"Black in America" is available for purchase at the campus bookstore, as well as on Amazon.
Reported by Mandee McCullough