Showboat to Provide Rooms for Students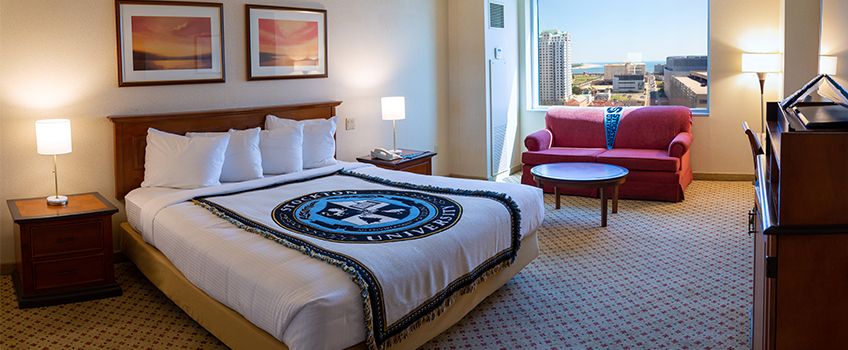 Galloway, N.J. – Stockton University is finalizing an agreement with Showboat Renaissance LLC for the use of up to 400 rooms at the Showboat Atlantic City Hotel for students during the fall 2020 and spring 2021 semesters.
The agreement meets Stockton's potential need for additional housing as the university implements state COVID-19 guidelines that reduces the number of students permitted in existing on-campus student housing.
"Stockton promises to provide housing to all students who request it," said Stockton Executive Director of Residential Life Steven Radwanski. "This agreement ensures that we will have sufficient housing based on current demand."
The Showboat agreement provides up to 300 single rooms and 100 double rooms. Showboat will also provide at least 250 dedicated parking spaces and students will get complimentary memberships to the MATRIXX Fitness facility on site as well as access to an entertainment lounge with billiards and ping-pong tables, the roof-top pool deck and a fully equipped business/study lounge. Students will also have access to meals on site and rooms will have a microwave and mini-fridge.
The rooms will be located on floors that will be occupied only by students and students will also have exclusive use of one full elevator bank to secure access to the floors.
"We are thrilled to partner with Stockton to enhance the college experience in Atlantic City," said Brandon Dixon, President of Tower Investments which owns Showboat. "Students can now room at the Showboat and enjoy all the amenities of the hotel and its Boardwalk location, while living at a treasured icon of local history. Having the students here will also bring a new exciting energy to the north side of the Boardwalk."
Stockton will have staff living on site and Showboat will provide space at the front desk for University personnel.
The per-semester rates for the rooms will be $4,500 for a single and $3,800 for a double, which is competitive with similar on-campus housing.
Stockton President Harvey Kesselman thanked the Showboat ownership for working with Stockton to meet both state and university requirements.
"We appreciate Showboat's willingness to welcome our students and provide them with an environment that will be both safe and enjoyable," he said.
Radwanski said the university requested proposals for off-campus housing in Atlantic City based on the number of students who have applied to live in campus housing. He said the goal is to house as many students as possible in campus housing. Freshmen will be housed only in on-campus housing. Typically, about a third of Stockton's almost 10,000 undergraduate students live in campus housing in Galloway and Atlantic City.
# # #
Contact:
Diane D'Amico
Director of News and Media Relations
Galloway, N.J. 08205
Diane.D'Amico@stockton.edu
609-652-4593
609-412-8069
stockton.edu/media