Garbutts Honored at Rowing and Growing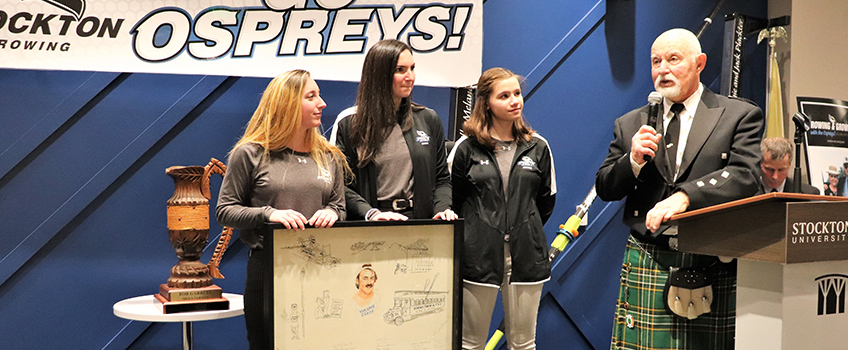 Atlantic City, N.J. - It was an evening of oars, ergs, boats and bagpipes as Stockton University honored former Atlantic City High School rowing coach Bob Garbutt and his wife, Judy, on Feb. 28 at the second Rowing and Growing event at Stockton University Atlantic City.
The Atlantic City Fire Department Sand Pipers Pipes and Drums escorted Garbutt, a member of the group, into the Fannie Lou Hamer Event Room.
Garbutt wore full kilted regalia, which generated one of the biggest laughs of the night when Judy noted, "Clearly I'm wearing the pants tonight."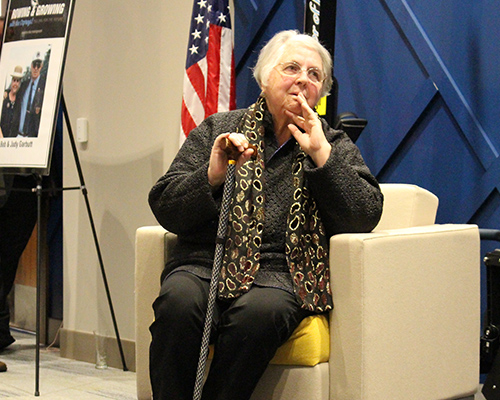 Garbutt recalled the early days of the rowing program at Atlantic City High School when students used old repaired boats and had to walk across sand and broken glass to put their boats in the bay because there was no dock.
Strength-training programs were whatever "Garb" came up with – including hauling the boats from trucks into and out of the water.
"We did crazy things because we didn't have the money to go to a gym," Garbutt said. "We did the best we could because I said we'd ever get beat because we didn't work hard enough."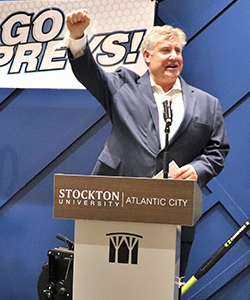 Over his career Garbutt took Atlantic City High School crew teams to 13 National Championships, won the Stotesbury Cup eight times, and finished second at the famed Henley Regatta in England in 1994. The couple, who live in Ventnor, also created a family of athletes who remain in touch with him.
ACHS alumnus John Strotbeck, who went on to row in the 1984 and '88 Olympics, said up until meeting Garbutt he was an okay, but not outstanding, athlete. He attended ACHS when it was located on the site of what is now the John F. Scarpa Academic Center at Stockton.
"Garb grabbed me and turned me into an athlete," Strotbeck said. "We did these crazy workouts, ran with guys on our backs on the Boardwalk. But he also taught me mental strength and confidence in myself. He built a great program, but he really built a great family. A lot of us still feel like we are part of the family."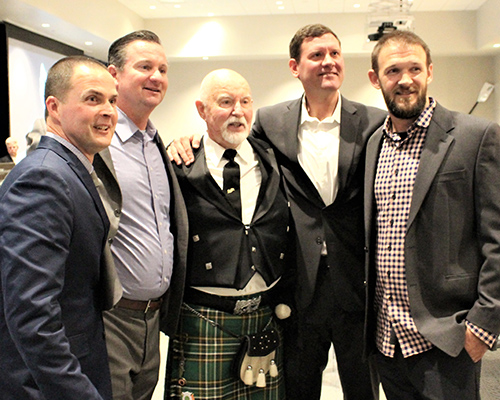 Judy "Wonder Woman" Garbutt said she recalls that some said Garbutt would never have a successful rowing team at Atlantic City High School.
"He proved them wrong," she said. Judy, who taught physical education, also helped start girls rowing teams at Atlantic City and Holy Spirit High Schools. She said Bob wasn't sure girls would be strong enough to row, so at first he had the boys carry their boats to the water for them.
"I said, if the girls get in shape they'll be fine, and they were," Judy said. "From boats with holes, to where we are today, rowing is definitely growing in South Jersey."
Stockton rowing coach John Bancheri, who also rowed for Garbutt, thanked all of the donors for helping the program grow and supporting the teams. He cited Charles and Anabel Howard for funding two large tents for the teams, as an example of people who have seen that the teams needed something, and found a way to help provide it.
This year's event targeted providing ergometer rowing machines and oars for the teams. Donors included:
Erg ($1000): Senator William & Ginny Gormley (2), Calvi Electric Company, Marathon Engineering and Environmental Services, Inc., George Miller, Smith Family Partnership, Staller and Levine, Esqs., and Chartwells.
Oar ($500): ANCDI Properties, Rose Ann Cahill, Joseph and Bernadette Dougherty, Senator William and Ginny Gormley, Phil and Lee Ann Guenther, Megan Kesselman, Knife and Fork Inn, Janice LoPane, Kevin McHugh, Bill and Virginia Millar, Robert and Suzanne Ponzio, Frank and Maureen Previti, John Reichner, John Strotbeck, Sykes Family, and Robert Weipert.
View a gallery of photos on flickr.
# # #
Contact:
Diane D'Amico
Director of News and Media Relations
Galloway, N.J. 08205
Diane.D'Amico@stockton.edu
609-652-4593
609-412-8069
stockton.edu/media